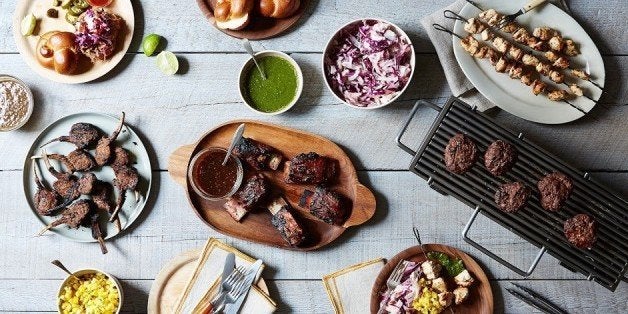 We're all about collections over at Provisions -- and we don't want you to miss out on the fun.
Barbecue is a hotly contested topic. There's a lot of variety in technique: wood choice, cooking time, marinade, spice rub, sauce, and more -- and every barbecue cook has his or her own opinion about what makes the best.
We won't weigh in on a definitive favorite (when it comes to ribs, we're equal-opportunity eaters), but we do want to lay out some of the basic elements you should know before firing up the grill.
Here's our extra-quick primer on the nitty gritty of barbecue:
Rubs: A good rub is a blend of assertive spices and herbs -- work it into your meat up to 24 hours before cooking, then give it another coat just before you start to grill. Consider trying something new --a Moroccan blend has ginger, cilantro, and fennel -- to keep things interesting.
Sauces: The star of any barbecue, your sauce should be part sweet, part salty, and a little acidic. Depending on where you're from, you might prefer a sauce that's vinegar-based, or tomato-heavy, or a version made with mayonnaise. Go with what you like, but make sure it has enough heat to stand up to the sugar. If you like a lot of spice, try a Jamaican jerk sauce made with Scotch Bonnet peppers (one of the world's hottest).
Marinades: It pays off to marinate your meat ahead of time -- not even the best sauce can mimic that depth of flavor. We like using Korean BBQ marinades -- they use sesame oil and soy sauce, which gives a savory, umami element to the meat.
Smokers: Barbecue pitmasters are notoriously particular about the kind of wood they use and the contraptions they cook with. While you probably don't have the time (or space) to smoke ribs for 20 hours straight, it's pretty easy to mimic the flavor at home. We found a miniature smoking gun; just drop wood chips in the top, light them on fire, and watch the smoke flow out of a small rubber tube, infusing your meat, salsa, or fish. It's fast and simple to use and -- the best part -- it doesn't leave your clothes (and kitchen) smoke-filled and hazy.
Tell us in the comments, what are your best barbecue tips and tricks?
Food52 is a community for people who love food and cooking. Follow them at Food52.com -- and check out their new kitchen and home shop, Provisions.