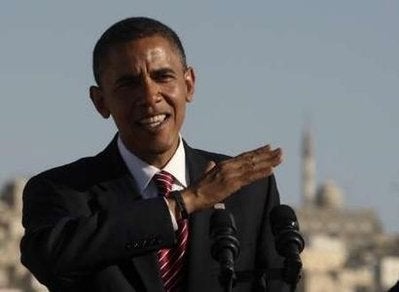 As we have observed throughout the last several years, the notion of fairness in journalism has been guided by a miscalculated rule that in order to report good news about a liberal or a liberal success, news reporting has to be counterbalanced either with unearned praise for conservatives or trumped up and parroted negative news about the aforementioned liberal or liberal success. Oh, and the reverse doesn't apply. That's the rule.
And so now that Senator Obama's Berlin address is in the can, get ready for the backlash from the very serious corporate media. Get ready for profuse around-the-clock praise of Senator McCain and/or unfair, invented criticism of Senator Obama. Because reporting the news, however accurate, about Senator Obama's successful trip to the Middle East and Europe isn't news. It's obviously biased reporting against the McCain campaign.
That's all we've heard from the McBush Republicans this week: griping about the press coverage of Senator Obama's trip, as if such an epic event isn't newsworthy. Although I'm sure the McBush camp would've been thrilled about such wall-to-wall coverage if Reverend Wright had been spazzing out on the wing of the Obama campaign jet, ripping it to shreds Twilight Zone style -- Rezko and Ayers running around in turbans spray-painting "clinging to guns" on the side of General Petraeus' helicopter.
And it appears as if the McCain campaign's Gripe Surge is working:
HANNITY: Scott Rasmussen has a poll, 49 percent of Americans think the media is trying to help Barack Obama win. Only 14 percent think they're trying to help you win.

MCCAIN: The American people are very wise.
When the press aired the Wright videos around the clock for approximately six weeks while continuing to refer to Senator Obama as "Osama bin Laden," they've clearly been employing some kind of magic or trickery -- some kind of scary reverse psychology. You know, to help Senator Obama. Thankfully the American people were "wise" to it.
The McCain campaign even turned their griping into a web video this week to prove that the corporate media loves Senator Obama more than they love Senator McCain. Setting aside the idea of a web video from the campaign of a man who is just now learning how to "get online," it's staggeringly desperate and ridiculous of them to produce such a thing. Reason the first: because the content of the video, apart from Chris Matthews "leg thrill" remark, is mostly just reporters saying things like, Is the media in love with Obama? which, of course, doesn't prove a damn thing one way or the other. And, reason the second: because this other web video exists:
But several days of crotchety griping from both far-right talk radio and the McCain campaign has begun to show results. Here's how.
On Tuesday's edition of Morning Joe, Mika Brzeznski, Andrea Mitchell and Very Serious Mark Halperin (who publicly encouraged Senator McCain to convince people that Senator Obama is a terrorist) agreed that after three days of reporting the actual news that Senator Obama's overseas visit was successful, they should deliberately attempt to "trip him up" -- to "hold him accountable." Oh yeah? For what? We're gonna hold him accountable for not screwing the pooch on this trip -- the rat bastard! We're very serious! Barack's a Muslim terrorist [Halperin only]!
Then CBS News, showing its obvious penchant for wanting Senator Obama to win, edited out Senator McCain's laughable error with regards to the Anbar Awakening -- another in an on-going syllabus of McCain ignorance, which further proves that he's really not the Mighty Old Man of Awesome Foreign Policy Experience and Balls. Suggesting that there's such a thing as an Iraq/Pakistan border in a Today Show interview on Monday didn't help either.
But as the rule goes, the only way the corporate press (Olbermann, Maddow and the like excluded) can make a beef about these things would be to find a similar gaffe or mistake by Senator Obama and report on that first. And since nothing recent exists... Pass! Next!
And today, the word of the day in the corporate press is... "presumptuous." Used in a sentence: Senator Obama is being presumptuous during his trip -- acting all presidential and dignified. How dare he be presidential while running for, you know, president. Presumptuous. During the live CNN web feed of the Berlin address, an anchor used it to describe the event. Joe Klein used it in a blog post today. Of course Joe attributed it to racist voters rather than very serious reporters -- racist because it's presumably a synonym for 'uppity' and we can't accuse the press of such awfulness. And Candy Crowley used it in her post-address analysis on CNN. That's a lot of coincidences. "Presumptuous" must really be a popular word. Odd that it's being used so often by people who want Senator Obama to win.
AP: "In a speech that risked being seen as presumptuous..."
TIME Magazine: "capable to become the Commander in Chief of a superpower -- without seeming presumptuous..."
Washington Post: "Whether by the end of this week he will be seen as presumptuous or overly cocky..."
Chicago Tribune: "That means walking the fine line between looking presidential and appearing arrogant and presumptuous..."
Boston Globe: "plus the growing sense in some quarters that the presumptive Democratic nominee is getting a little presumptuous..."
Can you feel the wanting-Obama-to-win love radiating off your computer screen? No?
The reality is that positive coverage of any Democrat is limited and temporary for fear of networks and newspapers either being accused of liberal bias or being tossed out of the very serious barbeque loop. Regardless of whether the Democrat, in this case Senator Obama, is having a good day, it's somehow unethical to report on such good news for too long without deliberately concocting an antidote to appease the far-right. So rather than standing up as the only industry explicitly named in the Constitution and defending the very basic idea of journalistic integrity, the corporate media is all too quick to capitulate to these specious Republican attacks -- that is, when they're not tossing their ethics aside and taking bribes in the form of barbeque and McBusch beer from a candidate whom they're supposed to be covering objectively.
Popular in the Community