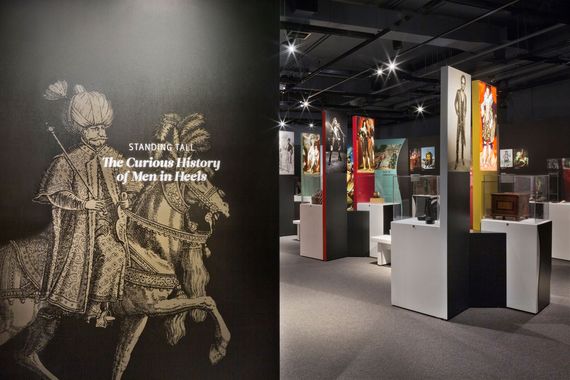 I admit to being a museum aficionado, particularly art and cultural emporiums that showcase quality and extraordinary examples of art forms and representations of cultural traditions.
My explorations have taken me to the four corners of our planet: from rural hamlets to big cities in search of these museum jewels. This narrative focuses on one special boutique museum: The Bata Shoe Museum in Toronto, Canada - celebrating its 20th anniversary this year.
Most people have never heard of it, including me, before I wandered there after reading about it in a local tourist guide.
Toronto is a world-class museum city featuring an absolute treasure trove of delightful boutique and major spaces that could keep a museum enthusiast busy for a week or longer. The Bata Shoe Museum is an example of a recommended visit.
Founded by Sonja Bata, whose family established Bata brand shoes in Europe (marketed and sold all over the world), The Bata Museum is the largest and most prominent museum of footwear in the world. Mrs. Bata has had a long fascination for the history of footwear and was inspired to organize a museum after her relocation to Toronto. She built and supervised the construction of the museum near downtown at 327 Bloor Street opening in1985. The museum's mission is to present artifacts that she said would 'contribute to knowledge and understanding of the role of footwear in the social and cultural life of humanity.'
Shoes have fascinated me for years - not always the acquisition, but the colors, textures and styles of them. Living over seven decades, I have witnessed shoe styles come and go. But until I visited the Bata Shoe Museum, I had never encountered a historical presentation of footwear spanning 4500 years on display, under one roof, within a very modest architectural footprint built like a shoebox.
My 'ah ha' moment came when the Curator, Elizabeth Semmelhack, offered to show members of our little entourage the basement of the building where the collection has been artfully catalogued and shelved. This was possibly the most engaging display of thousands of artifacts organized in colorful archival storage I had ever seen. I ogled flamboyant slippers from the tombs of Egyptian Pharaohs to Elton John's glittering platforms. Their spectacular large collection of Inuit and other tribal footwear from the Arctic was especially stunning. Now, I don't doubt that the Metropolitan Museum of Art in New York has greater quantities of historic footwear in storage, but the breath and excellent preservation of the 13,000 sterling artifacts at the Bata are something to behold.
On the exhibition floor at the time of my visit I was thrilled to see17th century French court footwear including socks from the personal effects of Napoleon, and dainty footwear from a Chinese dynasty collection. The museum is compact and you can view the changing exhibitions as well as items from the permanent collection in an hour or so. The current exhibition: 'Standing Tall, The Curious History of Men in Heels' sounds fascinating.
I promise your feet won't tire from your short trek around the museum exhibits. And I know that you will see footwear from eras that can only be seen in photos from history books or on the TV or movie screen.
Pat Johnson
Grannies on Safari
PHOTO GALLERY
<strong>The Bata Shoe Museum In Toronto Celebrates Its 20th Anniversary</strong>
Calling all HuffPost superfans!
Sign up for membership to become a founding member and help shape HuffPost's next chapter