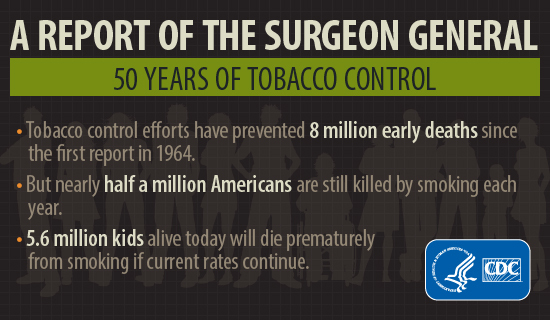 In 1964, the first Surgeon General's Report on Smoking and Health made it clear -- smoking causes cancer. This news hit the country like a bombshell. At the time, more than 40 percent of American adults smoked, and smoking was widely accepted and considered normal behavior.
Today, 50 years later, we've cut the US smoking rate by more than half. Increasingly, effective tobacco control efforts have prevented at least eight million Americans from dying prematurely.
It's a great public health success, one of the biggest of the 20th century.
But the battle against tobacco is far from over. At least 5.6 million kids alive today will die prematurely from smoking if current rates continue. This map shows how many will die in each state.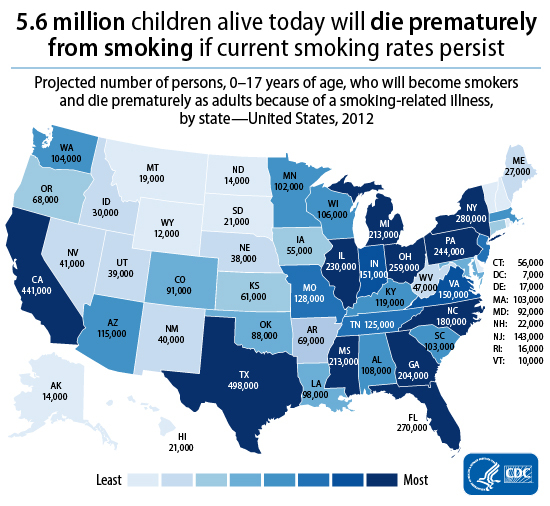 Smoking still kills nearly half a million Americans every year. I think frequently of two we lost this past year: Terrie Hall and Nathan Moose.
Terrie and Nathan went public with their personal stories about the harmful effects of smoking as part of CDC's Tips From Former Smokers campaign.
Terrie's smoking caused throat and oral cancer, and her cancer treatments scarred her and took away her natural voice. Terrie refused to hide the scars on her face caused by smoking. Her illness only made her more determined to speak, especially to young people, and her story is now known to millions. Last September, at age 53, Terrie died from the cancer she fought so bravely.
Nathan also was a victim of smoking, although he never smoked. He worked for 11 years in a casino that allowed smoking, and secondhand smoke permanently damaged his lungs. His health problems inspired him to take action to help protect not only his fellow Oglala Sioux, but all Americans. Nathan's lung damage led to his death last October at the age of 54.
CDC has detailed recommendations on what states and communities can do to keep kids from starting to smoke, help smokers quit, and protect non-smokers.
The tobacco industry still spends billions of dollars a year -- more than $28 for every man, woman and child in the United States -- to promote its deadly products. CDC recommends that states fund tobacco prevention programs at $12 per person per year (less than half what the industry spends). But last year states spent less than $1.50 per person to address this serious health threat -- barely a dime for every dollar needed.
The publication of the 2014 Surgeon General's Report on Smoking and Health has three key messages: smoking is far worse than we realized; tobacco control works when implemented; and we need to do much more to protect children, help smokers, and protect non-smokers.
To prevent the needless illness, disability, and death caused by smoking, we must stop young people from starting to smoke. It's much easier not to start using tobacco than it is to quit.
There is no greater threat to your health than smoking, and no greater reward than quitting. Most Americans who have ever smoked have already quit. Every smoker can quit, and every child can grow up smoke-free.
Popular in the Community