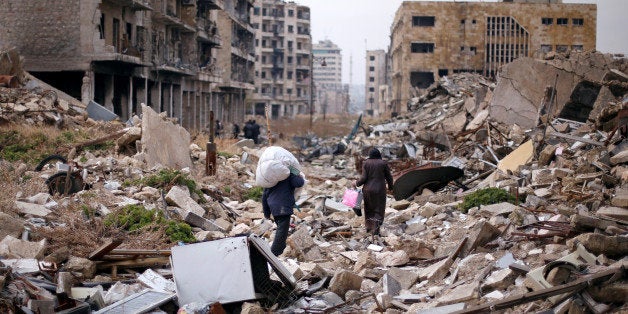 We finally have confirmation that civilians, including children, are being given safe passage to evacuate what remains of east Aleppo. Over the past week, we have listened to increasingly desperate cries from people who have already endured unimaginable violence, hunger and fear. It is a story that has been unfolding for so many years, but the nightmare continues. Although my heart is breaking as a mother, as President and CEO of the U.S. Fund for UNICEF, I must stand for hope. Now, more than ever, we have to help the people, and especially the children, of Aleppo, and other besieged areas of Syria. The conflict in Syria has raged for nearly six years, leaving 13.5 million people in need of urgent life-saving assistance, including 6 million children. UNICEF has been on the ground in Syria throughout the conflict, providing children with access to clean water and sanitation, medical supplies, health, nutrition and education, among other things. No matter how desperate the situation, we remain undeterred in our mission to put children first. It is a difficult number to fathom -- still 500,000 children living in besieged areas -- the number has doubled in less than one year. Living in terror among air strikes and barrel bombs, growing up to the sounds of soldiers and warring factions on their streets, they have seen their houses, schools and playgrounds destroyed, and, unfortunately, many of them have lost family and friends. As these children sit in dark basements, reading and writing by candlelight, they might still believe in a world that cares enough to stop their suffering. We need to ensure that these children stay alive, but equally important, we need to protect that flicker of hope. Hiba Al Nabolsi is one of those children. She knows war and terror too well. She was only 5 when the flashpoint of the Syrian civil war began in her home city of Deraa. "They were dying around us, asking for help," Hiba says reflecting back to when she felt surrounded by death and destruction. "The one I love the most is my brother who died. I don't like to see bad things," she continues. "I like to see good things." Now 10 years old, she describes with disquieting detail her journey in 2014 with her mother, father and brothers from Syria to Turkey, before being smuggled to Greece and then to the Former Yugoslav Republic of Macedonia, where she lives today. "From Turkey we took a boat. The engine stopped working. It wasn't very firm - it deflated. We spent two hours at sea. Only a few were not afraid. I was not afraid. As long as you know how to swim, and I knew how to swim, I was not afraid. As soon as we reached the regional waters, a plane saw us, and help followed soon after. My mum fell in the valley and fractured her leg. Our clothes were wet, we were shivering from the cold." Determined and resilient, Hiba saw death along the journey. Living in a UNICEF-supported refugee and migrant center now, learning English, German and Macedonian, Hiba speaks with clarity and optimism about her new life and her future.
I am inspired by Hiba and children like her - children who have survived traumas that most adults would struggle to overcome; children who respond with the strength many of us can only aspire to possess. They remind us once again of how important it is to stand for hope even in the most seemingly desperate times. We cannot turn our backs and we must do all we can to protect and support the children of Syria. We all know the magnitude of the challenges involved in tackling the root causes of conflict and of people fleeing from their homes, and some may feel powerless at times. But a child is, first and foremost, a child. It is our shared responsibility to ensure that even in the most horrific circumstances -- even when a child sits by a wavering light of one candle, frightened by the sound of barrel bombs -- children continue to have hope.
How to help: For more information or to make a tax-deductible contribution to UNICEF's emergency relief efforts in the region, please contact the U.S. Fund for UNICEF: Website: www.unicefusa.org/syria Toll free: 1-800-FOR-KIDS Mail: 125 Maiden Lane, 10th Floor, New York, NY 10038
The United Nations Children's Fund (UNICEF) works in more than 190 countries and territories to put children first. UNICEF has helped save more children's lives than any other humanitarian organization, by providing health care and immunizations, clean water and sanitation, nutrition, education, emergency relief and more. The U.S. Fund for UNICEF supports UNICEF's work through fundraising, advocacy and education in the United States. Together, we are working toward the day when no children die from preventable causes and every child has a safe and healthy childhood. For more information, visit www.unicefusa.org.
Calling all HuffPost superfans!
Sign up for membership to become a founding member and help shape HuffPost's next chapter