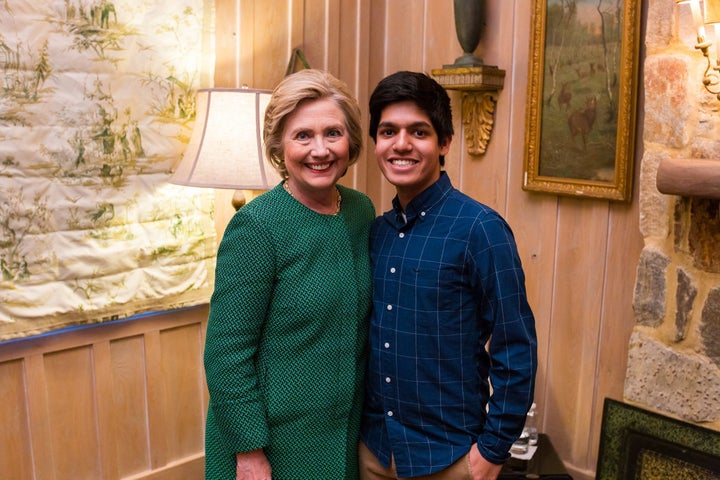 This is not an endorsement; this is a reality.
When I think about my experience as an American-Muslim teen, it is characterized by the feeling of constantly being on the defense.
Don't get me wrong, we are scoring. Whether it be Ibtihaj Muhammad winning a bronze medal at the Rio Olympics, Huma Abedin campaigning across this country, Rabia Chaudry making a New York Times bestseller list, or the countless Muslim role models that I have in their many forms, we are certainly achieving. Linda Sarsour, Omid Safi, and Sarah Harvard are using their voices for justice. Zaki Barzinji, Rumana Ahmed, and Arsalan Suleman are using public office to advance progress. Haroon Ullah, Laila Alawa, and Donya Nasser are my mentors, and they have showed me time after time through their brilliance what it means to be a proud American-Muslim. We are scoring. But, it's that much harder.
We have to wait for the moment where there is a slight opening in the field. We have to pray for a breakaway. We are not given the space to run freely, and frankly, I'm tired of running against a barrage that doesn't value my existence enough to let me just be me.
In the era of Trump though, it isn't so much that we are on the defense ― it is that we are being attacked so acutely that we aren't even given the space to formulate a defense. And I, for one, will not stand for it.
That isn't news though. That isn't my battle hymn, and that's the case because I remember reading The Battle Hymn of a Tiger Mom and being shocked at the calculated rigor of her life. I could never have imagined that I would live under a similar rigor ― the difference though is that the stringency expected of Muslims is not out of choice, but rather, it has been done to us.
Trump has created a United States that asks of me to prove my American identity. The norm for each Muslim student in this country has become being accused of being a "terrorist" at some point in his/her/their life. But more problematically, it has become the assumption that one can somehow not be both authentically Muslim and American simultaneously, and that is what gets me more than anything else.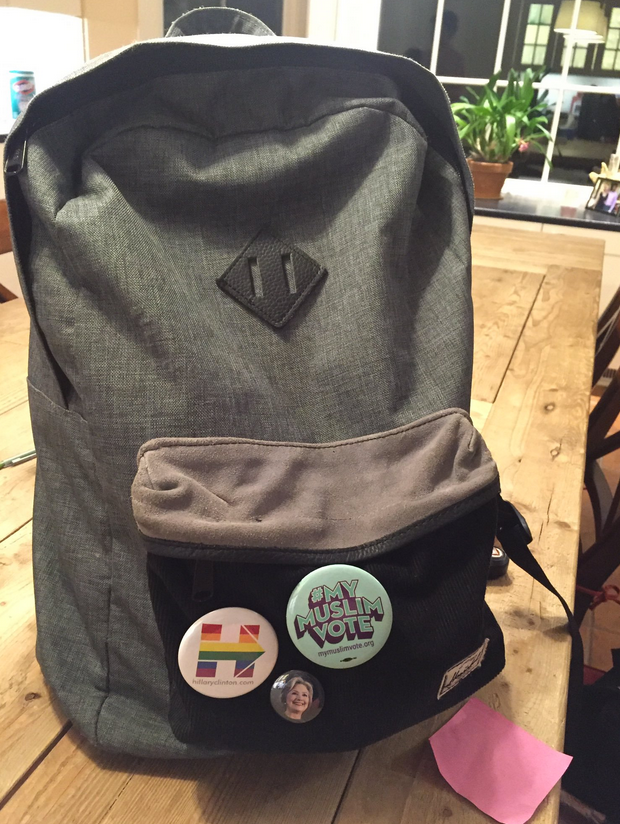 It's the moment on the train when new passengers board, and I feel the need to turn my backpack the other way in order to hide my "#MyMuslimVote" pin courtesy of MPower Change. It's the constant conversations where people ask leading questions to evaluate my patriotism ― "Do you even celebrate Fourth of July?" It's the flurry of haters that conjure bizarre insults every time one of my tweets gets more than five retweets. It's the multiple pairs of American-flag socks that I wear often as a statement that say ― I am American, as if it is somehow defiant.
Just last weekend, I was in a video/photoshoot for David Yi's Very Good Light. It was a project featuring American-Muslims, and I was posed the question,"what does it mean to you to be American?" And, it occurred to me ― being American, to me, simply just means being me.
I do not need to qualify, evaluate, or prove myself to anyone ― ever. My American-ness exists within my freedom to exist freely as myself, and I need not any more proof than that of my identity.
"My existence is now constantly measured in terms of my reaction to you, Mr. Trump, and I have a simple response; I do not exist for you or in terms of you, and I never will."
To beg of me to prove my American-ness is to negate the very fundamental core of this country. We were never meant to be a sea of sameness, but rather, we were always an amalgamation of individuals believing in the promise that we can be great, not that we have been great or somehow inevitably will be, but that we can be. We can be great when we allow each individual to exist freely, when we give our children the space to grow and to trailblaze their own future paths of brilliance.
From where I'm sitting, there won't be.
I was born and raised in this country, and I've sought to make this country, my home, as beautiful as it can be. Throughout my high school career, I have advocated tirelessly for equality. I founded an international teen organization for social justice, redefy, when I was in eighth grade. I've been fortunate to have had exposure to outstanding American-Muslim role models that have made me proud to be me. I've even had the honor to meet leaders including the President to speak my truth, and I am still tired.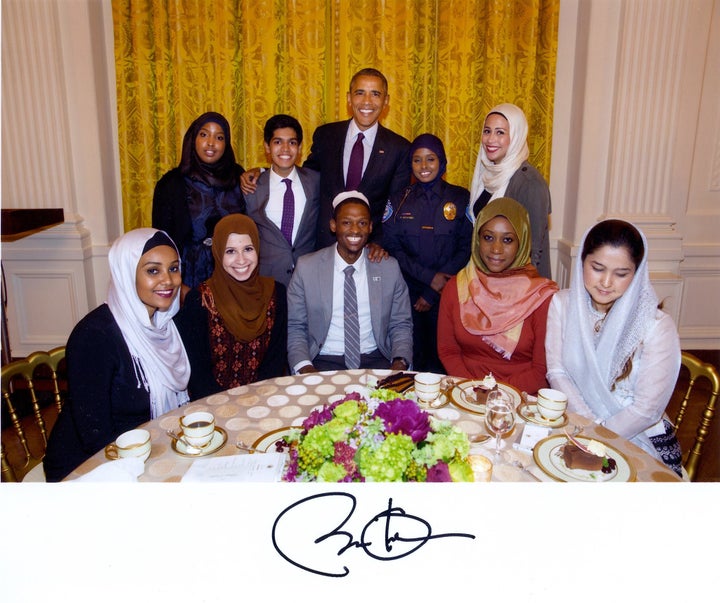 My existence is now constantly measured in terms of my reaction to you, Mr. Trump, and I have a simple response; I do not exist for you or in terms of you, and I never will.
I don't write this for me though. I write this for a world that expects American-Muslim children to be on the defense constantly, to be able to learn as fully when constantly under attack, and to be lesser. I write this for a world that has created a gross dichotomy between "Good Muslims" and "Bad Muslims," and the ensuing expectation that all American-Muslims must complete a never-ending arbitrary checklist to achieve the coveted title of "Good Muslim."
I write this because I believe in a future that is great. I write this because I imagine a world where the children I hope to one day have can be proud American-Muslims ― proud in however they identify. I write this because that tomorrow is possible, under the leadership of Hillary Rodham Clinton.
I'm seventeen, and I cannot vote, so I write this to implore every person who reads this to vote for me.
I won't be at the polls, but my future is on the ballot ― my ability to score is on the ballot.
So, I'm asking you now. I need you to vote ― not because this is some endorsement, but because my reality is at stake.