Last week, South Carolina and Minnesota introduced copy-cat versions of AZ's SB 1070 with 8 other states set to follow suit, while hundreds of protestors descended on the White House to send a clear message of concern to Arizona Governor Jan Brewer during her visit with the President. The Governor was meeting with President Obama to discuss border security and immigration issues. Members of the National Capital Immigrant Coalition, Casa de Maryland, LULAC, the Center for Community Change, Service Employees International Union, among others came out to express there anger over the passage of SB 1070 in Arizona and their anxiety that other states are introducing similar laws.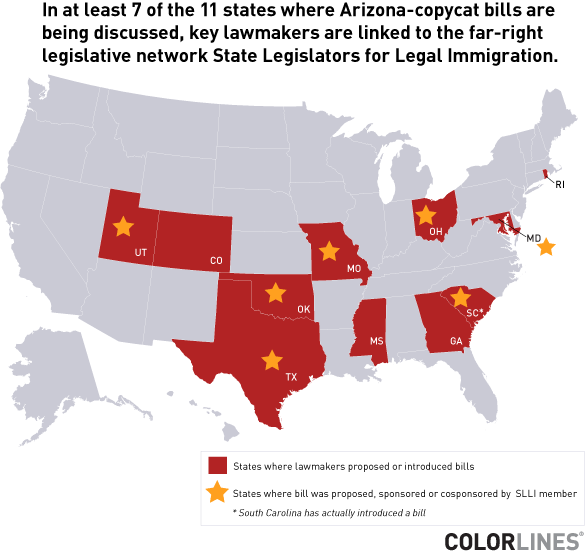 The virulently racist and anti-immigrant Arizona law has been recently connected to FAIR (Federation for American Immigration Reform), which is listed by the Southern Poverty Law Center as a hate group that "has long been marked by anti-Latino and anti-Catholic attitudes". The bill requires aliens in the state of Arizona to carry registration documents at all times, authorizes state and local agencies to enforce federal civil immigration laws, and cracks down on immigrant communities in an unprecedented way. Opponents of the law warned that it encourages racial profiling, and is, at best, constitutionally ambiguous.
Governor Brewer signed off on the bill despite concerns from civil and human rights advocates and grassroot organizations. According to Lizette Olmos, national director of communications for LULAC, Brewer is playing a dangerous game of politics without concern for the communities she serves. "She keeps saying increase law enforcement, increase law enforcement. Doesn't Brewer know that since 2006, the government has tripled law enforcement?" Ms. Olmos stated, pointing out that increased enforcement hasn't solved the broken immigration system. Ms. Olmos reiterated that "Governor Brewer isn't focused on the issue, she's only focused on her own agenda and political ambitions."
In the meeting with Brewer, "[t]he President reiterated his concern with the measure, including that a patchwork of different state immigration regulations around the country would interfere with the federal government's responsibility to set and enforce immigration policy," stated a White House press release.
While the President's words are encouraging, the problem isn't only that states are appropriating immigration responsibilities from the federal government, but that the federal government has abdicated its duty to enforce immigration law. "This law is the natural conclusion of a long process that has transferred the authority to enforce federal immigration law to the states, and created an environment ripe for racial profiling and other human rights abuses," said Margaret Huang, Executive Director of the Rights Working Group.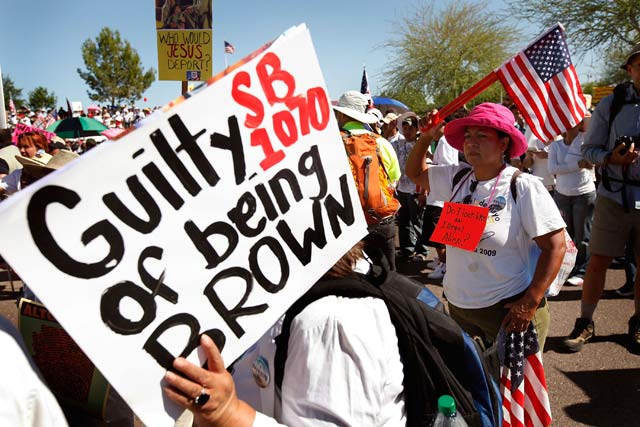 As copy-cat bills get introduced across the country the situation will only get worse. The President must ask the Department of Justice to rescind the 2002 memo finding that states and localities have "inherent authority" to enforce federal immigration law, therefore reasserting federal control over immigration enforcement. The Department of Justice must also strengthen its 2003 guidance on the use of race in law enforcement to prohibit profiling based on religion and national origin, and close the loopholes that allow profiling at borders and in the name of national security.
The president should also eliminate Department of Homeland Security programs like 287(g) and Secure Communities that give state and local criminal justice systems the power to enforce civil immigration laws. Not only did the DHS Inspector General find that the 287(g) program lacks sufficient protections against racial profiling and other civil rights abuses, but an article last march in the Washington Post exposed ICE (Immigration and Customs Enforcement) memos that tie job performance evaluations of individual agents to their success in meeting target quotas of arrests of suspected undocumented immigrants, which is a recipe for racial profiling.
"To avoid a situation where immigration enforcement depends on your state or zip code, the federal government must reassert its exclusive authority to enforce the law. Until that happens, unconstitutional laws like the one in Arizona will continue to be passed and people's human rights will continue to be violated," added Huang
Support HuffPost
The Stakes Have Never Been Higher
Popular in the Community