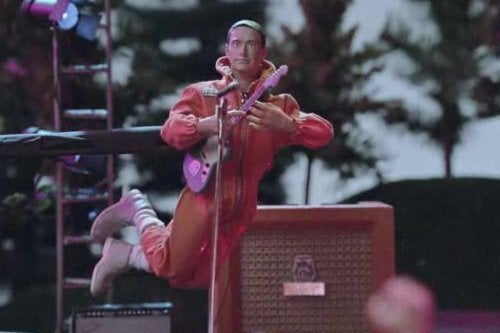 The Beastie Boys have reinvented themselves many times since they arrived on the scene in the early 1980s, but one area of consistency for the hip-hop trio is their penchant for releasing excellent music videos, going back to 1983's "(You Gotta) Fight For Your Right (To Party!)", which they recently revisited. Their newest video, the Spike Jonze-directed "Don't Play No Game That I Can't Win," featuring Santigold, debuted on Funny Or Die yesterday.
This video marks the sixth collaboration between Jonze and the Beasties, who have worked together off and on for 18 years. Perhaps their most notable previous collaboration is the classic '70s cinema-inspired "Sabotage" video. This time, however, not one actual Beastie Boy appears in the video. The band, as well as Santigold, audience members, and assailants bent on destroying the Beastie Boys, are portrayed as action figures.
Jonze's trademark as a music video director is high-concept, often humorous conceits that make his videos well worth watching beyond their promotional value. He made his name as the director behind such landmark music videos as Weezer's "Buddy Holly" and Fatboy Slim's "Weapon of Choice" before going on to direct feature films like "Being John Malkovich" and "Where the Wild Things Are."
The Beastie Boys' newest album, "Hot Sauce Committee Part Two" (there is no Part One), was released in May to positive reviews.
REAL LIFE. REAL NEWS. REAL VOICES.
Help us tell more of the stories that matter from voices that too often remain unheard.