When the first act of Drury Lane's wildly inventive 42nd Street ends with the cast fiercely funk tap dancing in bowls of coins while the front row is outfitted with safety goggles, you know this is something special.
If you enjoy musical theatre, you've likely seen — or, are at least familiar with — the classic show about chorus girl Peggy Sawyer from Allentown who, due to talent and circumstance, transforms from a nobody to a bonafide star. And even if you don't know it, you do — it's every "a star is born" trope rolled into one, peppered with quintessential tap numbers that mostly occur in the show-within-the-show (called, of all things, Pretty Lady). It's harmless nostalgia porn.
Surprisingly, Oakbrook's Drury Lane (not to be confused with the theatre of the same name in London that is staging a wholly traditional take on the show at this moment) has tipped this show on its head, shook out all preconceptions, and rebuilt it — complete with funk-filled orchestrations (by Everett Bradley), a refreshingly diverse cast, and tap stomping choreography by up-and-coming hip-hop hoofer Jared Grimes.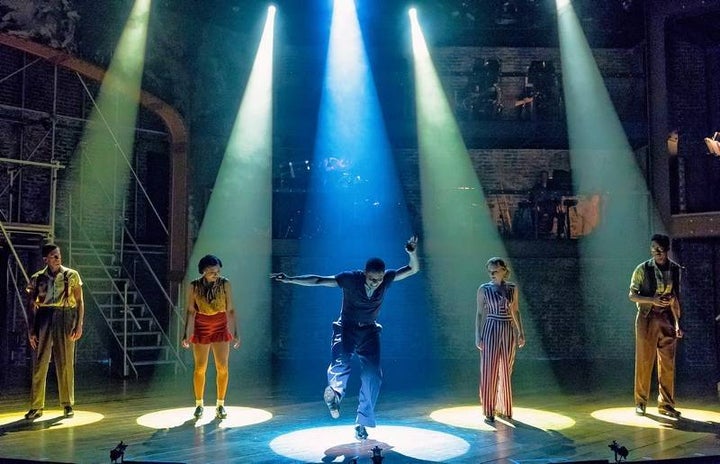 Sure, all the beats are still there — this is still 42nd Street. Ms. Sawyer (played by the winning Kimberly Immanuel) skips into the action all heart and hope, and the merry band of chorus dancers help her see that it's more than just having talent — it's about passion, precision and perseverance. The numbers and scenes are intact, but you are hearing them anew.
The most impactful tonal change here is the positioning of Dorothy Brock — the "aging" star whom Peggy replaces in Pretty Lady. Director Michael Heitzman has cast Suzzanne Douglas, a star of such innate presence that it makes total sense that a show would be bankrolled under her name. Ms. Douglas redefines what "smolder" means when she launches into her ballads (including "I Only Have Eyes for You"), imbuing them with torchy jazz inflections that I need in my iTunes playlist stat. Dorothy's insecurity and acts of self-preservation are typically played as camp diva to give us more of a reason to root for Peggy. But here, you get it. She's fighting for relevancy while subsequently taking stock of her priorities. Show business is a heartbreaker, and one's heart can only withstand so much.
Additionally, Chicago favorite Gene Weygandt, who's made a career playing aloof impresarios (i.e., the Wizard in Wicked, Barnum), plays the larger-than-life producer Julian Marsh with a softer, more father-figure take than most Julians I've seen. Which makes the scene where he gives Peggy kissing lessons before her starring debut (an artifact of the original script) even that more uncomfortable — especially now. I'd challenge the creative team to take this scene further and lean into what feels like a missed message.
Other notable items are making Andy, the dance captain, a female role (the towering Erica Evans), and the luxury casting of Donica Lynn (who wowed us last season in Dreamgirls and won the Jeff) as musical scribe Maggie Jones. Finally, Collette Pollard's stark set design reminds us this is a story of working class hoofers just trying to get a break.
Buzz is Broadway producers are catching wind. I sincerely hope it has a life — including an investment to help smooth out some of the bumps and amp-up the energy (I think they could go much further in the closing first act number and the title number, for example). But we'll see — I suspect the final call are the rights holders, and given every major production around the world has followed the original mold to a T, I'm not convinced. But at the very least, it's encouraging to see Drury Lane — which has quite consciously been breaking out of the "safe, suburban" mold for the past several seasons — taking such a risk. And let me tell you: While some might say this isn't your grandmother's 42nd Street, the blue hairs (and I use that term with love) in the weekday performance I attended were LOVING IT.
"42nd Street" plays through January 7 at Drury Lane in Oakbrook. More info here.
Popular in the Community