The Cool School: Writing From America's Hip Underground
Edited by Glenn O'Brien
The Library of America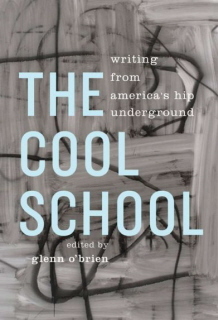 Last year, The Library of America put out a handsome edition of Jack Kerouac's published and unpublished poetry; reminding what a vital voice Kerouac was outside of mythmaking On the Road. This fall, LOA followed up with The Cool School | Writing from America's Hip Underground -- essays, poems, satires, memoirs, stories, interviews and reportage starting from inside the pre-WWII jazz world, with superstars like Miles Davis weighing in. No poseurs between these covers.
Editor Glenn O'Brien, GQ style writer, but the hippest literary mainliner, assembling a deep field study. O'Brien annotates the intros of the usual Beat suspects -- Kerouac, Ginsberg, Kesey, Corso, Burroughs, are represented in this collection but also those artists, poets, musicians, painters and talented, less famous observers and writers are given equal time.
But beyond the myths and the style, there was the artistic philosophy and work carving out a bohemian life and subversive lives in the face of repressive, puritanical, conformist Americana. O'Brien is savvy enough to call these selections, a random sampling, but his taste in this is impeccable in its veracity, grit and literary import. O'Brien doesn't just choose, as editor, he contextualizes with witty intros to the pieces.
Only a specialist could have cherry picked an existentialist heroin-homoerotic tableaux from Alexander Trocchi's 'Cain's Book,' for instance, which time-travels and border travels between a man breaking up with his wife in Glasgow, the memory of a trade worker and a pick-up in Sheridan Square. All the usual suspects turn up, but the depth of the field is represented.
Artistically reactionary or part of the permanent collection. William Burroughs ' Last Words' a prophetic, paranoid, nihilistic rant that makes you wonder whether he was using or not, as he is obviously wailing at his typewriter and the crab people start to appear.
Ed Saunders' Shohban McKennah Group Grope, an affectionate, scabrous basting of the righteously serious poetry scene for which Sanders' provided the venue as proprietor of The Peace Eye bookstore in the Village.
One of the revelations in this collection is that O'Brien celebrates that The Beats wasn't just boys only. Joyce Johnson gives what O'Brien dubs an "alternate take" in Minor Characters a crystal eye assessment of the scenes in New York and San Francisco, sans hero worship and mythologizing. Iris Owens' scabrous Leaving Claude a satire about dysfunction in a supposedly hip straight couple's relationship. Also writing about the scary sexism of the era, Cookie Mueller, who acted in John Waters' film, describes a harrowing and criminal incident she recounts in adduction and rape, Highway 31 (1969).
Norman Mailer's infamous diatribe The White Negro get an official re-airing. O'Brien outs Mailer as being on bennies and not smoking pot any more because it makes him "over brilliant." Questionably included at first by virtue of Mailer's blatant misogyny, racism and homopanic, Norman starts out with the intriguing examination of how white hipster's need to co-op tenets of hip from black culture and how they could only be poseurs. By now, this essay reads like a hopped up intellectual psychotic episode at best, before it completely devolves into illogical stream of consciousness. Meanwhile, this prototype nuclear rant, featuring breathless ½ page sentences, has a rhetorical pulse that fascinates, even if the constant subtext is Mailer's raging ego, so not to be taken seriously.
O'Brein follows Mailer with the sane serenity of gay poet Frank O'Hara's elegy to Billie Holiday The Day Lady Died. Kerouac's "The Origins of the Beat Generation" humorously but sincerely tries to dispel the mythologizing about the Beats. Bob Dylan writes of his start as a singer-songwriter living in the Village and visiting Hank Williams in a nursing home on Coney Island. Andy Warhol's anticipates social media in a: a novel
Terry Southern's 'You're Too Hip, Baby' about a white guy who loves everything jazz and black, insinuates himself into the life of a black couple, innocuously, but it eventually leads the couple to confront him exactly about what he wants. Does he want to take piano lessons from the musician, does he want to have sex with one or the other, or does he just want to sell them dope? Southern, almost forgotten now, was at the height of his powers, as this story demonstrates.

Poet EmilyXYZ's 'Sinatra Walks Out' is a dazzling side by side verse portrait of (for two voices) of Frank, mirror verses that converge the hip crooner and Frank the jaundiced hack. The stanzas have comic tonal counterpoint, and intersecting mirroring lines. O'Brien also doesn't make this an all boys club, Iris Owens 'After Claude' revisit's a hot afternoon in Manhattan seeing a biblical epic with her lover, that turns into an epic couples' battle about the movie and the dysfunction in their relationship.
Jack Smith, foreshadowed both Warhol and Avant garde American film making, holds forth about the virtues of camp screen siren Maria Montez. There are comic riffs by Lenny Bruce and Lord Buckley. O'Brien includes the lyrics to songs that give an alternate take to the scene, notably Annie Ross's Twisted (My analysis told me that I was right out of my head) and Fran Landesman's The Ballad of the Sad Young Men (sitting in the bars) which, for a time was the gay underground national anthem, as O'Brien notes. Lenny Bruce's Pills and Shit: The Drug Sceneis routine shtick by now, but picturing him saying it in a club when he knows he is about to be busted, is a vital survival kit.
The selections are pieces of a cultural and social mosaic that was alive and pulsing with new ideas, forms, creativity and literary artistry. Indelible documents such as Art Pepper's description of his life in jazz and his descent into heroin addiction is mesmerizing in its veracity. These artists and this lost world is examined from many angles in these works give more than a primo peak at the hot birth of the real cool. You dig.
REAL LIFE. REAL NEWS. REAL VOICES.
Help us tell more of the stories that matter from voices that too often remain unheard.