It's a perfect place to watch a thriller: the evocative town of Beaune, in the heart of Burgundy, where medieval towers and cobblestone streets abound, replete with gabled roofs and wine cellars. With its imposingly quiet charm, it's the kind of place one can imagine a Georges Simenon crime secretly behind the next corner or--as in The Last Diamond, screened here last night --a mad heist for a 14th century diamond, once owned by a duke.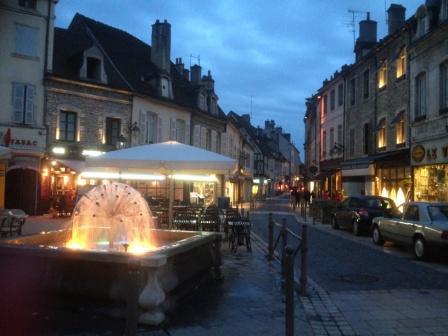 The Last Diamond was the first film I saw at the Beaune International Thriller Festival, which takes place here over five days every April, bringing crime films from China to the US to this vintage town and giving crowds of fans the chance to have autographs of the invited stars. In the audience that evening were stars Yvan Attal and Berenice Bejo, the leads in the diamond heist caper.
"Oh it's about more than just a diamond!" Berenice Bejo said with a winning smile, standing on stage in a dress that challenged the notion of "hems," with slits angled every direction. She winked: "I hope you will agree."
But even if just about a diamond, the story of The Last Diamond is more than enough, if only for its non-stop twists. A young beautiful woman (Bejo) takes ownership of auctioning a 40,000,000 euro diamond, meets up with a handsome veteran crook (Attal), and then the twists begin, including, of course, a simmering sexual (love?) relationship between crook and unsuspecting woman, symbolized by many "drilling" shots for the "jewel," with the whorl of the screw going round and round.
But no worries, the twists go further than just a drill for a diamond in a vault. I, no expert in this genre, was surprised by how far one could go with inventiveness, including a sudden reversal which leads us within seconds from a mad screaming scene in a hotel ballroom to a yacht under gun-fire in the middle of the night.
I met with French director Eric Barbier to learn more about how the "thriller film" works.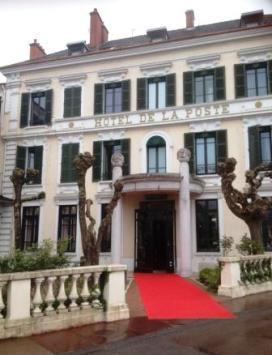 "Yes the thriller genre is all about twists!" Barbier began immediately with a lively grin, as as we sat together in the chandeliered lobby of the swank Hotel de La Poste, a very appropriate meeting point to discuss a film that begins in a luxurious Grand Hotel.

He gestured with a passion that belied his Mediterranean upbringing in a town by Marseilles and explained the nature of the genre:

The heist film is a genre with a long history, beginning with Tod Browning's silent film Outside the Law (1920). The heart of a heist film is the question of how to steal something of value. There are always unexpected twists. For example, in Inside Man, there is the surprise of a man hidden behind a wall; and in Ocean's Eleven, there is the surprise in the brief-case.

The greatest challenge of a heist film, in fact, is how to create these surprises. The public knows these kinds of films very well, so what intrigues me personally about making this kind of film, is how to create new twists and mechanisms to carry the story. My co-scriptwriters and I brainstormed to find, for example, an unexpected yet logical way to make the first encounter happen between Bejo and Attal.

The director gestured, over the coffee table, the handing over of money, a key scene early in the movie.
"We want the spectator to think: "Now why did he give this money?"'
The thrill of making a thriller aside, why did the director think that it was important to make them? Did the thriller had any value for the public, beyond just entertainment?
Barbier laughed. "They are very important for the public! The public adores being manipulated and getting into the story, being surprised. When I was a child, I loved watching movies, they sucked me in, led me by the hand. I loved films like The Italian Job, Le Cerveau."
What interested me in making this kind of film is that in France, between the 50s and 70s, there were great heist films, such as Mélodie en sous-sol (1962); Du rififi chez les hommes (1955), Jean-Pierre Melville's films Bob le Flambeur (1956) and Le Samouraï (1967), and of course Lelouch's La bonne annee (1973).

But after the 70s, the French cinema just stopped making these kinds of scripts. One lacks stories in France. They just disappeared. Who knows why, perhaps the influence of the Nouvelle Vague? While the Americans continued with the genre up until now, with films such as Spike's Lee's Inside Man (2006), Steven Soderbergh's Ocean's Eleven (2001) and Tarrantino's flicks"
His eyes shone with enthusiasm. "In France, the audience wants stories. They desire them!"
The object of value in the film is a diamond, one that actually exists in history: the Florentine, a yellow gem with 137 carots, and 126 facets, originally cut in Florence in 1470 for (some say) Charles the Bold, Duke of Burgundy--and subsequently stolen and lost in 1918.
Why did Barbier choose a diamond to be at the core of his film, rather than, let's say, money?
"Because it is so rare and precious, so small!" the director grinned and waved his hands "And yet worth hundreds of these hotels! A diamond makes people dream. It is beautiful, romantic, mysterious---what we dream to steal."
But is the movie---as Berenice Bejo said last night--possibly about more than a diamond?
"Oh sure it is! It is about the complicated relationships between the characters, and it is about a girl who grows up to become a woman, becoming more than just her mother's copy, who minds the family diamond."
He acknowledged, with a grin, that he himself does not own a diamond.
"But I have this!" he quipped.
Calling all HuffPost superfans!
Sign up for membership to become a founding member and help shape HuffPost's next chapter