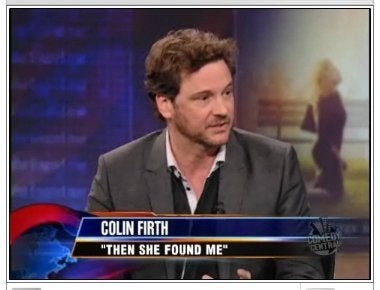 Finally, at TIFF, a film that soars above the rest: A Single Man from Gucci-designer-turned-director Tom Ford, who gets it spectacularly right in his first feature. Giant, truncated closeups in the present paired with fluid, grey-toned flashbacks create a mood of elegiac sadness that seeps into your system. I've always thought of Colin Firth as a superb thesp, yet never suspected in him the incandescence and depth he brings to the titular character. The turn won him Best Actor at Venice and will surely spark notice come awards time. At Toronto A Single Man unleashed, as in the good old days, a bidding war, with the Weinsteins ponying up a reported $2.5 million to emerge the victor.
In a story adapted from a late novel by Christopher Isherwood set in 1962 California, Firth plays George Falconer, a gay college professor mourning the death in a car accident of his longtime lover (Matthew Goode). It's been eighteen months, yet far from reconciling with his loss, George sees no future and is trying just to "get through the goddamn day." From his modern glass-and-wood house, he observes the suburban workadaddies around him like some alien tribe and barely registers the coming Cuban crisis blaring from the radio. He's only fully alive to the past, exquisitely rendered in memories of intimate happiness with his partner. In fact, George is setting his affairs in order and orchestrating his suicide.
Keeping him tethered to life is best buddy Charlotte (Julianne Moore, biting into a juicy role) -- a fellow Brit transplant and George's one-time lover. Dumped by her husband, Charley now hits the bottle -- and could slip right in among the suburban malcontents of "Mad Men." In a terrific booze-fueled scene at her place with George, Charley blows up at him for ruining their affair by "being a goddamn perv." Also keeping George in the game are the attentions of a handsome student whose eyes express more than a search for intellectual companionship.
Everything in this film feels right: the period detail, including immobile beehive hairdos, Arpege perfume, Zenith TV's, George's tailoring and dark framed glasses -- perhaps too right, like details in a photo shoot. But any preciosity is overruled by the film's emotional intelligence, as when George inhales the smell of a stranger's Jack Russell that evokes the dogs he owned with his lover. Ford also teases out the convergence of the period's fear-mongering with a gay man's isolation in the early 60's.
The radiant visuals are doubled by Colin Firth's voice, a Stradivarius of voices, with layers and timbres that move you to the core. Suffused with something that feels deeply personal to the filmmaker "A Simple Man" is about beauty -- coveted, lost, regained in a transcendent form. Yet far from limiting its appeal, the aestheticism serves the film because yoked to an emotional wound with universal resonance.
Other buzzed-about films at TIFF:
Up In The Air A timely smackdown from Jason Reitman of corporate flunkies who make a living off the misery of others, featuring a comic portrayal by George Clooney of a midlife male in search of a soul.
Chloe A psychosexual thriller from Canada's Atom Egoyan with Julianne Moore as a suspicious wife who hires a hooker to test her husband's loyalty.
The Joneses In this parable reflecting the zeitgeist, first-time writer-director Derrick Borte lowers the boom on America's consumer society.
Capitalism: A Love Story With his latest essential piece of agitprop Michael Moore tasks Wall Street and the Right with bringing average Americans to their knees.

I Am Love This collaboration of director Luca Guadagnino and Tilda Swinton tells a dreamy languorous tale about the fortunes of a wealthy Milanese family with a resemblance to Visconti's "The Leopard."
"The Art of the Steal" Don Argott adopts the techniques of a thriller to explore how the wrong people seized the billion dollar Barnes art collection.
Popular in the Community