Mark Burnett (producer of Survivor, Apprentice, Are You Smarter..., The Voice... basically reality. He owns reality) gave me my first break in Los Angeles. On a scripted television comedy pilot for the WB (remember that crazy singing frog?). I had been on All My Children for three years -- instead of going to Carnegie Mellon to get my degree in theatre of the musical kind -- and had taken almost a year off from acting. I started pursuing some music interests and some general what-the-heck-am-I-doing-with-my-life meandering at the ripe old age of 21. My reps had convinced me that I should go out on "pilots," and for something even crazier called "pilot season." "What's pilot season?" I asked. A season for "pilots." For planes? "I need to get my pilot's license to be on television? Crap!" Oh, to be green again. Seven pilots and many a guest, recurring, regular you-name-it-I've-probably-done-that-on-television's later, I run into the man that gave me my break, Mark Burnett, at the infamous "Evening Before Party." A pre-Emmy shindig for the Motion Picture and Television Fund, where the hub of all the creators and artists in entertainment that create, well, art and entertainment for basically everything we consume, commence and canoodle for one evening under the stars at an undisclosed location.
Mark was an unlikely break for me. ONE: He was famous for reality shows, while I am not nor will I ever be good at being myself (insert Elaine dance and tripping at inopportune times here). TWO: Mark had never produced a scripted comedy pilot. THREE: I had never auditioned for, nor been in, a television pilot. FOUR: Repeat steps one through three... wait. Sorry! Brian McKnight moment (shout-out to Topher Grace for always having that one at the ready). I remember at my studio test (which I didn't know was a test or in front of a studio), there was this adorable English accent puttering along. Encouraging me. Telling me how funny I was. How he thought I was the girl for the part. Effusive. Endearing. My wide eyes, I-really-need-this-job, Chorus Line curly haired self was forever grateful when I got the call that I had indeed "booked it." Mark, myself, and the whole cast (which included Michael Higgins, Keenan Thompson, and Dan Byrd) went to Barcelona, Spain to shoot this half scripted/half improvised comedy about a National Lampoon-type family traveling the world. Mark's plight in television is to find a way to bring the world to every person in America when America can't go see the world. It really is a lovely plight, with a deeply good intention for television.
All of a sudden, I was a working actor on the smallish (depending on whose house you're at) screen. I could pay rent. I could stay in Los Angeles. And pursue my dreams. And Mark and I have kept in touch over the years. It's good when that happens.
I didn't grow up in Los Angeles, and maybe I'm an unlikely candidate for the town itself, but LA has really grown on me. Not just grown. It's my community. When people travel all over the world, I run into them in LA. When I'm traveling the world, I run into people from LA. When my friends ask me what it's like to be in LA... "How can you be normal? Can you do things... Normal? It must be so different. Can you have a family? Babies? A car?" Or... the adage -- "I have no idea what your life is like in LA..." I think of barns.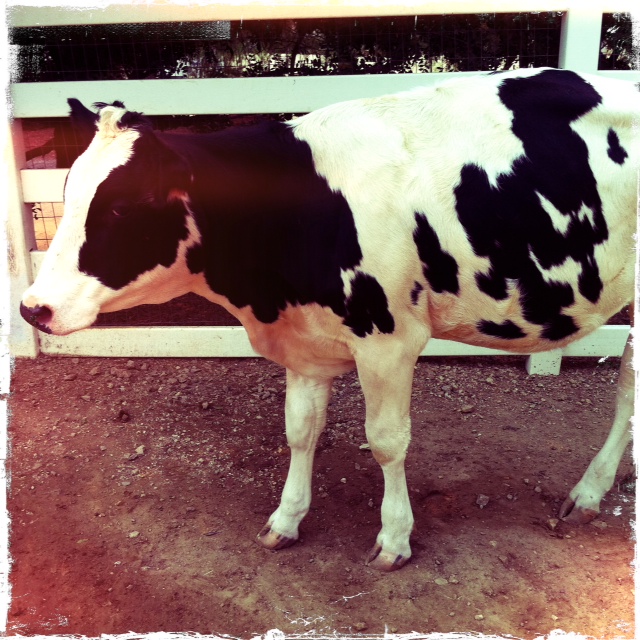 Local barn dweller.
I mean. Barns, you guys. How can this mostly auburn-hued, wooded infrastructure -- that could go down in flames just by looking at it with a fever and that boasts thick connotations of childhood bliss from Charlotte's Web and Babe -- be responsible for storing and sheltering livestock. Live. Animals... of stock. The expectations are out of control for such a mild-mannered, humble abode, don't you think? Thinking of all the animals that co-habitat and co-exist inside. And the hay. And the feed. And the manure. Packed into simple beams that can support humanity. But is a barn truly a barn without all the things inside? Is the barn separate from its function? In my search for barns, I found that it's also a term in physics for, "a cross section of nuclear reactions." House of power maybe?
My Emmy weekend started by grieving over the passing of a dear friend's father. A funeral. Losing my father earlier this year gives me such empathy for my friend who had to spend the last year waiting for this week. We pontificate about which is worse. Sudden or slow. Both are terrible. And both have the same result. So. There you go. But the love he has around him. My friend grew up in LA. Born and raised. And as I went walking down the pebbly path, my sunglasses covering the well of tears, to his childhood home in Brentwood (that was already filled with family and friends of his whole life), I thought of a barn. I was walking into his micro-barn of feed and power. His Little Barn. I went to go pick up my mother at the airport after. She's come in town for my son's birthday, which we are having at The Little Barn (irony?). And we were getting up to go to my friend's daughter's birthday -- a friend who works at Vanity Fair and whose husband was the First AD on my first movie in Los Angeles -- at The Gentle Barn (okay, it's just getting weird). This is the first time my mother has traveled since her husband died. He died here in Los Angeles at County Line in Malibu, and we'll be making the trek to the site this week. She came to be with her grandson and her daughter. And be with her husband in an odd way. And it's Emmy weekend. So I took her to an Emmy soirée.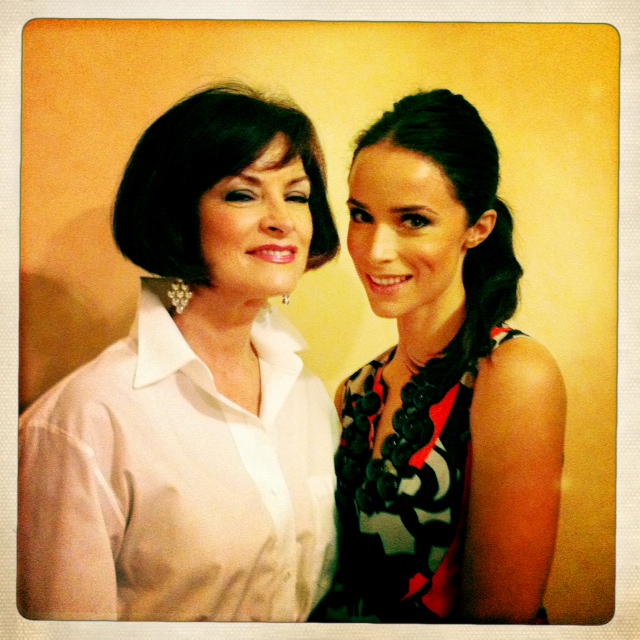 My mother Lydia Spencer and myself, on our way...
Angelenos are people too. We are. We have funerals. And birthday parties. And families. And children. And soccer games. And weddings. And we get sick (I was totally losing my voice). And yes, the Emmys. We just have them all in one weekend. We are planning our entire lives, in these deeply human ways, around what really matters. I have never felt such joy than to walk around the illustrious "Evening Before" party seeing... my friends. My friend who had just had twins and this was her first outing. My dear friend who has cast me on shows, and then has cried with me through almost losing a friend together. Two friends who I was in acting class with for years, beating our head against lamp posts, and now one's on the hottest show on television and one's going off to be the lead in a movie. I hold my heart when I see Octavia Spencer, whom I also know from acting class, and how I can't hold back my tears as I tell her much her arresting performance in The Help moved me, and how I can't believe that I have stood across from an Oscar nominee and shared art with her when no one else was watching, or frankly cared. I see my friend who I helped audition for Gilmore Girls ten years ago in New York when he was day-playing on the soap opera and now he's one of the biggest TV stars there is, and he plans his entire life around his three children. Literally, sacrificing his sanity for the things that are truly important. A friend across the room who I did a reading of a play with in a dank apartment in Los Feliz, and is nominated for an Emmy. And my mother. My mother got to meet my friends. As we were walking in, a tall handsome man was passing us. My mother stopped me -- "Is that House?" Oh. I said. Yeah. I guess you might recognize a few people here. I have such a deep respect for everyone in that room. And I look at the generation before mine conspiring that evening and think about how they must feel the same way. Like real generators of content in that room, and how they all went through the ranks together, and how satisfying it is to see your friends doing well. Because... it's hard. It's really hard. To not lose fire. To not feel like you're supposed to do anything else with your life. To "make it" in the "business." It's hard to just stay patient and stay the course. It's hard to feel like you are staying true in the business of art. It's hard. And I don't think there was one person in that room that isn't so totally grateful that we all get to do "this" for a living. Tom Cruise included.
You know what was the best part? Everyone was so excited to meet my mother. My 60-year-old mother, who has never had any "work" done. Plays seven different instruments. Raised my brothers and me, sings like an angel, and is the most talented person I've ever met. And lost her husband and her father in the past year... They all just oohed and awwed over her. (Matt Weiner said she looked like Anne Archer). She was the true "star" that night.
And the Mark Burnett of it all. Mark (and his beautiful wife Roma) and I crossed paths amidst sashaying around the room to congratulate the nominees and fawn over the people that make us weak in the knees, and I threw myself into my friend's arms, hugged his neck, and said "Thank you."
As my mother and I left the party in full swing, after more hugs and kind words with people I have worked alongside in the past or hope to in the future, I turned one last time and heard the growing beat of the music and the rising laughter from the inhabitants under the twinkly lights that hung just so, and I thought, that is a cross section of power and some good stock of life. That... is a beautiful barn.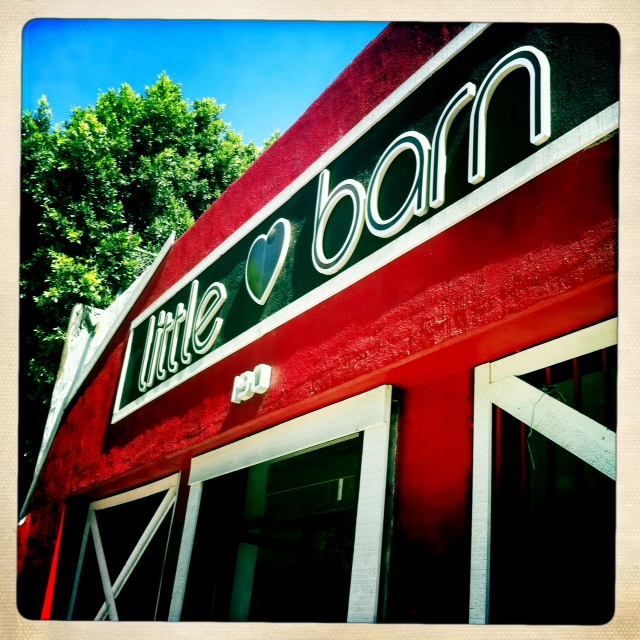 Support HuffPost
The Stakes Have Never Been Higher
Related
Popular in the Community