On Jan. 30, Chicago Tribune photographer Nuccio DiNuzzo captured a moment between two fathers and their children at a protest at O'Hare International Airport.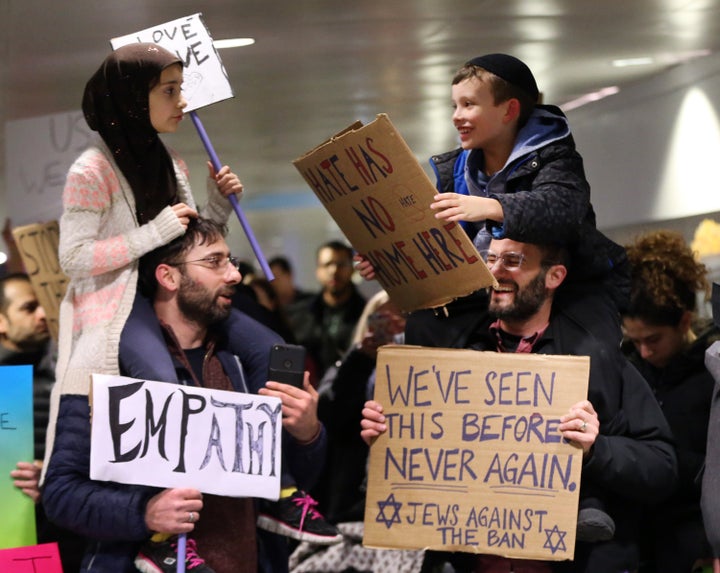 The photo shows Rabbi Jordan Bendat-Appell of Deerfield, Illinois talking to a Muslim father named Fatih Yildirim, who lives in the Chicago suburb of Schaumburg. Both men's children ― 9-year-old Adin and 7-year-old Meryem ― sit on their shoulders.
Bendat-Appell, who works for the Institute for Jewish Spirituality and Orot: Center for New Jewish Learning, told The Huffington Post that he only just met Yildirim and his family that day at the protest.
"My son, Adin, wanted to move closer to the front of the crowd so he could see people better when they passed by," the rabbi recalled. "He was very excited to be there! He asked to go on my shoulders and we found ourselves next to Fatih and his family."
Bendat-Appell said they had a "lovely conversation," and when the photo was taken, Yildirim was asking him where to find a kosher steakhouse.
"What was wonderful was that it was a very human interaction ― not a Jew and Muslim, but two human beings (who look enough alike to be brothers!), standing up for what is right," the rabbi said.
Bendat-Appell and Yildirim exchanged information and connected after the protest. The rabbi invited his family over for Shabbat dinner. "I'm making steak, he is bringing baklava," Bendat-Appell said.
The rabbi told HuffPost he believed it was important to go to the airport that day. "We feel that as Jews it is our obligation to stand up for the oppressed; our history of persecution comes to teach us that we must not be silent in the face of injustice," he said.
"I hope that when people see this photo ― and I believe Fatih is with me on this ― that people see that we can come together, that we are all human beings and even children can understand that we have a simple choice to make as human beings: We can choose to be loving and kind even if we have reason to fear and mistrust," he added. "We are happy if this photograph can bring a bit more love and light into this world."
The HuffPost Parents newsletter offers a daily dose of personal stories, helpful advice and comedic takes on what it's like to raise kids today. Sign up here.
Before You Go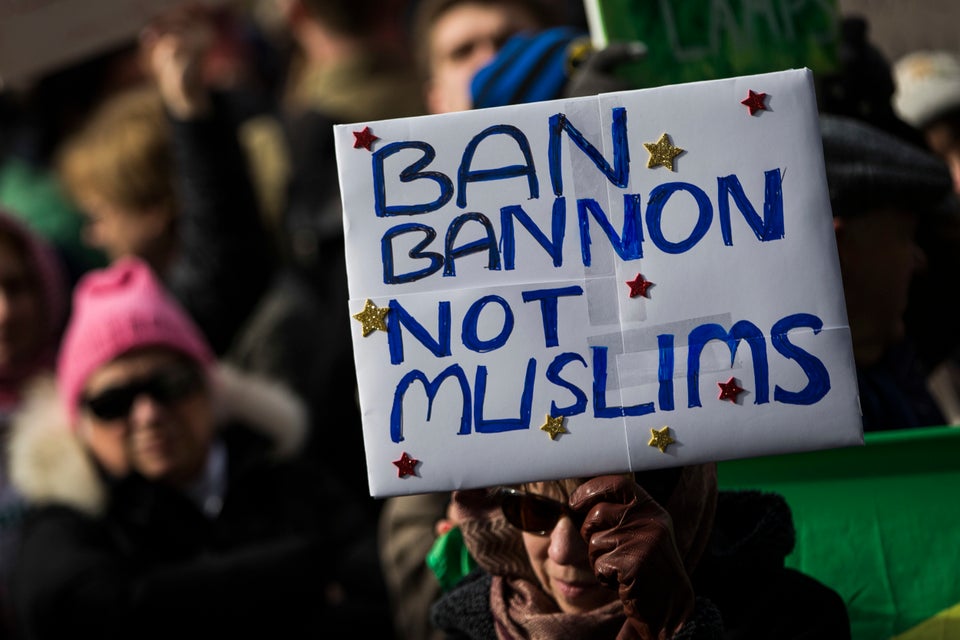 Nationwide Protests Against Trump's Executive Order