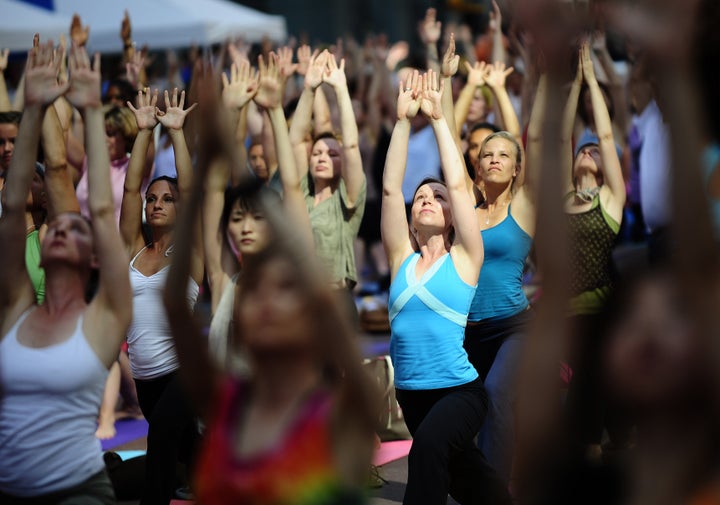 I was spending a rainy week in Santa Monica when I decided to take a yoga class one afternoon at a studio called Yogi's Anonymous that was recommended to me by friends. Yogi's is a modest facility opened last year by a transplanted New Yorker named Ally Hamilton. After a grueling workout that made me realize I need more yoga in my life, I sat down with Ally to talk about Yogi's for a piece that I was working on about the Zen lifestyle of Santa Monica.
Hitting it off like old friends, Ally asked, "Will you be here on Saturday? We're having a flash yoga mob on Third Street Promenade at 1PM. You should come." A flash yoga mob? My interest piqued.
"Unfortunately, I'm heading home on Friday. What's the occasion?" I asked, assuming that the flash mob would be a one-off publicity stunt to draw more traffic to Ally's studio. Man, was I off base.
"It's in conjunction with the Africa Yoga Project, which my friend, Paige, founded. AYP teaches yoga to youth in Kenya to help counter tribal violence. They're having a flash mob in Mathare. Nairobi. It's also happening in London." I knew Mathare was one of the more compromised slums in Kenya. The flash yoga mob was to take place on the site of a former housing facility that burned to the ground during the post-election violence of 2007. That violence took over a thousand lives and displaced over 600,000 Kenyans.
"Really?" I asked incredulously. Easily impressed by those who dedicate their lives to world causes, as a writer, I'm always looking for my next lead. Add to that, Kenya holds a special place in my heart. "I spent my summer in Kenya working with a children's home in Njabini," I told Ally. "Maybe we can connect your friends and my friends in Kenya."

When I got back to my hotel, I immediately jumped online. The Africa Yoga Project was founded in 2007 by Paige Elenson to target at-risk communities in East Africa and motivate them toward non-violence and empowerment through the transformative powers of yoga. Tapping members of each community to lead their peers in practice, the AYP uses the methods of uber-yogi Baron Baptiste to affect the lives of youth from ages 16-30, usually living on under $2/day. Many are afflicted with AIDS/HIV, and many make their homes on Africa's streets. Clearly, I wasn't the only person inspired by the Africa Yoga Project; Yoga for Unity, a documentary on the Africa Yoga Project's work combating tribalism was already in the works.
Immediately, I wondered if Flying Kites, the organization that I worked with over the summer, knew about the Africa Yoga Project. The children I got to know and love--Ruth, Ann, Hannah, James, Moses, and Daniel, to name a few--would just love yoga, especially for such a wonderful cause. I could see their bodies bending this way and that in an effort to keep up. I could envision the smiles on their faces during their practice.
Flying Kites, based about two hours outside of Nairobi, is an organization that is enacting social change in their own way. A school and orphanage for children in the Njabini community, Flying Kites' Oasis program helps other Nairobi orphanages provide similar top-level care to the children of their communities. This domino effect has improved the lives of countless Kenyan youth. In my mind, these two non-profit groups formed a perfect couple.
On Saturday December 18th, back in my New York City apartment, I watched as the clock struck 4 PM. At that very moment, globally minded yogis in Santa Monica, Kenya, and London were all posed in some variation of downward facing dog, inhaling and exhaling a message of peace and unity. I couldn't wait to see the footage from Yogi's and the AYP. I was eager to connect AYP and Flying Kites, knowing that the collective potential for greatness of these two organizations would be limitless.
I woke the next morning with a note from Paige Elenson on Facebook. "We had our own experience in Nairobi, but watching the global footage I realized how universal that experience is. It was symbolic to watch the sun shine so brightly in Nairobi while the snow blanketed London, and the rain blessed Los Angeles. Yoga can happen anytime, anywhere and we proved that." In turn, I emailed Leila deBruyne, one of the founders of Flying Kites, explaining Paige's organization. I should've anticipated her response.
When the YouTube videos went up, quiet tears filled my eyes as I watched the images. The kids of Flying Kites were already involved in the AYP flash yoga mob in Mathare! A place of such atrocity, Mathare was experiencing new light, courtesy of the AYP and Flying Kites.
As deBruyne says, "Until the flash mob, I didn't understand how powerful yoga can be as a tool for reconciliation. Watching children orphaned by tribal violence practice yoga along side families who had been displaced overwhelmed me indescribably." Flying Kites Country Director, Brian Jones, poignantly describes the scene in Mathare on his blog Kenya Dig It? which I encourage you to read. Of course, these two organizations were already in contact!
"What are the chances? You just went to a yoga class in L.A." my father responded, when I explained the amazing connectivity the day had inspired.
"The chances are great. The world is tiny if you throw yourself into it. It's the beauty of travel coincidence," I said smiling. "It never fails."
If you've experienced travel coincidence or been inspired by organizations like the Africa Yoga Project or Flying Kites, share this post with the people around you. It'll come back to you tenfold. I'm sure of it.