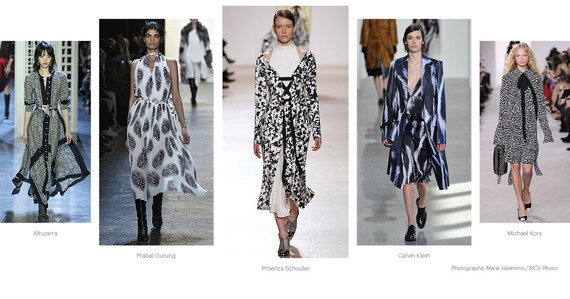 We all have our go-to's, and a dress with a black-and-white print -- whether it's florals, checks, diamonds, stars or romping animals -- is at the top of the list. While it's definitely seasonless, this dress is an easy and elegant choice for summer, and a snap to accessorize.
There are few pieces more all-out flattering -- the print design sends the eye traveling and what better way to show off your great legs? Best part: Many of them come with sleeves!
Altuzarra Joseph Altuzarra loves a shirtdress. His latest version, in a bandana print, has a slightly '70s vibe.
Prabal Gurung Oversized quills -- or palm fronds? -- have a Rorschach effect on an airy dress for all seasons.
Proenza Schouler The graphic print on a kimono-like layered dress calls to mind a composition notebook.
Calvin Klein An abstract feather-like pattern gives this coat and dress ensemble an artistic attitude.
Michael Kors The all-over spatter-like design on an easy-to-wear chemise keeps the eye moving while the pussy bow provides focus.
We found a rich abundance of black-and-white prints you can buy and wear forever!
Break up your solids These dresses are the perfect way to add a pop of visual interest to your closet, whether it's a deliciously vintage Altuzarra shirtdress, with its point collar and gently puffed sleeves and belted waist; a super-comfortable Anne Taylor floral chiffon midi dress; or a highly flattering Ace and Jig dress with its folkloric-pattern print and shift silhouette.

Take full advantage of the range We love the fact that black-and-white dresses fit so many occasions. The choices run the gamut from an elegant Max Mara Grolla dress--with its delicate white-star all-over print and lean shape, it could become your secret weapon--to a super comfortable, casual Anne Taylor floral chiffon midi dress. And how about the floral V-neck Jersey dress from Kay Unger, the sleeveless fitted dress with broken-stripe collage print from DVF and the flare-skirt graphic pattern Jacquard dress from Lela Rose? Each in this terrific trio would be perfect for the office and transition day to night in a snap.