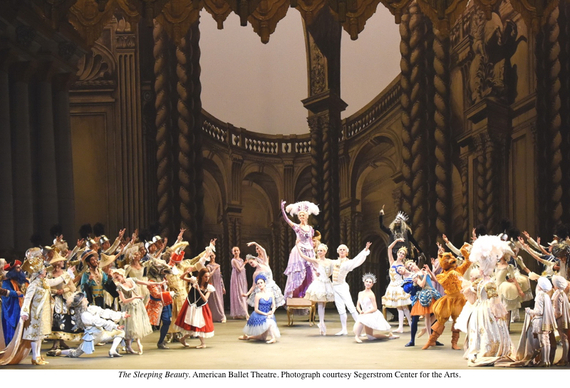 My family lived in St. Petersburg, only a few blocks away from the famous Mariinsky Theater, so my parents on occasion took me there to experience the magic of The Nutcracker, Swan Lake, and, of course, The Sleeping Beauty -- all choreographed by Marius Petipa to the music of Pyotr Ilyich Tchaikovsky. Last week, longing to see this Beauty once more, I drove to Segerstrom Center for the Arts in Costa Mesa to see the world premiere of The Sleeping Beauty by American Ballet Theater. Much-acclaimed Russian-born choreographer Alexei Ratmansky did an impressive job studying available 19th century documents detailing the nuances of Petipa's original choreography to make this Sleeping Beauty as "authentic" as possible. LA Times critics gave glowing reviews of the performance, while respected dance critic Victoria Looseleaf gave it a thumbs down in her review, titled "Beauty Sleep." For me, Ratmansky's Beauty never fully woke up, and unreasonably luxurious costumes, along with over the top set design, somewhat overwhelmed the romantic story meant to be told first of all and most of all through poetically restrained movement.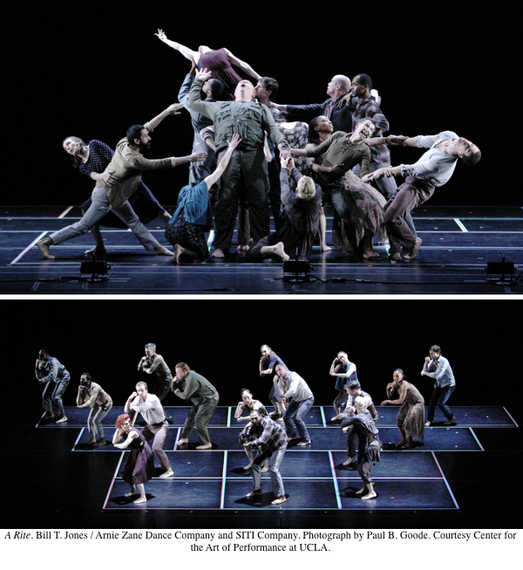 By sheer coincidence, the same week, the Center for the Art of Performance at UCLA presented the ambitious dance-theater performance inspired by Igor Stravinsky's groundbreaking The Rite of Spring, which famously provoked a mighty scandal when it premiered in Paris in 1913. Here, on the stage of Royce Hall, The Rite was in full swing thanks to the collaboration between Bill T. Jones/Arnie Zane Dance Company and Anne Bogart's avant-garde SITI Company. His dancers acted, her actors danced, and it felt like all of them were born to do both. The audience gave a standing ovation at the end of this 65-minute performance. Instead of a polite re-creation of the 100-year-old The Rite of Spring, this richly reimagined Rite had an appropriately unsettling, disquieting edge to it while retaining the revolutionary spirit of the original.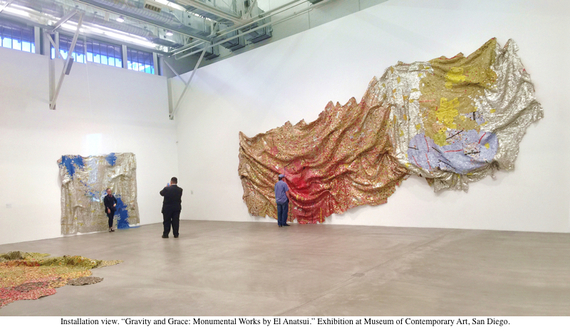 Now, let me ask you, what would you do with thousands upon thousands of shiny metal caps from liquor bottles? Would you throw them away? That's definitely not the case with famous Nigerian artist El Anatsui, who flattens them, cuts them into pieces, and then stitches them together with copper wire. As a result, each tiny metal piece is transformed into a sort of brushstroke in gigantic tapestries flamboyantly draped on the walls to the most theatrical effect. I first encountered Anatsui's work at the Venice Biennale in 2007. And then, upon returning home, I discovered his traveling exhibition here, at UCLA's Fowler Museum.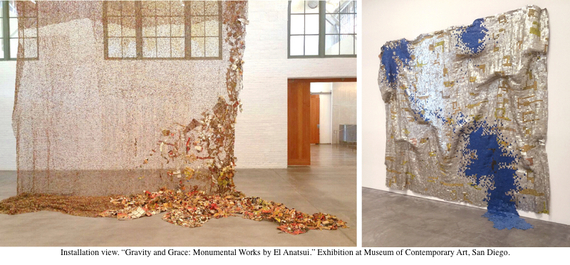 A decade ago, few people knew about El Anatsui. Today, this Ghana-born Nigeria-based artist is considered to be one of Africa's most influential artists. His works have been acquired by major museums around the world, and private collectors fight for the privilege to spend millions of dollars for one of his pieces.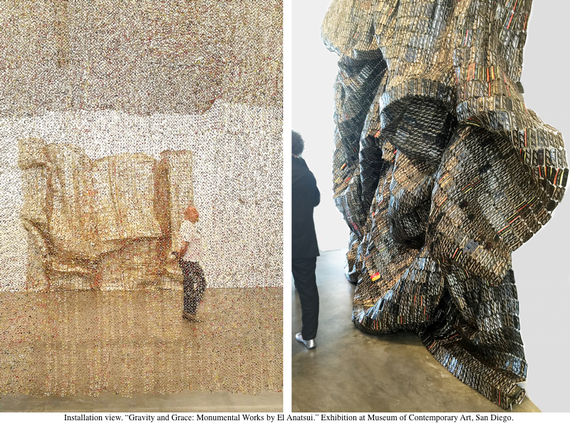 So, if you're intrigued by what you've heard from me so far, don't wait, just jump in a car and drive down to Museum of Contemporary Art in San Diego to see the new exhibition by El Anatsui, "Gravity and Grace."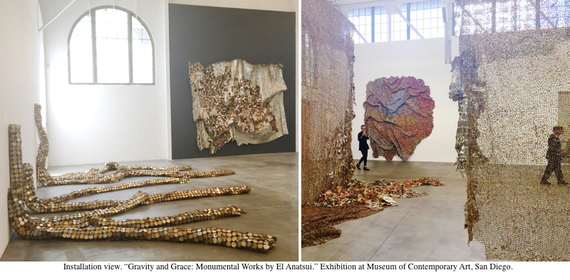 I was happy to experience once again the flamboyance and theatricality of his monumental works. But there was also a welcome surprise. The exhibition presented Anatsui's new, translucent, lace-like curtains made of the same humble materials -- shiny metal bottle caps that, instead of ending up as garbage in dumpsters, were saved and transformed into beautiful, shimmering artworks. Talk about weaving the proverbial silk purse out of a sow's ear.
To learn about Edward's Fine Art of Art Collecting Classes, please visit his website. You can also read The New York Times article about his classes here.
Edward Goldman is an art critic and the host of Art Talk, a program on art and culture for NPR affiliate KCRW 89.9 FM. To listen to the complete show and hear Edward's charming Russian accent, click here.
Calling all HuffPost superfans!
Sign up for membership to become a founding member and help shape HuffPost's next chapter