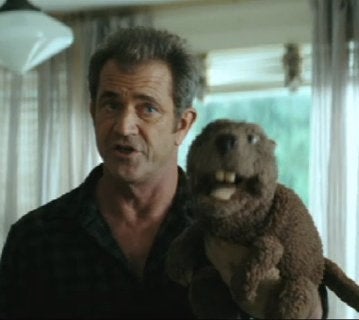 The world, it seems, isn't ready to forgive Mel Gibson. Or maybe it just suddenly hates beaver puppets.
Gibson's first attempt at a big screen comeback, the Jodie Foster-directed indie dramedy "The Beaver," was a resounding bomb at the box office over the weekend, taking in just $104,000 on a limited release on 22 screens, according to The Hollywood Reporter. That gives it a per-screen average of $4,745, which is about $10-15,000 less than its distributor Summit was counting on.
So, why did "The Beaver" bite the dust? Probably a combination of four interconnected reasons. One, its star is currently going through a nasty custody battle involving domestic violence; that, of course, comes on top of Gibson's infamous racist and anti-semitic rants. Needless to say, despite his character in the film being a shaken and fragile individual, audiences don't quite see Gibson that way.
That brings up the second reason for the film's failure: Gibson did basically no press for the film, agreeing to only one interview as the release creeped forward. And that wasn't exactly a cushy promo piece -- Gibson faced tough questions about his past in a conversation with Deadline.com, and he largely tried to defend himself while still apologizing for what he may or may not have done.
Foster, who co-starred as well as directed, did some press for the film, but again, despite what a trove of movie-related information she could have fed to the public, she ended up largely defending Gibson in her interviews. The two are long-time friends, and pieces that came out of her interviews mostly consisted of her saying that Gibson wasn't really racist or physically abusive, despite the public perception and his own actions.
So, having been reminded constantly of Gibson's transgressions and the star largely staying silent, all the public truly knew about the film was that it involved Gibson was a sad man who has a beaver puppet on his hand. It received some rave reviews -- "The Beaver" sports a 65% "fresh" rating on RottenTomatoes.com -- but it was largely an unknown, starring an alleged racist, going up against two massively performing summer tent pole films in "Thor," and "Fast Five." The superhero epic took $66 million in its first week, while the Vin Diesel/Dwayne Johnson-vehicle raked in another $32.5 in its second go round.
Will "The Beaver" recover as it heads to a wider release? Tough to predict that being the case, but if they want to have any hope of success, Gibson and Foster better do some serious PR work to sell it to the rest of the nation.
WATCH
:
Calling all HuffPost superfans!
Sign up for membership to become a founding member and help shape HuffPost's next chapter