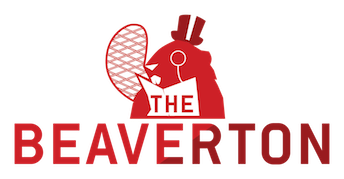 If satire is a lesson, as Nabakov says, the Beaverton is schooling us.
What started as an online news satire publication (https://www.thebeaverton.com/) is premiering its first television season on the Comedy Network starting November 9th at 10:30 p.m. Canadians no longer need wait for a fleeting comment from the likes of The Daily Show about our home and native land or its smokeshow of a Prime Minister. With its irreverent political wit and freshly fun jabs at Canadiana (see this commercial for another Canadian Heritage Minute: http://bit.ly/2fen2jB), The Beaverton represents the next generation of satire in Canada.
Full disclosure: I had the incredible opportunity to work in The Beaverton's writing room and got to see up close the talent and passion of its creators: Jeff Detsky, Luke Gordon Field, Alexander Saxton and Jacob Duarte Spiel. Detsky [Call Me Fitz, Seed] and Gordon Field [a lawyer turned stand up turned television writer] worked as co-showrunners to bring the show to air with Bell Media and Pier 21. I spoke with them about their experiences creating The Beaverton's inaugural season.
Writing for the Beaverton's First Season
JD: "This is the show I've wanted to make, ever since I realized I wanted to make TV shows for a living. I'm incredibly lucky to have found all the right partners to make this thing a reality: Luke, Jacob, Alexander, and everyone at the Beaverton for cultivating the voice of the website so clearly; Pier 21 and Comedy Network for trusting and supporting the vision so passionately; our incredibly talented cast who elevated everything on the page; and especially to our incredible writing staff who not only worked their asses off to keep up with the impossibly ambitious schedule, but for somehow managing to make those 18 hour days as fun as they were."
LGF: "Getting to write this show was the single greatest professional experience of my life. We assembled an amazing group of writers from diverse backgrounds and experiences. Some were tv vets, some had never written a single line of television before. But they came together and did an amazing job writing a show that is smart, funny and very sharp. I could not be prouder of them."
Canada's Copyright Act was amended in 2012 to provide that "fair dealing" for the purpose of parody or satire does not infringe copyright. The application of this exception, however, has not been fully tested and American's still enjoy far more robust comedic freedom. I spoke with Detsky and Gordon Field about writing parody and satire within a more constrictive framework than our southern neighbours.
LGF: "Canada has a wonderful tradition of satire. We have always been happy to laugh about ourselves and the world around us. We are thrilled to be taking a place alongside the great Canadian satire shows that have come before us. And we are excited to add a voice that is a bit more biting and edgy. Just like the Beaverton website our show is not afraid to tackle subjects that are difficult and uncomfortable to talk about (as the clip about the Indian Act we released demonstrates: http://bit.ly/2ednr98) or are not traditional subjects for comedy (such as Canadian Blood Services' ban on sexually active gay men: http://bit.ly/2eMjRik). We are also happy to call people/institutions out, provided they deserve it. "
JD: "Some of the best satirical writers in the world are Canadian. Of course, it's a bit more difficult up here, given that we don't have the kinds of free speech protections that Americans enjoy. Still, we set out to make a show that had teeth, that pushed the boundaries of satire and comedy."
The Cast of the Beaverton
The Beaverton provided an opportunity for Canada's comedy community to shine. I asked Detsky and Gordon Field about working with some of the country's top talent.
LGF: "It was very important to both of us that the people who perform in our show be comedians themselves, rather than just actors. We wanted people who really understood the comedy they were being asked to perform, because they are comedy creators themselves, and could add their own input to it. We were very fortunate that our main cast are 6 of the funniest, most talented comedians working in the country. We'd been fans of all of them before we hired them, and getting to see their performances in this show has been mind blowing."
JD: "Not only did we stack the deck with our core cast, but we managed to cast all our one-off characters almost entirely from the Toronto Comedy scene. Over 100 roles were given to the crazy talented roster of this city's stand-ups and sketch performers. Most shows are sunk by shaky performances in their bit roles. I think our day players ended up being one of our greatest strengths."
The Beaverton as a Full-Service Platform
The Beaverton began to find its voice with its popular website and is now sharing that perspective on a variety of mediums. I spoke with Detsky and Luke Gordon Field about the Beaverton's transmedia strategy and the building of a Beaverton empire.
LGF: "While I love the idea, empire is not exactly our goal. First and foremost we are trying to create a television show that people will enjoy watching, whether they are already fans of the website or not. But naturally adding the television show to the existing text articles on the website will expand the voice of the Beaverton. Shortly we will be rolling out digital exclusive videos and podcasts as well, which will allow us to respond in real time to news stories and satirize online culture the same way the website satirizes newspapers and the tv show satirizes news broadcasts. The goal is to create a comedy hub where people can get their content in a variety of ways: text, audio and video. But the key is that everyone knows that when they watch a Beaverton video, read a Beaverton article or listen to a Beaverton podcast they will experience something smart and funny."
JD: "As Luke said, the TV show needs to stand on its own, regardless of your familiarity with the site. The same goes for the podcasts, or the online videos. What's really exciting to me about the prospect of all of these elements is that there's a consistency of voice and taste across the spectrum. The same people running the TV show are also the same people overseeing the rest of the Beaverton. "
As the Beaverton says: Finally. The News. On Television. Tune in Wednesday at 10:30pm on the Comedy Network for North America's most trusted source of news.
REAL LIFE. REAL NEWS. REAL VOICES.
Help us tell more of the stories that matter from voices that too often remain unheard.
This post was published on the now-closed HuffPost Contributor platform. Contributors control their own work and posted freely to our site. If you need to flag this entry as abusive,
send us an email
.