A girl, a New Yorker, a bartender at a songster club falls into a depression. She's sick of her band, her relationship, her body. She doesn't know what she wants. She starts cussing: motherfucker motherfucker motherfucker. She buys a trampoline. Motherfucker motherfucker motherfucker.
She jumps: Mother Feather.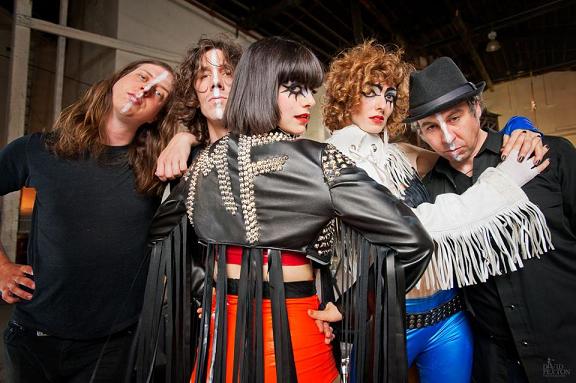 Mother Feather is a great New York City band in the tradition of Great New York City Bands. They aren't a Brooklyn band. They aren't genteel and they don't look at their shoes when they play. Their stage show matches the bombast of Black Sabbath with the kinetic sexual energy of Karen O squared.
Ann: There is something about two women that is so much more interesting than one woman. When you have one woman come into a bar, she is interesting. But when you have two women come into a bar there's something...
Lizzie: There's a relationship...
Ann: There's a relationship...
Lizzie: And people want to watch a relationship on stage.
Ann Courtney has black hair, bangs. She's pretty, wears red lipstick and speaks slightly through her nose in a flat tone with just a touch of gravel. Elizabeth Carena, who Ann refers to unfailingly as Lizzie, is tall with high cheekbones, bright eyes and a wild swath of curly red hair. Off-stage, they are easy going, the kind of girls that "can drink beer with the guys;" it is easy to imagine them making crazy on a Friday night with a scrabble board and a bottle of wine. On-stage, they are the front women of Mother Feather and they, with the help of guitarist Chris Foley's fat classic metal tone, the stage presence of bassist Matt Basile and the thunder drumming of Gunnar Olson, tear the fucking roof off it.
Ann says, I don't always feel liberated but within the confines of the band, the songs, the stage show (I do). We have built a show that is hard to sing, is hard to perform, like I have to be vocally in shape, I have to be physically in shape. I cannot phone it in. And that in a way is very liberating. So that I can't be lame. I have to be the dream.
Both Ann and Lizzie describe the band in terms of transformation. Mother Feather is an ideal, something they aspire to.
Ann: Those songs give me strength, the band gives me strength. Mother Feather songs are Mother Feather songs because they are empowering to sing. There's not a single self-deprecating word uttered ever.
On the surface, the songs are mostly about dancing or sex but closer readings get at the ideal: The Becoming. One of the joys of seeing Mother Feather live is watching this transformation in real time. Both Ann and Lizzie are seasoned performers. Ann cut her teeth singing lead for the downtown band Ann Courtney & the Late Bloomers for six years after studying theater performance in college. Elizabeth works as a stage actor and can currently be seen in Then She Fell..., an interactive, immersive theater performance now playing in Williamsburg. But what makes Mother Feather an oddly emotional show comes in watching The Becoming happen in real time. Courage only exists in fear and strength truly shines through vulnerability. The strength this band exudes, and Ann Courtney especially, is like young Marlon Brando's strength on-screen: the sensitivity of the guy is unnerving, you immediately want to fuck him and at the same time you never know if he might just rip your damn head off. Mother Feather does this while subverting the Brando ideal, this is a proudly feminist band we are talking about here and they aren't afraid to play with that ideal, too. But also they push that feeling outward. The Becoming is not simply stage craft and it isn't limited to Ann or Lizzie or any of the players in the actual band. At a Mother Feather show The Becoming is happening to you. So put your phone away and dance the fuck along.
REAL LIFE. REAL NEWS. REAL VOICES.
Help us tell more of the stories that matter from voices that too often remain unheard.