"Mommy, will you carry me to bed like a wittle baby?" I hear her tiny voice ask as she stretches out on the couch and waits for me to scoop her up, like I do every time she makes the request.
Bedtime always comes with a lot of questions around here. Maybe it's the same for you guys, too? Some of them are stall tactics, without a doubt. No, you do not need to know right this minute how many miles it is to California, or what you're going to be eating for lunch tomorrow, my child. Go to bed.
But some of them are innocent, and so precious.
You see, some nights, it feels like the three of them must be plotting against me to see how long they can make the process last. It's a battle of wills and a battle against my patience. Some nights, the baths-brushing teeth-potty-pjs-bedtime books-yes you can have ONE sip of water-no you may NOT have a snack bedtime routine feels as draining as a marathon. I feel spent. Rushed. Ready for their eyes to close so mine can do the same.
But then they ask those sweet questions. And my heart softens and I remember that they are so little and they still need (and want) me so much.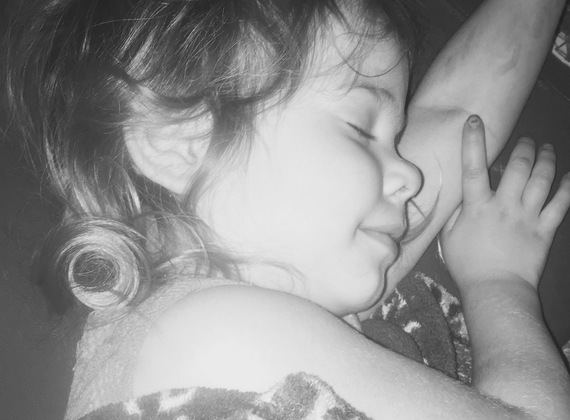 "Mommy, can you lay with me?"
"Mommy, can you sing to me?"
"One more hug, mommy, pwease?"
And I want to wrap them all up and tell them that I'm sorry for being a grump earlier and I hope when they grow up, they know how much I love them and how hard I tried, even on my bad days. I want to tell them that they are my greatest accomplishments and that I am so proud of who they are. I want to tell them that as much as I can't wait to see them grow up, I also want them to stay my babies forever. I want to tell them so many things that I feel like my heart just might burst. But in the essence of time, we say a prayer, and I give them each a kiss, and say, "Good night baby. Mommy loves you."
I walk out of their room and think of the absolute truth that even though this season is hard, I know I will miss it so much. Some day, I won't be able to carry them like "wittle babies," nor will they want me to. Some day, my singing will embarrass them (so I should probably just save it for when their friends are over). Some day, they won't need to be tucked in or kissed good night, and it will all most likely happen without my ever realizing it. I'll suddenly look back and think... when was the last time I tucked them in? Hmm... I remember when I used to carry her to bed and now she doesn't ask me to do that anymore.
They will be asking different things, like "Can I borrow the car?" and "How do I know if this is the right person to date?" and "Which college should I go to?"
And I will miss these seemingly rough days and the never-ending bedtime routine. And the questions. I'll miss these innocent questions.
Related