I am always amazed by what one person can do. One idea, propelled by the determination of a true believer can literally change the world. When other people get on board it can grow exponentially and anything is possible. Every artform has their champion that takes the art to newfound heights and for classical music in Chicago -- and in short order the world -- that person is George Lepauw.
Recently named, "Chicagoan of the Year," for Classical Music by The Chicago Tribune, George is the President and Founder of The Beethoven Festival, an annual, multidisciplinary festival inspired by the genius of Ludwig van Beethoven which is now in its third year. The goal of The Beethoven Festival this year is no small matter. In George's own words, "What I hope to accomplish this year? I want to spread the love, share my excitement and passion for the beautiful things of life. We need art and music and we need to share in Beethoven's spirit of potential for humanity. Even when all is difficult, we need to believe in love and what it can bring to us. And life is too short to keep good things to oneself: I want people to join me in this celebration!"
The line-up for Beethoven Festival: LOVE 2013 is as impressive as its goal: There will be more than 60 musical performances in nine days from September 7 - 15, 2013. Spanning from Bach to The Beatles, new classical and rock commissions, the diverse musical programming for LOVE 2013 includes 37 world premieres and six Chicago premieres. Among them are the world premieres of a newly discovered Beethoven love song and a cello/percussion piece by Wilco drummer, Glenn Kotche.
Throughout the festival, acclaimed Chicago artists such as Kotche, The International Contemporary Ensemble, Lincoln Trio, JACK Quartet, Ensemble Dal Niente, Anthony Molinaro and GRAMMY® Award-winning harmonicist Howard Levy will be featured alongside international talent from Belgium, Canada, France, Germany, India, Israel, the Netherlands, Poland, Romania, Switzerland and the United Kingdom. More than 100 events spanning music, visual art, fashion, literature and education will be presented during LOVE 2013, headquartered at the Merit School of Music's Joy Faith Knapp Music Center on 38 S. Peoria Street. A free public preview and art opening for the festival will be held on Friday, September 6. Programming for LOVE 2013 uses Beethoven's letters to the "Immortal Beloved" as a thematic inspiration and jumping-off point to explore contemporary and evolving issues of passion, romance and relationships.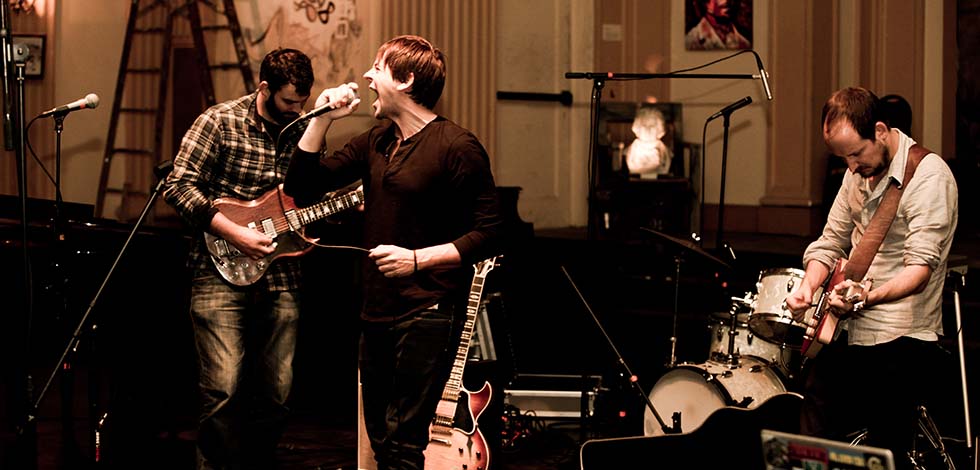 Photo Credit: Max Anisimov
Among the international musical headliners for LOVE 2013 is heralded composer-conductor Matthias Pintscher, music director of Paris' Ensemble InterContemporain, who returns as LOVE 2013 Artist-in-Residence after conducting the Beethoven Festival Orchestra in 2012 for the Chicago premiere of Beethoven's Creatures of Prometheus ballet and his Eroica Symphony. During LOVE 2013, Pintscher will conduct three full programs including: Bach's Saint-John's Passion, Wagner's Siegfried Idyll and overture to Tristan and Isolde, Mozart's Gran Partita, Beethoven's ode to nature, Symphony No. 6 (Pastoral Symphony) and Pintscher's take on the ultimate love story, his Songs from Solomon's Garden. Several of Pintscher's chamber works will also be performed by the International Contemporary Ensemble and other festival artists.
Tired yet? George is just getting going. "This year's Beethoven Festival is our most diverse yet," he explains. "An extraordinary lineup of performing artists from Chicago and the world are coming together to collaborate, inspire and explore the meaning of Beethoven, art and love in 2013. Many living composers, rockers, jazz and electronica artists will perform their works for the first time. This festival is all about creative collaboration -- and that is how we have chosen to express our love this year."
You see. One simple idea: to share and continue to be inspired by the life and music of Ludwig van Beethoven, accompanied by herculean effort and vision, and there now exists a festival involving almost 250 artists from at least 12 disciplines and over 13 countries, communing, collaborating and creating around the theme of love. Did I mention the opening night masquerade ball on September 7th? One person really can change the world, starting with you. Don't miss it the LOVE 2013. It promises to be wonderfully infectious.
REAL LIFE. REAL NEWS. REAL VOICES.
Help us tell more of the stories that matter from voices that too often remain unheard.