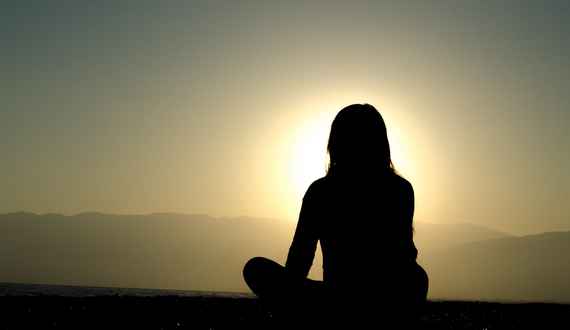 Although the list has generally been well-received, readers pointed out one noticeable omission:
While there are habits on the list that relate to mindfulness (e.g. Singletasking -- Doing one thing at a time and paying attention while doing it), meditation as a specific habit doesn't show up.
And that's because I had never tried it.
There is an abundance of information out there about meditation, but until now I hadn't really paid much attention to it.
But now that I've had a chance to take a closer examination, the benefits are undeniably profound.
All of these benefits and examples had me ready to get started, but I was still under the impression that meditation was a mysterious, long and complicated process reserved primarily for Buddhist monks.
Meditation is this easy (adapted from Bailey's book):
Find someplace quiet where you won't be interrupted, and sit upright in a relaxed but alert position (a chair works well for most everyone)
You can keep your eyes open or closed, whatever helps you feel more alert and focused
Set a timer for how long you want to meditate (it is recommended to start with 5-10 minutes. Bailey, for example, now meditates for 30 minutes per day)
Focus on your breath. Don't try to control or analyze your breath; just observe it and the physical sensations that take place in your body as you breathe in and out
When your mind wanders -- and it will wander -- just bring your attention back to focus on your breath and the physical sensations. You'll have to do this repeatedly while you meditate
That's it. And this simple practice, as Bailey says, "helps you regain control over your attention -- and by extension, your brain -- and prevents it from wandering when you don't want it to."
This simplicity had me ready to take the plunge.
While this all seemed easy enough to do myself, as a total newbie I decided to get started with guided, 10-minute meditations via the Headspace app upon the recommendation of a friend.
I just completed the first 10 consecutive days and it has been a simple and welcoming way to get going. I just press play and am guided through the process each day, and have settled into a nice routine. I have been meditating for 10 minutes first thing in the morning, followed by exercise (on most days I go for a 30-minute run in the morning).
I'm only at the very beginning of integrating meditation into my daily life, but I already appreciate the way it clears my mind, slows me down, and centers me for the day ahead.
I'll share more experiences as I make meditation an ongoing daily habit, but I am now convinced of its remarkable benefits and surprising simplicity.
Andrew Merle writes about good habits for happiness, health, productivity, and success. Read more at andrewmerle.com and follow him on Twitter and Medium.