1. INTERIOR DESIGN IS ONE OF THE FEW INDUSTRIES THAT HAS YET TO BE 'SIGNIFICANTLY' DISRUPTED BY TECHNOLOGY--OR IS IT?
While Uber, Netflix, Spotify, and other digital start-ups have been aggressively democratizing and demonetizing their business sectors, interior design, a historically expensive and time-consuming luxury service, has continued to rely on the in-person client-designer relationship as the foundation for generating $12 billion in revenue annually. But this is changing.
That's because eDesign and other similar innovative online platforms are gaining more traction within the industry. And in a fortunate twist for both clients and interior designers (including decorators), eDesign, instead of being a disruptor, arguably enhances the profession, giving clients the benefit of faster, more affordable, and more convenient interior design--all without losing that personal touch.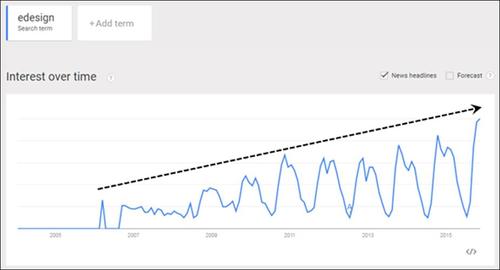 (Image:Google Trends, Dec.2015)
In general, eDesign refers to online interior design services and consultation. The key appeal is that eDesign is often quicker and easier on the wallet than traditional interior design because no in-person visits are required, and clients can implement designs at their own pace. It is essentially part DIY and part professional expertise. Plus, there are no geographical boundaries--clients can work with a designer who is located anywhere.
Most eDesign services involve the client submitting comprehensive information to an interior designer over the web. For example, Gail Green Interiors eDesign service requests that clients complete a simple (but detailed) questionnaire, which they can also use to provide space measurements, inspiration photos, and other documents that help them to articulate their vision. The process ensures that clients thoughtfully define what they really want. An interior designer then uses this direction to glean preferred styles, colors, fabrics, patterns, and so forth in order to create a design scheme. It's quite fun for those who would like to imagine their ideal room, and then get a little help to make it a reality.
3. eDESIGN PROVIDES FAST TURNAROUND AND TRANSPARENT PRICING
Within an short period of time--days if it's a small space, weeks if it's a bigger project, but generally up to eight times faster than an in-person project--the client then receives a design plan that usually includes a floor plan and a shopping list with products for the client to purchase, from furniture and design accessories to paint and flooring, and more. The client is then left to DIY the space based on the interior designer's instructions (although most interior design firms do--or should--offer significantly more hand holding to their clients if they desire more help). The service typically has a per-room flat-fee that can be paid up front, as compared to traditional full-service interior design, which often bills on an hourly basis or has additional variable costs depending on the project.
4. THE eDESIGN BUSINESS MODEL
Although the basic eDesign structure and benefits to the client are similar from one interior design firm to another, every company has a slightly different approach, style, and pricing structure. Each business also uses different names to refer to their service. Common terms include e-decorating, virtual interior design, remote design, and online interior design.
Some interior designers love the concept because they view it as an extension to their existing market. For a small investment, they can make their services available to geographies that were previously not accessible. They think of the service as simply another channel for which to provide clients with their particular design style and art form. At the end of the day, the customer is purchasing the individual designer that is putting together the package--or at least that is how the customer should be thinking about it.
5. SEVERAL FACTORS HAVE SPURRED THE MOVEMENT
Yes, technology is one of them. It's easier than ever to snap a picture of your space and send it to an interior designer; meanwhile, Skype and FaceTime have decreased the need for in-person consultations. Then there's the fact that HGTV, Pinterest, and design blogs have made DIY more appealing, and eDesign is a way to give DIYers control with added assurance over the outcome, especially financially and time commitment-wise. There's also a whole new segment of potential interior design clients: Millennials, who are used to the instant gratification of the web, are starting to eye real estate investments and they want a luxe look for less. In fact, 36 percent of Americans under the age of 35 already own homes, and several studies show that many Millennials plan to buy a house within the next one to five years. The relevant point being, in my experience, I've noticed that homeowners tend to have an inherent personal connection to their living space and often allocate more time and energy into their homes.
6. THE INTERIOR DESIGN COMMUNITY ITSELF ALSO GAVE RISE TO eDESIGN--AS A MEANS OF SELF-PRESERVATION
Five years ago, I wrote an article about eDesign for the real estate magazine Mann Report. At the time, the United States was still in a recession following the 2008 financial meltdown, which had caused the luxury market to dry up. This forced interior designers to get crafty. We realized that because the Internet could eliminate in-person interaction between the client and interior designer, project budgets could be driven way down. Thus eDesign was born.
Since then, numerous eDesign companies offering online-only services have popped up, especially within the last two years. Laurel & Wolf, which went live in 2014 and raised $4.4 million in funding, clearly believes that online interior design is a growing and beneficial industry. Laurel & Wolf gives clients the opportunity to receive design ideas and style boards from about three to six designers around the United States. Clients then choose a favorite design and receive a personalized floor plan and shopping list along with instructions for how to put the space together. Similarly, Havenly launched in 2013, and raised more than $1.5 million, and Decorist debuted last year, and raised $4.5 million. Both offer clients a network of interior designers from all over the country (Havenly has about 100, Decorist has about 50) that design a room at a pre-arranged price with all communication happening electronically. All three of these eDesign services produce room plans starting at $299 or under.
7. ULTIMATELY THE ART OF INTERIOR DESIGN DEPENDS UPON THE CLIENT-INTERIOR DESIGNER RELATIONSHIP
I hinted at this earlier, but no matter how many services appear, or how many cool features are added to an interior designer firm's website, at its core, the value of eDesign is the access clients get to a particular designer, and that designer's ability to understand and deliver on what the client wants.
As I write in my book, An Insider's Guide to Interior Design for Small Spaces, the interior designer "functions as a subject-matter expert who assists clients with making the right selections and serves as guide for helping clients make smart decisions and better understand the big picture." What interior designers shouldn't forget as eDesign becomes a more noticeable part of our world is that even though interior designers now have tools for making their services more economical and quicker, you still need to have that relationship. The project's success, even in the digital age, depends on it.
Related
Popular in the Community