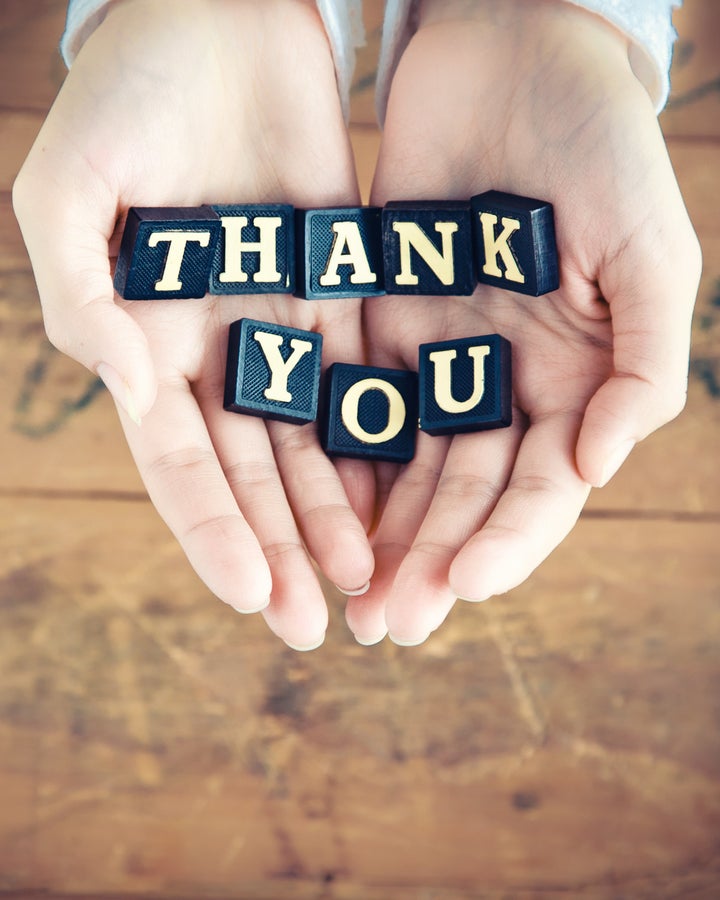 Public opinion research has found that a significant number of employees value kindness over money in the workplace, highlighting the importance of building a collaborative and supportive workplace culture. In fact, an NBC News State of Kindness Poll found that 70 percent of survey respondents would forego a 10 percent raise for a kinder boss.
I speak often with women and men in many different industries and work contexts, and a common theme among employees is the desire to be appreciated. We live in an environment where being overworked has become the norm, where demands for excellence only increase. Early in my career, I had the good fortune to work for a boss who often expressed gratitude for extra effort and it only made me want to work harder. Gratitude is the simplest, most powerful way to acknowledge another person's value and humanity.
It's something we all learned as a small child: to say thank you. What many people might not realize is that these two simple words have a profound impact on our daily outlook, our ability to chart a course of success and most importantly to be happy. Not to mention, there are significant health benefits from embracing gratitude. Research shows that people who are more grateful have better heart health and more disease-fighting cells in their bodies.
Being grateful at work and making sure you consistently say thank you to your colleagues, bosses, mentors and everyone else in your workplace is profoundly important, not just during the holidays, but every day.
Here are three reasons why kindness and gratitude are imperative to business success.
1. Kindness promotes gratitude.
When employees feel like their boss recognizes and rewards them, they become grateful for their work assignment and the opportunities they have to grow and learn new things. Working for a boss who is kind cultivates grateful employees who are loyal to the company and more inclined to go the extra mile.
2. Gratitude improves self-esteem.
Being grateful improves your outlook on life, your career and yourself. Grateful people are more willing to take on new challenges and are more optimistic about their goals being achievable. Gratitude does not always have to stem from celebrating successes; it can come in the form of being grateful for previous challenges and mining them for insights on what to repeat or what to change. Thinking back to lessons learned from prior setbacks can help boost your self-esteem and prepare you for future success.
3. Higher self-esteem leads to greater confidence.
I've written before about the confidence gap and how this often plagues women in the workplace. The reality is, the way you see yourself has a huge impact on your success. For many people, the problem is not competence its confidence, but in order to be successful you have to possess both. Try being kinder and more grateful and I'd be surprised if you weren't more self-confident.
There are serious ramifications when employees and especially managers are not grateful. A boss who never shows gratitude can ruin morale, drag a team down and lose hard-working employees. A 2015 Gallup poll revealed that "one in two employees had left their job to get away from their manager to improve their overall life at some point in their career." Being an impossibly demanding and ungrateful boss – such as Miranda Priestly in The Devil Wears Prada – is not something to aspire to.
However, it is important to realize that sometimes people are dealing with personal issues that may impact their ability to be outwardly grateful. In this case, it's your chance to show some compassion and kindness!
As you reflect on the past year, I encourage you to take the time to think about all of the people who have supported you and helped you achieve success. Let's all go into this holiday season saying thank you more often and more sincerely so that we can begin the new year with confidence, ready to tackle the business opportunities that lie ahead.
Related