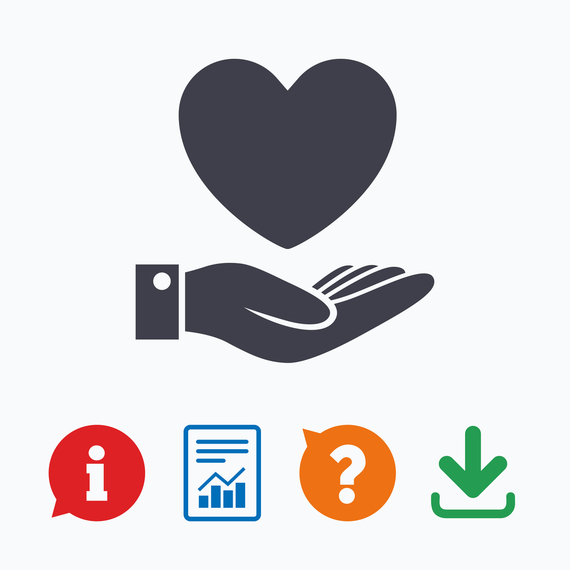 Twenty years ago, when Microsoft had only sold 40 million copies of Windows 95, it was inconceivable that in short order people would carry tiny computers in their pockets that obviated the need for a landline phone, physical maps, encyclopedias and even wallets in day-to-day life. And as more and more of daily life goes online, nonprofit fundraisers are fully embracing the potential of the internet.
Though nonprofits still make a majority of their money the old fashioned way--sending packets to your house imploring you to sponsor a child or keep an odious candidate out of office--online fundraising is gaining a serious foothold among the nearly $360 billion donated to charity ($258 billion from individuals alone) in the United States in 2014.
Here are a few reasons why your nonprofit should consider trying out or expanding online fundraising campaigns.
1. It's a Growing Platform
Blackbaud found that charitable giving increased 2.1% in 2014. That sounds like a lot--until you find out that online giving increased by nearly 9%, four times the increase in overall giving. That trend held across organizations of all sizes, working in all sectors.
Skeptics may counter that younger generations are pushing the move online and they give less relative to their numbers. But as of 2013, more than 40% of baby boomers (who give the most) reported giving online--the same number as give via direct mail. Just three years earlier, boomers' direct mail still significantly outpaced online giving. Plus, direct mail recipients increasingly respond to appeals by giving online.
Taken together, this is a potent recipe for continued growth.
"We wanted to grow online giving from roughly 3% of the overall revenue stream to 10% of the overall revenue within five years," says Carla Chadwick, Director of Digital Fundraising for New York City-based Covenant House and a 20-year veteran in the online fundraising industry. "We are nearly there after four years, and now we have a target of online fundraising comprising 20% of total revenue."
Direct mail is expensive. There's paper, envelopes, printing costs, stamps and time spent stuffing envelopes. All told, direct mail can cost between $0.50 - $1.00 per piece sent. The costs can quickly reach the thousands, upping the pressure to not only make money to fund the nonprofit's operations, but to simply recoup costs.
By contrast, online appeals can easily reach larger numbers of people without large increases in cost. While most email marketing systems increase their prices as the volume of mail and size of their email list increases, small nonprofits with a relatively low volume of emails each month can take advantage of free or low-cost services and still touch their supporters and donors more often for less money than by direct mail.
3. It Allows a Two-way Conversation
One of the best benefits of online fundraising is its ability to help organizations build relationships with their supporters. Rather than simply receiving a brochure along with an ask for money, nonprofits can quickly and cheaply engage their members and supporters throughout their work and enlist their support to not only fund but advance their mission.
"We can't always go to people and ask for money, especially in the online world where people have come to expect more information, and more two-way communication," Chadwick says. "We [at Covenant House] now have a dialogue with fellow advocates. It's not just their money that matters--far from it. Their opinions, their voices on social media, their signatures on a petition are all valuable to us."
Giving folks more ways to engage other than their checkbook can actually help the bottom line. A white paper found that fundraising totals as much as doubled when attached to a request to take action.
4. Online Creates Immediacy
There's one thing online fundraising indisputably has over all other methods: speed. These days, stories' news cycles can last mere days or even hours. When a Minnesota dentist killed Cecil, a beloved lion in Zimbabwe in July 2015, petitions demanding justice sprouted up overnight. In just a month, more than 1,000,000 people had signed a single online petition. Take away your own political proclivities, and this is simply a massive mobilization of like-minded people in a small amount of time.
These same forces can apply to fundraising, like they did for Planned Parenthood in 2015, which saw a spike in donations when congressional republicans threatened to defund the organization. Other women's rights organizations, including EMILY's List and the National Abortion and Reproductive Rights Action League also rallied their online networks to push back against the Republican effort, driving traffic to their sites, which also offer fundraising opportunities.
"Online platforms allow us to be nimble and more flexible with who we target, as our donor base is far reaching," Chadwick says. "If we have something that's really newsworthy, we can address it immediately, whereas direct-mail needs production time, time to get their product out the door, and time to reach the population."
Beyond political fights and controversies, online fundraising is a vital part of disaster relief. Take the devastating earthquake in Haiti six years ago. Through a texting campaign, The Red Cross raised $3 million in just 24 hours. Using technology allowed them to reach people quickly through mediums they were already using on a daily basis. This simply followed a growing trend. Online donations to The Red Cross comprised $64 million after the 9/11 terrorist attacks and $479 million after Hurricane Katrina.
Covenant House's Chadwick has seen the industry transform during her career to embrace online fundraising: "Once the black sheep of the industry, it's now became a way to raise $50 million online in a matter of days."
Joe Baker is the Vice President, Editorial and Advocacy for Care2 and ThePetitionSite. He is responsible for recruitment campaigns for nonprofit partners, membership growth efforts, and all editorial content. Prior to Care2, Joe was the Executive Director of N-TEN. Joe serves on the Board of Directors of Death Penalty Focus, the Advisory Board of GiveForward.org and volunteers for the Sierra Club and Amnesty International.
Calling all HuffPost superfans!
Sign up for membership to become a founding member and help shape HuffPost's next chapter