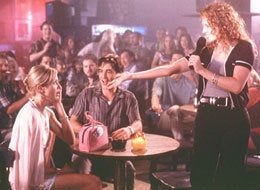 This is an article about singing. It's about you singing. I'm writing this because I want to encourage you to sing.
A few years ago my friend and I realized we both loved singing but didn't do enough of it. So we started a weekly a capella group with just four members. After a year, we invited others to join. We didn't insist on musical experience; in fact, some of our members had never sung before. Now the group has ballooned to about 15 people.
The reason I'm going to try to persuade you that you should start your own a capella group is because I believe singing is the key to a long life, a good figure, a stable temperament, greater intelligence, new friends, increased self-confidence, heightened sexual attractiveness and a sense of humour. There! That got your attention.
What's so good about singing? Well, there are physiological benefits: You use your lungs in a way you probably don't the rest of the day; you breathe deeply and openly. And there are psychological benefits: Singing leaves you with a sense of levity and contentedness. And there are what I'd call "civilizational benefits." When you sing with a group of people you learn how to subsume yourself to the group consciousness--because a capella singing is all about the immersion of the self into the community. That's one of the great feelings: to stop being me for a little while, and to become us. That way lies empathy; the great virtue.