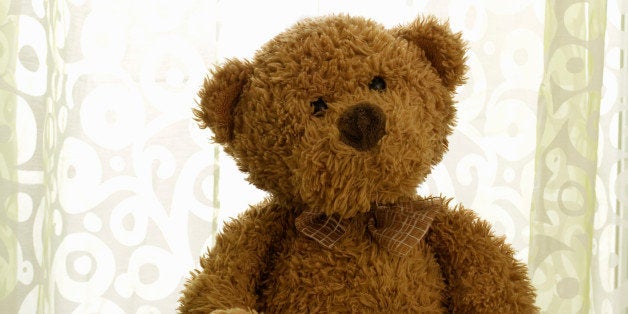 Stuffed animals and baby dolls can be therapeutic for people who have Alzheimer's, as shown by both anecdotal evidence and research studies. However, some people say this is demeaning and beneath the dignity of the person.
"Activities should be adult in nature. Activities that are unnecessarily juvenile can provoke frustration, even anger. Some persons with Alzheimer's disease respond to dolls or children's toys, but we should not use this fact as an excuse to keep all activities at this level."

But based on my personal experience and research I've read, I believe not only can these children's toys be used, they must be used if it's clear the person is enjoying them.
Let's look first at the anecdotal evidence.
I'll start with my personal experience. This is narrated in my book, Come Back Early Today: A Memoir of Love, Alzheimer's and Joy. I gave my life partner, Ed, stuffed animals when he had Alzheimer's, and he loved each one more than the one before. We played together with them, which gave us a way of relating to each other in a way that was meaningful to us both.
In addition, at the memory care facility where Ed lived in Cincinnati, there was a woman who carried a doll with her everywhere she went. It was clear she loved it and derived intense pleasure from it.
I also had an experience at a memory care facility near my home in Kansas City. There is a lady who carries a doll baby around with her. Sometimes she kisses its head with great affection. She is so taken with the doll that sometimes the staff has to tell her, "Let's get a babysitter for your doll!"
Then there was the case of Bob DeMarco, founder of the Alzheimer's Reading Room, who got a stuffed parrot, Pete the Repeat Parrot, for his mother. Pete flaps his wings and repeats whatever you say to him. This is related in numerous articles Bob published on the Alzheimer's Reading Room. Bob's articles attest to the major benefits his mother derived from "talking" with Pete.
"The dolls can become an integral part of a senior's life and caring for the doll as they would care for a baby becomes a major part of their day to day responsibilities."

Now, let's have to two examples from research studies.
In the first, in an article published in Dementia in 2015, researchers studied the effects of dolls on people with Alzheimer's. According to the study,
"Participants [in the research] had an increase in level of happiness, activity/liveliness, interaction with staff and others, and ease of giving care. There was also a reduction in the level of anxiety."

"Most of the patients were interested in the toys, and they looked much happier and less agitated."
So you may want to try giving your loved one stuffed animals or, in the case of women, baby dolls. You may be pleasantly surprised by the results.
Popular in the Community