"A piece of this dreadful edifice should be left standing as a historical monstrosity". These are words by German Chancellor Willy Brandt the day after the Wall fell. November 1989, I was a fifteen-year-old teen with high ideals of peace. I reckon I am still that passionate. The picture is so vivid in my mind, I remember sitting on the floor (there was no time to grab a chair). Glued in front of the T.V., seeing Germans drink champagne and hug each other. Joy and relief were so powerful that they got to the other side of the World fast. We talked about it for days at home, we were living something huge. Being aware as I was, that I was meant to travel, I knew a visit to Berlin had already been scheduled for me. I had to wait. One day I was going to be there.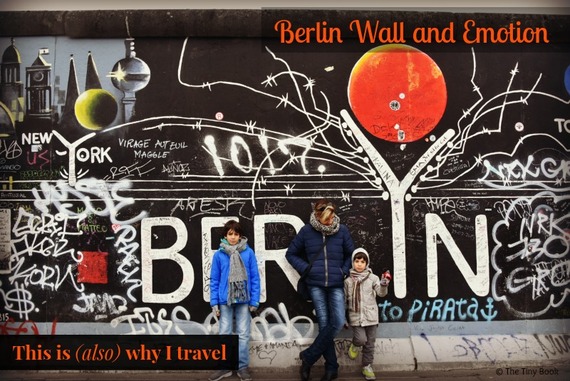 On a freezing morning, over 25 years later, me and my family got on a train in Wannsee Station. We were heading to Berlin Ostkreuz. A long trip through the city which gave the me time to tell my kids what we were going to see. The idea of a city divided by a Wall is fascinating at first. Mostly for children. Yet, once the details are out, scary questions come up. Couldn't they see their family!? Why weren't they able to cross it? Why? Hard to explain to a couple of tiny globe-trotter children born in the new century. Hard, but necessary.

Once there, we walked towards Mühlenstraße to see the Gallery. A piece of wall with a big 1989 painted in black unveiled the mystery. Hinterland Mauer, it closed the border to West Berlin.
Real travel triggers travel in time.
How do you give words to a bunch of tears on the edge of your eyes? How do you put words to an overwhelming beating inside your chest. As I walked closer to the Wall, just one thought kept me going, "You don't read these feelings on a History book, and that's why you travel." I felt a punch in my stomach looking up to see the height of the Wall, the double wall, the broken portions of concrete. I was immediately sent back in time. Different images clogged my mind. Black and white pictures of people attempting escape. Me glued to the television. There, that's why I travel. That is the answer.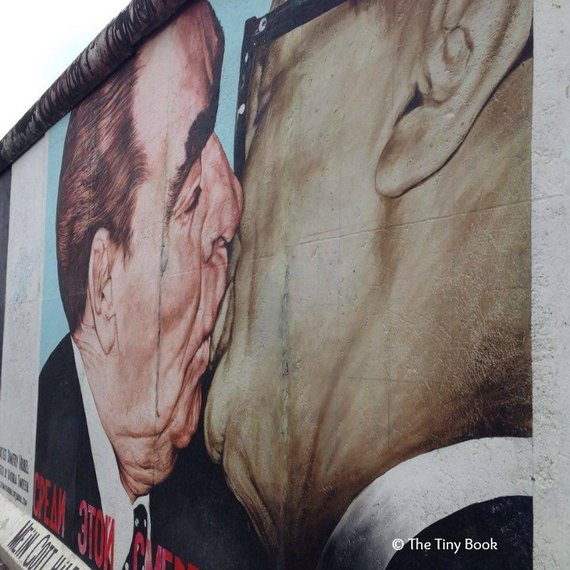 My kids' eyes grow big when I say "I saw it fall on T.V." and that triggers questions. And that's how they (also) learn. Over a long walk, up and down, hand in hand, talking about all the Wall implied: war and cold war, division, shootings and democracy, opinions, freedom, human rights. It all looked so far and still so close to the present. Nobody cared for the cold weather anymore. The rain didn't bother us.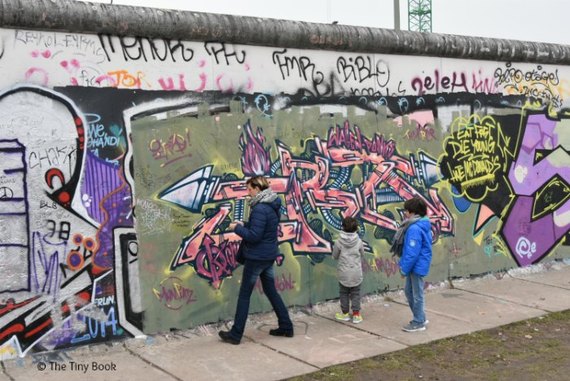 The East Side Gallery is a 1.3 km long section of the old Berlin Wall. International Memorial for Freedom. It includes over a hundred paintings from 1990 on the East Side of the Wall. Paintings sometimes too vague, other times too eloquent. And this is what I found extremely useful; art gives children the freedom to find their voice. They discover their own feelings about what it all meant. I was not going to tell them "this means this". I just talked about the facts I knew. It was their time to tell me what paintings meant for them. Is a car a symbol of liberty? Is a thumb a symbol for oppression? Is a kiss ironic? Why? It was their time to hear their own voice, and learn from it. And learning in freedom is true learning.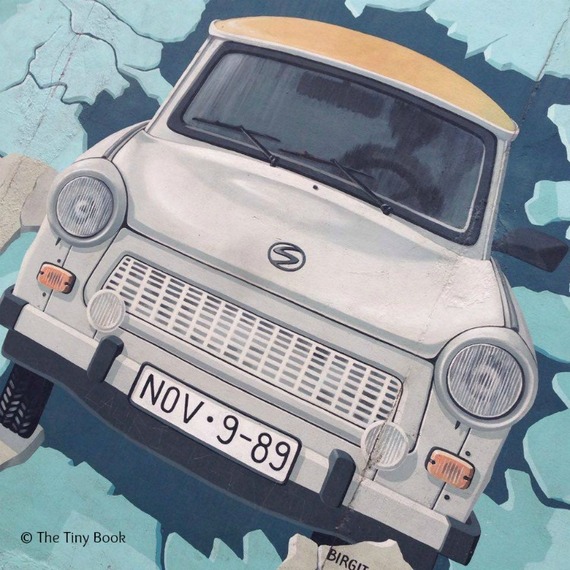 Learning from freedom ignites the need for more. Nothing gets boring. And every experience always ends the same: "Get me a book about it", "I want to see the old videos", "Let's see another place like this". And yes, books came, but the process that took my kids there had a huge value. This was (also) learning. Berlin was one of the best teachers in our On the road school. The Wall was an excellent chapter. This is also why we travel.