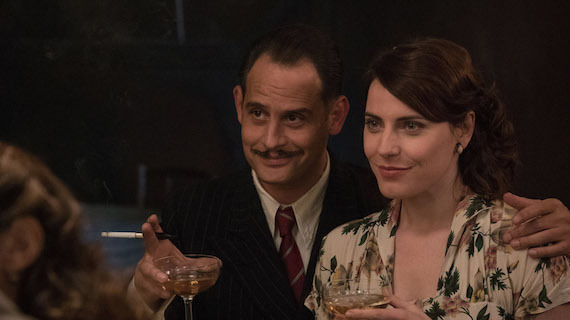 Some say Berlinale this year has been overly political. I say, we can never be political enough. Filmmakers are, in my very humble opinions, the prophets of our time, and a few of them would make the best politicians, true diplomats to guide us during this blind era in our history.
While film is at its core an escapist form of entertainment, one shouldn't forget to tap into the subliminal power of watching a work of the seventh art on a big screen, in the midst of people who've come from all over the world to view it. And if filmmakers don't understand that power, or misuse it and abuse it, it's truly a shame. I've watched a couple of films that miss the point completely for me, or try to beat the audience over the head with their political message. No, that is not what I mean by being successfully political in a film and you won't see any of those films even mentioned here. The gentler option always works like Berlinale opener Django, which holds up a mirror to what causes displacement at its very root without being heavy handed in its delivery. That's a perfect example.
Of course, without the correct means of content distribution, a film remains just some data in a proverbial box. Unwatched, unseen and unshared with the world at large. That is the exact reason I am including Qube Cinema in my Berlinale Diaries. A new chapter is unfolding in the way films are delivered to local audiences, with the latest in digital cinema technology, explained simply even to a tech-impaired person like me.
Michael Winterbottom's On the Road
Michael Winterbottom is undeniably one of my favorite filmmakers. He's one of those few chosen maestros who doesn't stick to one format, one theme instead redefines himself and his work in every film he makes. And in the process, makes brand new cinema that can span audiences across borders, gender and generations.
In On the Road, a spellbinding, sexy rockumentary with a twist, Winterbottom follows Wolf Alice, a successful new British band, as they travel throughout the UK on a tour to promote their album. But then he sprinkles into this reality two characters, actors who through their performances offer a way into the behind-the-scenes of this incredible journey. Think about it as being that proverbial fly on the wall on a rock tour, and who hasn't "fantasized about" it as Winterbottom put it, at least once? I know I have, oh boy, have I!
The idea of the film was born out of a meeting with another band Ash, which Winterbottom recalls, happened in NYC. And talking to them about touring, he added, "sounded very romantic, you know, quite like being in the circus." Yes, I've had that fantasy too, I remember, after watching Cirque du Soleil. But back to the filmmaker who ever since that meeting thought that making "a film in that world would be intersecting," and started looking for a band to make the project come to life. "Wolf Alice seemed right," he admitted, then continuing, "they were pretty young, only had one album, were touring all the time, and Theo, the bassist, used to live next door to me and was in my daughter's class at school." And once Winterbottom met with them, including the band's charismatic lead singer Ellie Rowsell, he realized "they were a really hardworking band," making the rest, as they say, cinematic history.
Bye Bye Germany by Sam Garbarski
How do you lighten a tragic situation? Well, if you're filmmaker Sam Garbarski, you tackle the subject matter head on, make a film that is unapologetically and perfectly filmed, and enroll the help of one of the best ensemble of actors I've watched in a long time. In Bye Bye Germany, we meet David Bermann (played by the magnetic Moritz Bleibtreu) and his Jewish friends, just after the war in Frankfurt. They are all dreaming of leaving the infernal place that has decimated their families and device a plan to sell linens door-to-door to make the money necessary for emigrating to America. But Bermann has a shady past, according to the American authorities in charge of Germany's transition after WWII and they believe he may have been a collaborator... Officer Sara Simon (played to perfection by Ante Traue) is assigned to the case and manages to get to the heart of the matter. In every possible way.
Garbarski has woven a rare oeuvre within Bye Bye Germany. A film so charming it can start the discussion on some unmentionable events while also making us laugh and cry, simultaneously. In person the German-born filmmaker based in Belgium is also charming, funny with just a hint of melancholic, and fast talking. When asked what made him choose this project as his next film Garbarski disclosed, "I love the novel [the film is based on Michel Bergmann's "The Traveling Salesman"] and it's always my pleasure to travel into the stories of others, to find myself." It's something the filmmaker admits he's been doing since he was a child, finding this in art, movies, and books. "I lie to myself, a little bit, and it becomes my story," he continued, "this was a matter that was taboo in my family, after the war, Jews in Germany they just didn't talk about." "It" being the notion of how it was possible they were still there, that they has survived in Germany despite the mass extermination by Hitler.
With Bye Bye Germany the filmmaker continues his collaboration with Bleibtreu, who through his wonderfully charming ways, unassuming and not flashy, becomes a perfect leading man right before our eyes. The audience sees him in his worn clothes, struggling to survive yet maintaining his sense of humor throughout, and voilà, a sex symbol for the thinking woman, and man too of course, is born.
One Thousand Ropes by Tusi Tamasese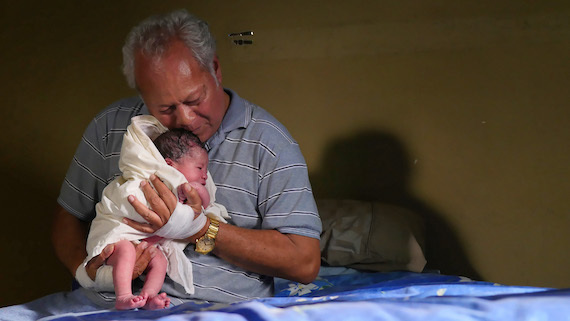 The story of an imperfect father who wishes to redeem himself to his daughter, and ends up helping her out of a dangerous situation, struggling with a spirit intruding on them -- all the while set in the Samoan community of New Zealand... OK, I'm in! Some movies really do have me at "hello". Tusi Tamasese's One Thousand Ropes is strange, eerie, otherworldly, a bit horror-film-meets-metaphysical-thriller but at the center of it stands a really human relationship that transcends nationalities, geography and jumped off the screen, straight into my heart.
In person, both his leading actors Uelese Petaia (Maea) and Frankie Adams (Ilisa) -- as well as filmmaker Tamasese of course, were a pleasure to meet. I asked Tamasese about courage, because to me both Maea and Ilisa, represent a kind of bravery, a very human side to this often overly inflated quality. "I was determined that I wanted to show courage and strength, through the daughter. But I was determined not to give the main character [Maea] too much courage, because I don't like him." He continued, "throughout the film, whenever he does something good, it's always a two-edged sword, it's got good, if you see it, but his stubbornness and selfishness and controlling side will always undermine what he does." To a daughter of a very imperfect father who didn't try to make amends, Maea definitely gets extra points just for trying.
Qube Cinema and Substance Digital
During a frigid Berlin afternoon, I found respite in the lobby bar of the Ritz-Carlton, where the buzz was feverish all around and every conversation was about cinema. There I was introduced to Nigel Dennis, Head of International Business Development for Qube Cinema and Frederic Schladeur of Substance Digital, their partners in Germany.
I asked Dennis to explain Qube Wire, their latest innovation, in terms even I could understand. "Qube is a company that's been around for 30 years, owned by Real Image Media Technologies, a huge company of 1,200 employees in India, and a lot of our work comes out with them, working in mastering productions. Literally when a movie is finished, they will take it and do the post-production," he explained. Then continued, "Real Image, about 25 years ago, bought their own cinemas and wanted to start moving things around electronically rather than by film. Obviously at that time it was 35 mm. And the amazing thing about it is that the industry in India, of what was then called e-cinema, started this method of moving things around before the industry in Hollywood." Dennis then simplified the idea further, "an analogy I make is that if you look at the flight booking market you have literally gone to a system where you think of where you want to fly, you go online on any sort of search engine and you can pick your flight; with the film industry we are still living in the 1980s, you have to go to your travel agent, give him a call, ask him if it's possible to fly at a certain time, he'll come back with an answer, you may have to go into the travel agency and sit with him, pay for it, the whole scenario."
So what Qube Wire is doing then, Dennis clarifies, "we're bringing the online booking scenario to the film industry, so somebody will shoot film, they'll make a digital cinema package, once they've got that, the end film that goes to the cinemas, they upload that to Qube Wire, it gets archived in the Cloud. And once it's in that environment the person who has the content rights -- be it the sales agent or the initial owner -- can say, OK, I've sold 10 screens in New Zealand, where are they, search in our database, give them the dates, book it in, press the button, confirm the dates and the booking is done." Thus eliminating all the silliness in between, to paraphrase Dennis.
Filmmaker to audience, safely, without a need for the middleman, and no danger of piracy. Done!
All images courtesy of the Berlinale, used with permission.
REAL LIFE. REAL NEWS. REAL VOICES.
Help us tell more of the stories that matter from voices that too often remain unheard.