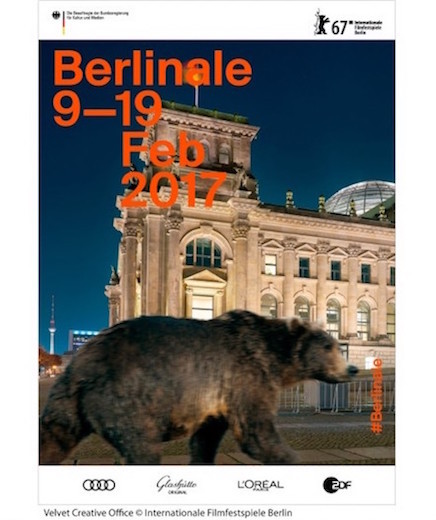 Taxis in Berlin always turn out to be a cinematic experience. First of all the city is breathtaking, taking on several completely different looks -- silvery and smoky during the day, while at night it turns into a grand dame of elegance, with its iconic landmarks gilded and all lit up. Plus, the drivers here have quirky taste in music, and always play the radio at a low enough volume to make it a subtle soundtrack for the ride, but high enough that you can silently sing along with the lyrics. Yes, I do mean sing along, because aside from that stray Bach or Brahms sonata played by the more intellectual ones, the tunes I've heard here while traveling across town range from Men at Work's "Down Under", to "Up Where We Belong" from An Officer and a Gentleman, with a bit of Turkish melodies thrown in.
It's so wonderfully relaxing that at times I wonder how I would have turned out if my grandfather hadn't been forced to leave Germany before WWII and I'd been born, perhaps, in Berlin.
The Berlinale, not unlike the city which hosts the festival, is always a journey of discovery, and I dare to assume the experience is similar for all who come here. From the venues where films are screened, which help to discover different neighborhoods of this wondrous city, to the daily interaction with the security guards who, once they get to know you, are kind and welcoming. The press agents from the city have a wonderful hosting quality and the venues for interviews this year -- which include a city-top Nespresso lounge nestled where you can view the panorama of Berlin -- are exceptional. There is also great street food in Berlin. In fact I have discovered a real salty tooth (picture, like a sweet tooth but with an addiction for the savory) for Mexican vegetarian food here thanks to the Eddielicious food truck, parked right in front of the Hyatt Hotel. Eddie is charming with a handsome smile, which of course never hurts, and his authentic brand of south of the border food is both delicious and healthy. For Valentine's Day, the food truck handed out a short stemmed wild rose to everyone who ordered. Classy.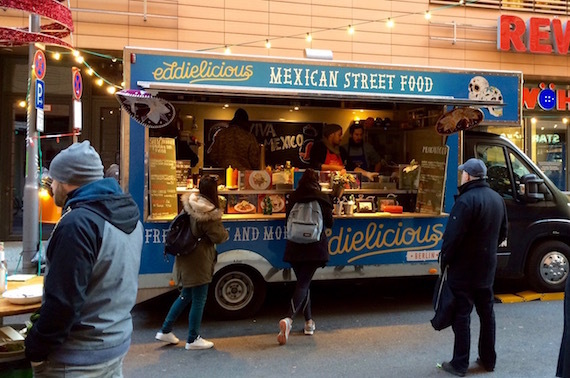 And there were parties of course. More parties than there are evenings here at Berlinale, with the award for best locations going to both the Edinburgh International Film Festival party inside the British Embassy and the Unifrance party for French cinema, at the Gropius Mirror Restaurant. So, the EIFF event was complete with the presence of the Ambassador Sir Sebastian Wood, who said a few words about the importance of cinema in and from the UK and was a kind and elegant host. Festival organizers, journalists, filmmakers and distinguished older couples all mingled drinking bubbly, while I tried to figure out the perfect way to attend the festival in Scotland later this summer.
The Unifrance event was just a really cool party, loads of French men and women smoking nonchalantly in front of the venue, and its setting was perfectly unusual. The Gropius is a striking building from outside and inside is covered in red velvet and framed in gold, which makes it resemble a super elegant circus tent.
But now onto some films. Some beautiful films.
Menashe by Joshua Z Weinstein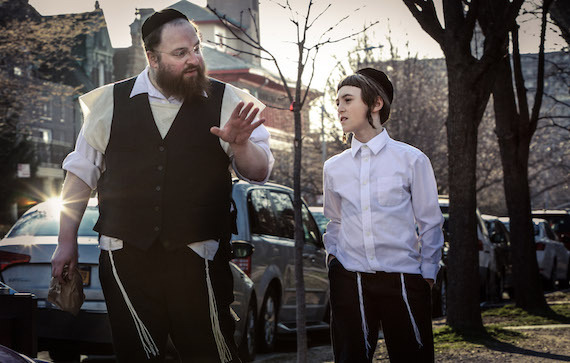 I've been reading a few reviews and some insightful articles about Joshua Z Weinstein's film Menashe, which world premiered earlier this year at Sundance. But I have to disagree with the frequent comparisons to De Sica's Bicycle Thieves and the Dardenne brothers here because the true genius of Menashe lies exactly in how different the film is and how unique a perspective it offers the audience. Weinstein has used as inspiration his own fascination with the Hasidic Jews, which he describes by saying "I feel as though we share a kinship, yet it is one that is rooted in a certain lack of understanding that can easily be lost in translation." The tempo of Menashe is languid, the cinematography real and raw. And the story of the widowed clerk (played by the grandiose Menashe Lustig) who wants to retain custody of his child while laws, religion and society try to pry the son away from the father's imperfect lifestyle, is simply and utterly human.
The greatest virtue of Weinstein's film is that the filmmaker manages to gift his audience with a new perspective, a new way of looking at humanity. He explains, in his director's notes, that the Hasidic community "is usually depicted according to the views of outsiders and frequently appears cold and generally without joy. Yet the Hasidic culture that I have experienced is one that is funny, beautiful, and deeply spiritual." And it's this playfulness, the they-are-just-like-us aspect of Menashe that appealed to me the most. It's like that infamous Shakespeare passage from The Merchant of Venice that ends with, "If you prick us, do we not bleed?" Menashe shows us that the same loving, protective, proud and humanly imperfect blood runs through all of our collective veins.
Menashe screens in the Forum section and has secured US distribution through A24.
Fernando Trueba's The Queen of Spain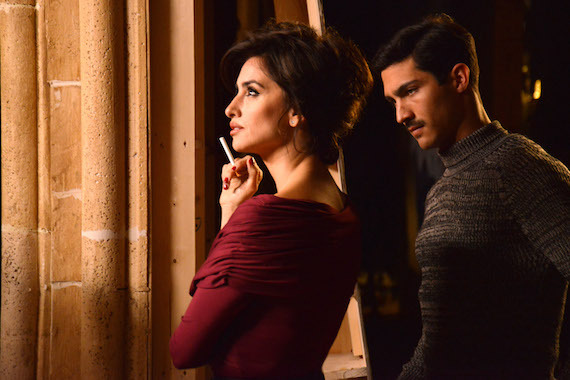 Give me a film starring Penelope Cruz and I'll watch it. Anytime, anywhere, telling any story. She has me at "hello" as they say. In The Queen of Spain Cruz returns to her role as beloved Spanish movie star Macarena Granada, who has conquered hearts in Hollywood before coming back to Madrid to work on a co-production fueled by the drain of talent in the US during the McCarthy witch hunt and a need to launder money in Franco's Spain. It's here that I felt as if I would have enjoyed the film more had I watched the first "installment" of the story, Trueba's A Girl of Your Dreams made in 1998. But the film also stands quite nicely on its own two feet -- I just felt left out of some of the inside jokes...
Anyway, filled with quirky, even over the top characters, featuring fun old-Hollywood like sets, and dialogues that are both farcical and human, I felt like The Queen of Spain took me on a cinematic rollercoaster ride, and visually entertained me while also forcing me to think about an era gone by. Meeting Trueba in person was a highlight, since he's a kind, soft spoken and intelligent man. And his youngest star, the Argentinian hottie Chino Darín, looks like a gentler, more handsome and younger Adrian Grenier. That's him on the right (above with Cruz), so yeah, not a bad afternoon, right?!
I loved reading Trueba's notes where he points out what he does best through his film, which is "telling the history of our country through the history of our cinema, and its people." I think films are a grandiose, perhaps not fully tapped into, powerful way to change minds and educate lives. And movies that feature a film within the film are always audience favorites, regardless of the message they'll walk away with.
The Queen of Spain is a Berlinale Special Gala.
All film stills courtesy of Berlinale, used with permission.