To those who are serious about their love of film, Berlinale is the best of the best in European festivals. What about Cannes, you say? Oh, no, the Germans know how to do it better. I mean, they even managed to get Meryl Streep to be president of the jury this year, a task she had never agreed to before this.
The greatness that surrounds the visitor at Berlinale all starts with an organization that ticks like clockwork and great respect for the laws. I watched a car being loaded onto a truck by a crane yesterday, because it was parked on the wrong street at the wrong time. I mean, George Clooney was coming, with that black tulle puff vision of style and attitude that is Amal on the red carpet, so everything had to be done just right.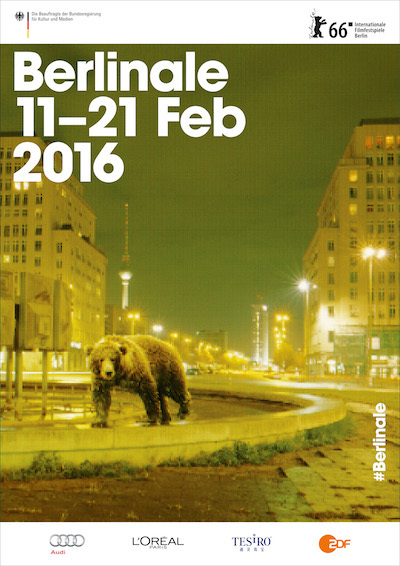 But I find it's also due to the German understanding of the true concept of democracy. There are no yellow badges or pink polkadots on white badges here, no "I'm better than you" credentials. As press, we are all a happy, equal shade of orangy-red badge at Berlinale, and that's exactly how I like it. It creates the perfect environment for watching as many films in as little time as possible, getting to press conferences on time, and interviewing the filmmakers. And that's the true essence of a film festival. Because at its core, Berlinale loves films, filmmakers and all who make the magic of cinema possible.
I like to think that even that lone journalist, watching films from the comfort of his or her armchair, at an early morning screening, gladly stepping out of the cold into the cozy warmth of the theater, is helping to contribute to the magic of the movies. I sure like to believe I do.
Upon arrival in Berlin, I got a reminder of the power of one, that incredible strength and ability to change the world we all possess. I picked up a copy of Variety and found, on its inside cover, a beautiful, full page add for Yann Arthus-Bertrand's Human participating in the EFM in Berlin, quoting a sentence I wrote about the film in Venice: "Arthus-Bertrand comprehends the power of one. It is a power we often forget. The ability to change the world..." If you have not watched Human, find a way to do it now, today, as early as you can. It may just change your life, and that's really all one can hope from a film. One person, one moment, one action, one change, one film at a time. I'm not just saying it because I love being quoted, it's a film near and dear to my heart, on so many levels, for so many reasons.
Right before the screening of Hail, Caesar, I met up with filmmaker Sherng-Lee Huang, whose film Hotel Dallas screens in the Panorama section of this year's Berlinale. Huang co-directed, co-wrote and co-produced Hotel Dallas with his wife, Livia Ungur, and without giving too much away till the film's official premiere on the 15th of February, it turns out to be a real feast of visual images, ideas, humor, sounds and Romanian-American culture clash.
The couple's artistic background and love of cinema really show through their work, but Hotel Dallas also carries a deeper message. Can a US television show like Dallas, once broadcast in a country like Romania in the '80s take on a whole new meaning? Could it have helped "to tear down the wall" of communism? Possibly and even the Washington Post seemed to think so but to watch the idea in a film, treated with care and humor as the filmmakers do here, was eye-opening. And I'm all for watching the power of media in changing history.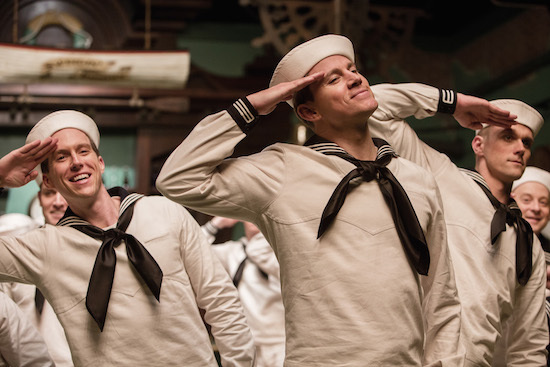 Finally, it's time for some opening night goodies. It was beautiful to see the Berlinale Palast all decked out in red carpet complete with matching red, giant bear. There is something magical about the Potsdamer Platz, something otherworldly. I saw a vision of the perfect world in a film today and it looked a lot like this side of town. Lights blinking down trees, women decked out in gowns showing skin walking side by side with busy, bundled up passersby. And the glow of the Palast is visible from blocks away, with the buzz of the crowd anxiously awaiting celebrities for an autograph.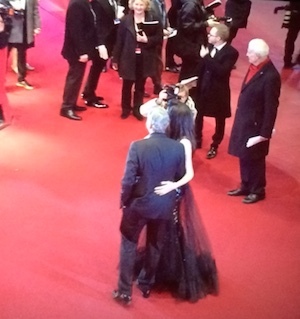 In perfect style, both George Clooney and Channing Tatum stopped to take selfies with the crowd and sign their names on whatever piece of paper was available. Some came prepared with photos of the stars, others simply opened their notebook to welcome there the "GC" of Clooney's signature. Mrs. Clooney, dressed in a vintage Yves Saint Laurent black dress, managed well to hide her strength as the powerful human rights lawyer she is, while hanging from the arm of her hubby. It's a skill she's obviously perfected, and he leads her around like the perfect damsel on the red carpet, to the delight of the crowds.
The Coen brothers are always interesting, their cinematic choices bold and featuring hidden messages. Hail, Caesar! is no different, in fact there are so many sub-themes and inside jokes sprinkled throughout the film, it would take at least three viewings by yours truly to get about half of them. Yes, I'm proud of not being a film historian, it makes movie watching a much more fun activity than for my fellow critics.
And the after-party, you ask? Why, delicious of course. Great food, good conversations, the lovely, warm smiles of fellow movie lovers mingling, sharing a common passion. What's there not to love? I managed to walk up the stairs, on my way out, right behind the lovely Daniel Brühl. He's my favorite contemporary German actor, so all in all, I'd call it a perfectly successful opening night. And the goody bag from L'Oréal Paris didn't hurt...
Berlinale Poster by Velvet Creative Office © Internationale Filmfestspiele Berlin, all images courtesy of the Berlinale, used with permission.
Calling all HuffPost superfans!
Sign up for membership to become a founding member and help shape HuffPost's next chapter