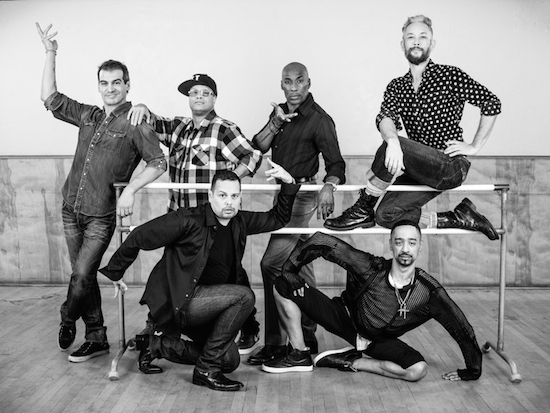 Left to right Salim, Oliver, Luis, Carlton, Jose and Kevin from Strike a Pose, photo © Linda Posnick
So far at Berlinale, there have been groundbreaking films, films about love, films about current affairs, movies about the past and some looking to the future. Some push the boundaries of reality, while others really stick our noses into the nitty gritty of surviving, both at home and on the other side of the borders humans have created. But the one thread running through it all, through every film, TV show and interview I've been a part of here in Berlin is that if we work together, if we believe in humanity strongly enough, we may just turn out to be OK after all.
Some meetings have sparked newfound passions for me, like when I met a favorite actor I've long longed to interview, and, atypical of his usually serious, composed and contemplative expression, he flashed a wide smile saying goodbye. It's wonderful when those I've admired turn out to be even more impressive than I could ever want them to be. Wait, you want a name? Hum... Lets just say he's featured in that cool Sci-Fi movie in Competition.
Then there was an early morning meeting with the backup dancers from Madonna's "Blond Ambition" tour (pictured above), who were featured in the film Madonna: Truth or Dare and are now part of a beautiful, deeply touching documentary titled Strike a Pose, premiering on the 15th of February here at the Berlinale.
We began the interview laughing, getting to know each other and taking photos, and then slowly moved into the human shades of remembrance and melancholy. I was deeply affected by Salim, Carlton, Louis, Oliver, Jose, Kevin, the filmmakers Ester Gould and Reijer Zwaan, but also the spirit of Gabriel Trupin, the one out of the group who has since moved on to being an angel. He's always remembered, in the film, on the press kit, even in the interview room. Strike a Pose is a perfect love song by Gould and Zwaan to the exceptional men those boys turned out to be. By the end of the interview, we'd cried together, shared our innermost thoughts about life and death, and loved, loved a whole lot.
Because another thing I've learned at Berlinale, is that love is not about time or place, or even possessing someone but it's a bounty I can carry around in my heart, filled with the bright moments of joy I've shared with exceptional men and women in Berlin.
Meeting businessman turned movie producer Ian Ihnatowycz was also a wonderfully pleasant surprise. His enthusiasm for show business gives new hope and his determination in making his film, titled Bitter Harvest, is definitely palpable. The film deals with the "Holodomor", a horrific moment in the early 1930s when Stalin organized a Famine-Genocide in Ukraine, to destroy the country and bring its people to their knees. Ihnatowycz is of Ukrainian heritage, and lives by that saying I find so overlooked these days, "those who don't know history are bound to repeat it." Bitter Harvest stars Max Irons, Terence Stamp and Samantha Barks.
The film Barakah Meets Barakah, from Saudi Arabia, opens a conversation that will take us far. Our views of the Middle East and particularly Saudi can be so one-dimensional, so skewed. In this romantic comedy, there is romance, there are funny moments but there is also information. All sprinkled with culture and history. It's a film I would urge most Westerners to see, to truly understand the role of women in the Arab world, but also look at Saudi youth from a different perspective. I think what we tend to do in today's media is separate people by borders, nationalities, when instead the bigger divide is often our socio-economic background. I have friends, dear friends from Saudi, with whom I connect because of our upbringing, while there are definitely Italians and Americans I will never find any common ground with, because of our different family history. It's an important point, one I was reminded of by Barakah Meets Barakah, while I also laughed, felt and enjoyed the story along with the film's leading characters. Oh, and internet sensation Hisham Fageeh, of "No Woman, No Drive" fame, co-stars in the film. Google for and watch his videos, thank me later.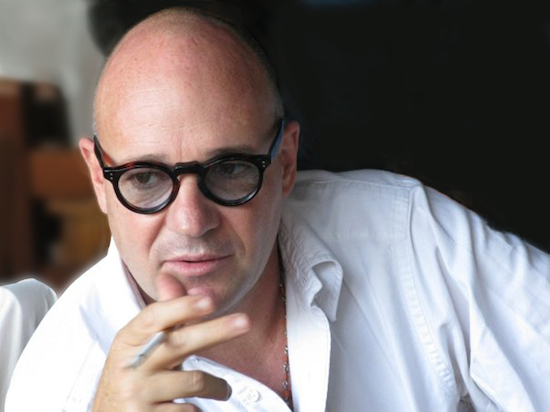 Finally, one man who makes me jump out of my skin with pride at being Italian is filmmaker Gianfranco Rosi. His documentary Fuocoammare, the only doc in Competition at Berlinale, is filled with life and humanity. As with its youngest protagonist Samuele, the film offers an invitation to finding new ways of looking at the world around us, new solutions, new points of view. Sitting down with the Maestro -- I call him this out of the utter respect I feel for his work and his splendid soul, definitely not because of his age, we're nearly peers -- has filled me with inspiration. Since then, I talk to anyone who will listen about Fuocoammare and so many of Rosi's words are still getting turned over in my mind, like the fact that he stopped filming on Lampedusa when tragedy hit, unable to continue after something so horrible, and it turned out to be the perfect cinematic choice.
Rosi is a prophet of our times, a filmmaker who relishes the solitude of his art, the intimacy with his subjects, with whom, he declared during a press conference, he'd fallen in love. He filmed, directed and collected the sound on Fuocoammare all himself, so he could be almost invisible to those around him. The resulting work is a masterpiece that, while not offering any easy solutions, sparks us, the audience with inspiration.
But most importantly perhaps, disrobes us emotionally, to finally uncover our humanity.
Bitter Harvest courtesy of DDA, all other images courtesy of Berlinale, used with permission.
Calling all HuffPost superfans!
Sign up for membership to become a founding member and help shape HuffPost's next chapter