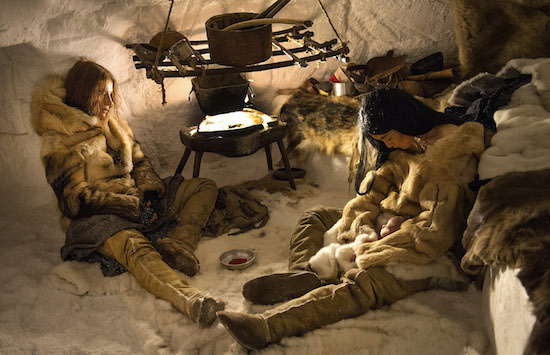 Juliette Binoche and Rinko Kikuchi in a still from Nobody Wants the Night, photo by © Leandro Betancor
I'll admit I'm going into the Berlinale film festival with a heavy heart. I'm watching more and more of the world around me fall apart, and my fellow humans shrugging their shoulders. "Oh, well, another journalist kidnapped and killed," or "Yet another million refugees displaced by recent wars," which of course, people address by going to watch a film like American Sniper. No, wait, making it a box office record breaker in the US. Because we all believe that we're just the power of one, what is our supporting a film so intrinsically violent gonna do anyway -- our admission ticket is just a piece of paper separating us from having conversations about the film with our neighbors.
I'm all for films, as Jafar Panahi says in his latest Taxi, showing here in Berlinale: "All films are worth watching; it just depends on your taste." But perhaps I wish, deep down inside, as a human being, that our collective taste was just more about peace and love. Without so much blood, so many guns.
Films change us and if we don't believe that, then everything becomes a moot point. Any art form actually changes us. I recently read A Hologram for the King, the novel by Dave Eggers and now I see the world, Saudi Arabia, my specific role in the Middle East differently. Incidentally Hologram is soon to be a film too, produced by Lotus Entertainment, directed by Tom Tykwer and starring Tom Hanks.
And exactly this reevaluation of my work, writing from within a culture I adore but which is increasingly under pressure because of some extremist, marginalized few, has been making me depressed. I blog as much as I can about what I like to call "cinema with a conscience" but I've reached my max. I'm tired of explaining that I'm not a critic, that I use my written word to encourage what I hope will be a movement to watch better films, so we can be better people. I'm tired of explaining that great entertainment also means something that gives you hope. I'm tired of feeling pulled by two sides that believe it easier to mistrust and misunderstand one another than to, for once, believe. I'm tired, just tired.
The Climb of Hope from Amal AA on Vimeo.
But then, somehow magically, a filmmaker friend emailed me to come join her and watch some films together at Berlinale. Amal Al-Agroobi is a favorite person, a wonderful filmmaker with an inborn sense of doing what's right, filming stories that need to be told. I first met her in Dubai, when I watched her short documentary Half Emirati during the Dubai International Film Festival. Al-Agroobi taught me the challenges and successes of being a person of mixed background in the UAE. Then she showed me some different challenges in her feature The Brain That Sings, about autism in the Emirates. Her latest, Climb of Hope, can be watched on Vimeo.
The taxi ride from the airport was magical, once I landed in Berlin. My driver just happened to be from Iran and when he told me his name, he kicked off my journey with the perfect omen: Masha'Allah -- or "God has willed it" in Arabic. I mean, how can it possibly get more perfect than that?! Being that the second reason for coming to Berlinale was the new film by persecuted Iranian filmmaker Jafar Panahi, my mood was already improving. I am meant to be here, doing what I do after all.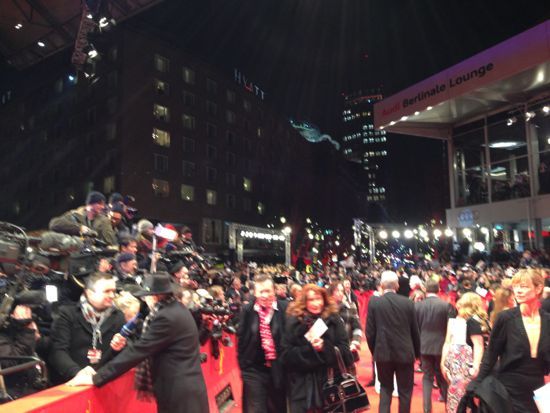 Opening night was phenomenal. I mean, the red carpet of the Berlinale Palast is long, beautiful, full of press, laden with excitement. What a night. It marks the very first time I went to an opening wearing jeans, but still, I felt like I was enveloped in the glamour and elegance of those around me who had the time to get ready properly. Juliette Binoche looked stunning in a white tuxedo gown with a plunging décolletage and slicked back hair and the mistress of ceremony, German TV personality Anke Engelke was funny, charming and perfectly bilingual. Her duet with James Franco, where she pretended to be an infatuated fan, was laugh-till-you-cry funny.
Isabel Coixet's film Nobody Wants the Night was the opening oeuvre. I'm not completely sure I buy it, but then as Ali and Nino author Kurban Said wrote "maybe that is the one real division between men: wood men and desert men." Coixet's film explores the frozen tundra and perhaps it's all as simple as me not being a snow woman. Even an inch of sludgy NYC stuff puts me off. Plus, add in temps in the mid-twenties, Fahrenheit, in Berlin, I felt chilled to the bone.
Thank goodness for the packed after party, which warmed both my spirit and my body.
Top image courtesy of Berlinale, used with permission.
Calling all HuffPost superfans!
Sign up for membership to become a founding member and help shape HuffPost's next chapter