This year's Berlinale is certainly woman-centric. There are exceptional leading ladies commanding the red carpet as Juliette Binoche did on opening night, in her tuxedo-inspired white gown and fresh make up. And there are exceptional women filmmakers in both the official program and the European Film Market. On opening night of the 65th edition, film festival director Dieter Kosslick declared that this year there is a focus on "strong women in extreme situations." And in fact, apart from the various films about women, including the opening night selection Nobody Wants the Night starring Binoche and directed by Isabel Coixet, there are 155 films produced by women in this year's program, 115 directed by women and 26 selections that boast women cinematographer. Not a bad deal.
One of my favorite films -- directed by a woman -- wasn't in the official program of the Berlinale but rather screening away from the festival. Eyes of a Thief directed by Najwa Najjar (Pomegranates and Myrrh) was this year's Palestinian entry to the Foreign Language Oscar race, but did not make the shortlist, I dare guess because it is a film that is caught in the middle of the conflict between Israel and Palestine. It is also as accusatory, if not more so, of Palestinian traitors, which in the film range from those who do nothing, to those who actively work against their own people to serve their personal greed. What Najjar does do beautifully is create a layer of subtle analysis, the kind that perhaps most filmmakers would do away with for wider audience impact, for easier comprehension.
But Eyes of a Thief impacts those of us who know that the Israeli Palestinian conflict is one that may not ever be won, by either side. One day, Inshallah, a hero may come along, as Salma Hayek Pinault recently said -- "a new Gandhi, and he will probably come from the Arab world," but until that happens, the heroes will continue to be imperfect ones like Tareq, flawed yet humanly so. But able to allow a little girl to connect with the father figure she has always yearned for, to show a woman the courage in her heart to love for the right reasons, and disclose to a village the collaborator that has wreaked havoc on their lives.
Eyes of a Thief stars favorite thespian, and Egyptian superstar Khaled Abol Naga and Algerian singer Souad Massi and is handled by Ustura Films, Palestine for worldwide sales. Though if you're going to watch the film, I suggest you steer clear of reviews and commentaries about it, since they all seem to give away its central, and very important twist. I found that distracting in my viewing, as I would have much rather arrived at this "mystery" surrounding the film's lead character on my own. But then again subtlety is a precious quality lost on most film journalists and reviewers.
Back to more films made by women. Perhaps slightly less profound though a fun watch, was Sergio Herman, Fucking Perfect by Willemiek Kluijfhout. If you're a foodie like me then Sergio Herman is a household name, given that he is a 3-star Michelin chef. Or rather, he built his family's business Oud Sluis to be a three star restaurant and then decided to stop. He wanted to spend more time with his wife, who's learned well the part of understanding woman married to a chef, and his four kids. Wait, were they more? Maybe, but after four, I stopped counting. Chef Herman is part rockstar, part tragic hero and a whole lot tortured artist. I kept thinking through Kluijfhout's closeups of chef Herman and his family that what I really wanted to ask him during our interview in Berlin was a simple, honest, straight to the heart question I've never asked before: "Are you happy?" Alas I never got a chance, as I left just as the chef was settling into his Berlinale appearances. But I think I know the answer...
Speaking of food, second day into my Berlinale I discovered Food Truck Alley. While most festivals around the world thrive on local businesses overcharging those attending them, Berlin is beautifully democratic when it comes to food as well. Right outside the Arkaden mall, there is a tucked away, fragrant and always crowded row of food trucks serving hungry festival-goers of all badges and audiences an array of tasty, well-priced food. From traditional fish and chips, served with malt vinegar and tartare sauce to taste, to arepas, from Swiss stews to divine cheeseburgers, I wasn't in Berlin enough days to taste it all.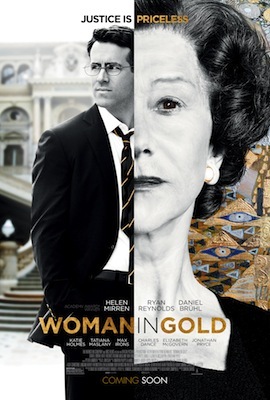 While I came to Berlinale for Jafar Panahi, it was a film about a woman's struggle to regain what was rightfully hers, and her family's, which sent me home satisfied -- "shut it down" for me, as Rachel Zoe would say. Woman in Gold, directed by My Week with Marilyn's Simon Curtis felt like the perfect film. Curtis and his actors manage to take a story inspired by a documentary about a true story, about a painting, a family separated by the Nazis, and a gutsy young lawyer with nothing but conviction and turn the whole lot into a bit of a thriller as well. Oh, and as I was leaving Berlin I found out the original E Randol Schoenberg, the Randy of the film (played by Ryan Reynolds), the maverick lawyer who gambles everything along with the film's heroine Maria Altmann (played by Dame Helen Mirren), was in town for the film's premiere. He writes a super blog where he also talked about his POV on the whole Berlinale event. A must read.
I'm proud to be among those who have understood the true essence of this profoundly touching film and its real life heroes and heroines -- a true testament to the power of humanity.
Finally, one of my film-making idols, Darren Aronofsky (head of the jury at this year's Berlinale) gave an interesting master class on Sunday morning, a moderated three way conversation titled "2015: A Space Discovery" which included one of his co-jurors, Peruvian filmmaker Claudia Llosa. Aronofsky talked about how he got into film, how he feels that "ninety percent of filmmaking is persistence," and my favorite quote ever, "sometimes you don't find the story until you are talking to the press afterward." See, journalists and film critics are good for something, sometimes, after all...
Top image courtesy of Ustura Films, all other images courtesy of Berlinale, used with permission.
Calling all HuffPost superfans!
Sign up for membership to become a founding member and help shape HuffPost's next chapter