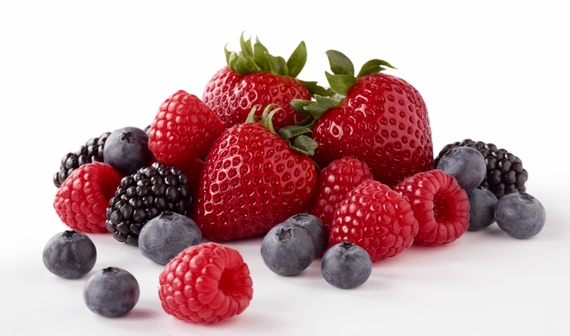 Recently after my morning meditation, I did what I have done for the last thirty years of my life. I opened the refrigerator and pulled out a basket of berries for breakfast. The difference, this time, was that instead of my usual unconscious habit, I stopped. I realized that eating berries every morning had become an important ritual for me.
So as I popped a perfectly formed raspberry in my mouth, I started thinking about why I loved my berries so much. They're easily digestible and are a delightful combination with my favorite granola and oatmeal. I love the taste, the color, and the sweetness. I can eat them alone if I'm on the run or add them to salads if I'm having brunch. Plus they're an excellent source of fiber and antioxidants and a good source of Vitamin C.
As I dropped deeper into meditation, my focus turned to environmental health. Where does a berry come from? What goes into growing a berry? I knew my favorite brand was Driscoll's, but the question was why?
So on a road trip from San Francisco to Santa Barbara, I stopped by their headquarters in Watsonville, CA to see what went into making a berry. Surprisingly, there was a lot more than I'd thought.
All berries are not created equal.
Although the current operations have been in Watsonville since 1953, Driscoll's berries have been around since the 1870s. There are over eight hundred independent growers in the Driscoll's family, some traditional and some organic. These farmers range from small family operations to large operations, like the Reiter Family who have farms throughout the world. Driscoll's grows the berry seedlings, ships them to the farmers, the farmers nurture them, harvest the berries and returns them to Driscoll's to be sold. Driscoll's and the farmer both share in the profits of those berries.
More than just one variety.
Driscoll's breeding program has produced on the market more than twenty varieties of strawberries, more than seven varieties of raspberries and over twenty varieties of blueberries and blackberries; many of which Driscoll has patented with the U.S. Government. Who would think berries would need to be patented!
Driscoll's has become a farming advocate.
Driscoll's is an advocate both in the area of water conservation and soil health. They've started growing berries in soilless media such as coco fiber (coir) and peat and are exploring ways to prevent the further degradation of groundwater via recharge projects and the increased use of recycled water.
What really got my attention as an environmental therapist, is their dedication to conserving water to the point that Driscoll's is exploring partnerships with agricultural technology companies like Priva, whose tools help growers find the precise measurement of the water needed to grow a berry by evaluating the moisture on a leaf. This makes for even deeper water conservation. One of the technologies employed, called the root optimizer, regularly weighs plants grown in pots to detect their real-time use of water and to trigger an irrigation event. As a California resident whose water is being rationed, assuring that growers use just the right amount of water to grow their berries is something I want to support.
Sustainability is top of mind.
I spoke with Soren Bjorn, EVP of Driscoll's of the Americas, who focuses his work on every single angle of the berry growing process, including how to make the growing practices more sustainable; right down to those little boxes they are packaged, called clamshells. The good news is that the plastic is 100% recycled. The tough news is the label is sometimes hard to get off in the recycling process. I also spoke with Emily Paddock, Water Resources Manager, who focuses on supporting water initiatives ranging from training sessions for irrigators to local policy development around water resources.
The berry best part of my day.
Whether you're eating berries every morning like me or have your own daily habit, what I'm learning is that in life it is important to stop our unconscious rituals to think about what's behind them. You might be surprised what is revealed. As for me, I'll never quite look at a berry the same way again.
Gay Browne
Environmental Therapist
CEO & Founder of Greenopia
Disclaimer:
This is a personal blog. The information expressed represents my own opinions and observations and not those of others.
Related
Popular in the Community