Camille A. Brown performing at the Bessie's. Photo credit: Yi-Chun Wu.

Rarely are dancers celebrated for their work. They almost never break free from an attentive gaze that comes with constant critique and comparison. In the studio, teachers correct every articulation, striving for perfection in the human body. On the stage, critics dissect performers' motions, searching for error. As unrealistic as Black Swan might have been, the film captured one thing beautifully: dance is a stressful art form, not just tutus and tiaras.
So it's especially lovely when the dance community can gather together and applaud each other's efforts. Such is the environment at the Bessie's, dance's version of the Academy Awards or the Tony's. This year, the 31st-annual ceremony took place at the Apollo Theater in Harlem, with its iconic neon-red sign. Bright, plush, velvety décor set the mood, chandeliers cascading to make prisms on the walls. A DJ played music more reminiscent of a club than a cultural event, and the room felt warm, inviting -- more than cordial.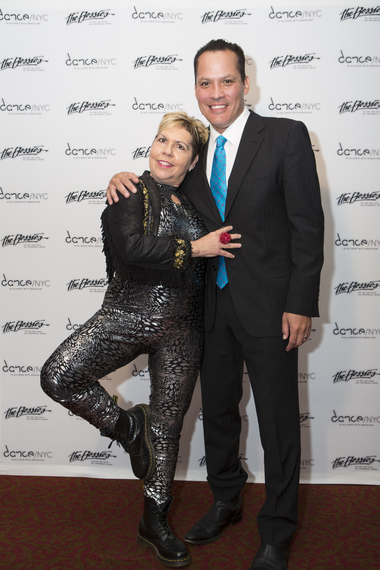 Hosts Carmelita Tropicana and Jock Soto. Photo credit: Yi-Chun Wu.
Performance artist Carmelita Tropicana and former New York City Ballet principal Jock Soto made an unlikely pair as hosts. She proved eccentric, a serpentine bodysuit hugging her curves as she told too many sex jokes to count. He harbored all of the professional, stoic rigidity of a male ballet dancer whose discipline and concentration led to a 24-year career with George Balanchine's ensemble. Still, they managed to get along, informal and improvised.
The presenters were all big names in the industry, from dancers to choreographers to programmers. Kyle Abraham took the podium, as did one of the women who launched him, Ella Baff. Ivy Baldwin delivered especially poignant eulogies for her deceased collaborator, Lawrence Cassella, and Marcelo Gomes stunned in a gorgeous silver suit.
As for the winners, most were respectful, earnest, and timid. Amar Ramasar, who was awarded Outstanding Performer, thanked Peter Martins for believing in a kid from the Bronx in an especially memorable speech. And in David Neumann's acceptance for Outstanding Production in I Understand Everything Better, he admitted something with which any dancer could empathize: he was humbled, amazed, and... tired.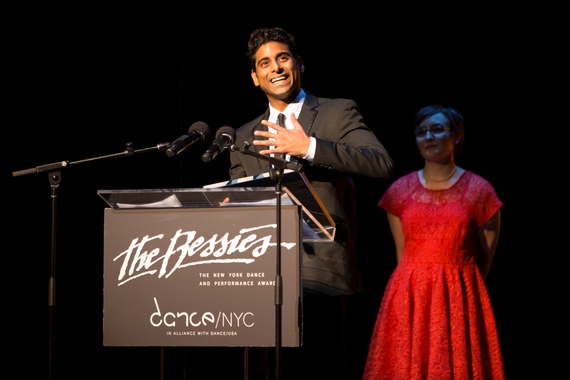 Amar Ramasar accepts his award for Outstanding Performer. Photo credit: Yi-Chun Wu.
For me, the only surprise was that Robert Fairchild did not win Outstanding Performer for An American in Paris. I admit, I'm biased, and always will be biased -- ballet is what I most enjoy, and I can grasp it much better than some of the alternative works downtown (though I like those, too, for the challenge). But Fairchild blew me away as Jerry, especially in his final dance scene. His charisma, his finesse, it was all magnificent... a triumph for ballet. The fact that it went unrecognized by the Bessie's -- not only Fairchild's extraordinary dedication to his part, but also Christopher Wheeldon's engaging choreography -- baffled me.
Another notable absence was any nominee from American Ballet Theatre. This did not shock me; I've been following the company since I was a child, when Gomes was the new kid on the block, and I know the company is in a period of transition right now. But the hope is that Kevin McKenzie will nurture a new vanguard of artists and technicians, like Martins has at NYCB in recent years.
The evening's apex: Steve Paxton called in from Paris to accept the 2015 NY Dance and Performance Award for Outstanding Lifetime Achievement in Dance. In a video beforehand, he seemed a little peeved to receive a "lifetime achievement" award; after all, he's still kicking, still innovating, still creating. But on Skype, he was congenial, offering some off-the-cuff advice: everyone should choreograph something at least once in their life. And if you think about it, we choreograph every day. How we move along the street, how we navigate situations -- it's all choreography, whether physical or psychological.
Like most award shows, the Bessie's sprinkled in a few performances to rupture the seriousness of the situation. After all, it would be a shame to take up the Apollo stage and not use it. Storyboard P, who won the 2015 Emerging Choreographer Award, liquefied his bones in what seemed a tribute to Michael Jackson. Lisa Nelson improvised a sweet solo with a ribbon at its center. But really the only moment that left an impression was when Camille A. Brown emerged in her white gloves. She's intoxicating, truly, with the star quality that makes her worth watching. These days, you can't always believe the hype surrounding a choreographer. Believe the hype about Camille A. Brown.
By 9:30, the show was over. Most people headed to an after-party to dance the night away, sans pirouettes and with alcohol and pizza. Everyone seemed to know everyone else -- there were no outsiders, except perhaps me, but I was fine with being an outsider looking in. It was nice to look, to see the friendship and appreciation. I don't envy artists for their vulnerability to the public, but at the Bessie's, they mingled among others who understood. Speakers emphasized how hard it is to dance in NYC in the 21st century. But they do it because they love it.
That's what you could feel at the Apollo: all the love.

For a full list of 2015 nominees and winners, click here.
Calling all HuffPost superfans!
Sign up for membership to become a founding member and help shape HuffPost's next chapter