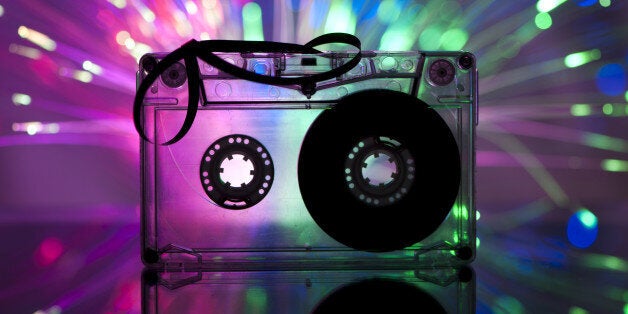 These 1980s pop singles (in alphabetical order) should've ruled the charts -- or at least dented the Top 40, but for whatever reasons did not. But charts be damned, I'll love them forever. This list continues where Part 1 left off.
If some of these songs are unfamiliar, take a listen -- they might just change your life for the better as they did mine about 30 years ago...
Jam On It (1984) -- Newcleus
This fresh as ever, electro-rap breakdancing opus (#56) about Superman and Cosmo D from outer space was the first 12-inch single this white boy from upstate New York ever bought, and it never left my turntable in the summer of '84.
Last Night A DJ Saved My Life (1982) -- Indeep
One of the most infectious club hits of the post-disco era, but American pop radio turned a cold shoulder and it failed to chart in the Hot 100. The ringing at about the one minute point still has me jumping up and looking for the phone every time.
Let Me Go (1983) -- Heaven 17
Britain's Heaven 17 (formed by ex-members of The Human League) crafted the moody, funky synth-pop epic Let Me Go (#74), chronicling the arc of a ruined relationship. It fared better on the U.S. dance chart, spending five weeks at #4.
Love My Way (1982) -- The Psychedelic Furs
Psychedelic Furs' hits Love My Way (#44), The Ghost In You (#59), and Pretty In Pink (#41) -- all beloved, and sounding just as wonderful today, surprisingly never penetrated the Top 40.
Life's What You Make It (1986) -- Talk Talk
With its driving piano, guitar and percussion and terrific message, I thought "at last this incredible band will break the Top 10," but the single never made it past #90 -- at least 80 notches too low if you ask me.
Like Flames (1986) -- Berlin
Anthemic blast of Big 80s dance-rock, Like Flames followed Berlin's #1 Take My Breath Away, and should've set fire to the Top 10, yet flickered out at #82. At least it's in good company, joining Berlin's other great non-Top 40 singles, The Metro (#58), Sex I'm A (#62), and Now It's My Turn (#74).
Love Will Tear Us Apart (1980) -- Joy Division
Rolling Stone magazine's choice for the Best Song of 1980 (and I agree) is anthemic, mournful and stirring -- pure heartbreak and beauty, but U.S. mainstream airplay was nowhere in sight.
Magic Smile (1986) -- Rosie Vela
A supermodel with pipes, Vela released the dreamy, languid, Magic Smile. Almost nobody I know remembers this never charted gem, but it was a highlight on radio in the summer of '86. Sounds a bit Steely Dan-esque, probably due to her collaborators: Steely Dan's Walter Becker and Donald Fagen and producer, Gary Katz.
New Toy (1981) -- Lene Lovich
Quirky, strange and infectious as it gets, this Thomas Dolby penned wild ride of a track eschewed human affection in futile favor of the mindless acquisition of "new toys." Lovich's vocal theatrics raised the delightful hysteria to a full boil. An alternative radio favorite, it charted in England, but not the U.S.
New Years Day (1983) -- U2
My favorite U2 single, the haunting New Years Day, was the band's first U.S. chart appearance. Despite massive MTV support and frequent airplay, this ode to the Polish Solidarity movement only made it to #53.
Pleasure & Pain (1986) -- The Divinyls
Most remember Australia's The Divinyls for the 1990s smash, I Touch Myself, but for me, they'll always be best known for this underrated scorcher (#76) with one of the decade's definitive rock vocals by the late great Christina Amphlett.
Private Idaho (1980) -- The B-52s
Still sounding fresh as ever, Private Idaho (#74) should've given the B-52s Top 40 success a full decade before their actual first Top 40 hit, Loveshack).
Rebel Yell (1983) -- Billy Idol
Despite its ubiquity on U.S. radio, Idol's signature hit surprisingly only made it to #46 in America.
Rockit (1983) -- Herbie Hancock
One of the decade's best (almost) wordless hits, Rockit (#71) was the first popular single to feature scratching and other turntablist techniques. Hancock, one of the first black artists on MTV, garnered five MTV Video Music Awards for Rockit's groundbreaking use of special effects, robotics and movable sculptures.
She Sells Sanctuary (1985) -- The Cult
This UK alterna-rocker smolders beyond any '80s headbanger to follow in its wake. Despite being as radio-ready as can be, and an accompanying album that went gold in the U.S., Sanctuary never charted in America.
Beloved internationally for a string of powerful synth-pop hits, Yaz (known as Yazoo overseas) were barely a blip on the charts stateside. Situation (sampled by everyone from Snoop Dogg to the "Macarena" and beyond) was uber-hit ready, but only rose to #73. Also criminally underrated: every solo single released by ex-Yaz vocalist, the brilliant Alison Moyet. Also, check out her great 2013 album, The Minutes.
Smalltown Boy (1984) -- Bronski Beat
Jimmy Somerville and company's debut delved into bold territory: the loneliness, bullying and societal rejection of being homosexual. I'm a bit amazed it actually got as high as #48 in the States since I never heard it on the radio. This haunting beauty fared much better in other lands, reaching the Top 10 in Australia, Belgium, Canada, Germany, France, Ireland, Italy, Netherlands, New Zealand, Switzerland and the UK.
Twist In My Sobriety (1988) -- Tanita Tikoram
Smoky vocals and cryptic lyrics wrapped around a hushed, pulsating rhythm -- complete with spooky oboe solo and stunning sepia toned video, Tikoram's debut topped charts globally and has been widely covered, but failed to chart in the U.S.
Waterfall (1987) -- Wendy & Lisa
After achieving huge success as part of Prince & The Revolution, the enormously gifted, multi-instrumental duo of Wendy & Lisa (now also award-winning composers for TV and film) struck out on their own in 1987 with their wonderful first single, Waterfall(#56).
What I Like About You (1980) -- The Romantics
With all of this song's lasting popularity, isn't it crazy that it never went higher than #49?
Wouldn't It Be Good (1984) -- Nik Kershaw
England's Nik Kershaw was the bestselling male UK artist of 1984, thanks in huge part to his Euro-smash, Wouldn't It Be Good, but on this side of the Atlantic, only made it to #46 despite heavy rotation on MTV with Kershaw as a chroma-key suited space alien on the run.
You Better Run (1980) -- Pat Benatar
This bad girl '80s rock classic (#42) was the second music video ever played on MTV and Benatar's only single from her early 80s heyday to narrowly miss the Top 40.
Your Love Is King (1985) -- Sade
With its lush sax, and sultry groove, this sexy single never got past #54 on the Hot 100, but will always be crowned in my heart. It did do twice as well as Sade's first stateside single, the spectacular, Hang On To Your Love (#102).
Popular in the Community