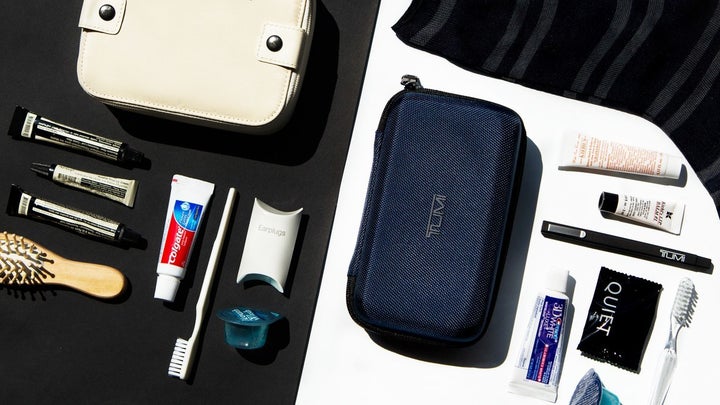 The friendly skies are anything but these days. Flight delays, endless lines and increased baggage loss all sully the allure of air travel. While some airlines may treat passengers more like cattle, there are some that are bringing the glamour back. Passengers in business, first, and sometimes economy classes receive stylish packs of beauty products to counteract the tiring effects of a long flight. From partnerships with Acqua di Parma and Christian Lacroix to Birchbox, these are are our favorite in-flight amenities.
Travel fun fact: The British Royal family flies commercial. And when Duchess Kate and Prince William jet around the world, they do so on the U.K.'s premier carrier British Airways. Like Burberry and high tea, there's something so quintessentially English about this airline, which is one of the world's largest. So it should come as no surprise that the amenity kits presented to the upper classes brim with U.K.-favorite brands. Passengers in Club World (a.k.a. international business) enjoy Elemis products such as Lip Balm, Pro-Collagen Marine Cream and Pro-Radiance Hand and Nail Cream.
Among travel nerds, the goodies on Asian carrier Cathay Pacific are the most coveted. One reason is the Aesop branded pouches gifted to passengers in first class. Inside you can find a smattering of humectant products from the boutique Australian skin-care brand (we love the Rosehip Seed Lip Cream), along with a sleep mask and — this is a biggie — a screen cleaning cloth. As with many of the airlines, there are kits designed for men and women. In business class, passengers are treated to goods by Jurlique packed in pouches by Hong Kong-based indie brand Seventy Eight Percent.
The service on this Doha-based airline is the stuff of vintage daydreams. Meticulously groomed cabin crews provide a seemingly endless selection of excellent food along with high-tech entertainment options on flights that criss-cross the globe. Passengers in first class enjoy beauty kits packed in Giorgio Armani cosmetic cases, as well as full-flat beds and get PJs to go with them. The loungewear, which are designed for both men and women, come complete with slippers and sleep masks.
There are few airlines as exclusive as this Abu Dhabi-based carrier. This is, after all, the airline with the Residence, a three-room suite in the air complete with a butler service, a bed dressed in Italian linens, a personal shower, and a bonanza of Acqua di Parma products, along with in-flight Christian Lacroix loungewear. But you don't need to drop five figures to get an amenity kit on this airline. Economy passengers get the "Sleep Tight" kit, which features a cool sleep mask among other goodies. Those in business class receive ultra-hydrating moisturizers and lip balms packed with vitamin E. On the ground, the airline has partnered with the uber pampering Six Senses Spa in Abu Dhabi.
With a hub in Dubai, Emirates serves more than 50 exclusive routes in the U.S. and throughout the Middle East. And the airline's service is legendary. Fittingly, upper class amenity kits are packed with bespoke beauty goodies from Bulgari. Each set comes with an exclusive fragrance—Red Tea, Black Tea, White Tea, Green Tea—developed for the airline to correspond with the colors of the national flag of the United Arab Emirates. Scents and kits rotate every 90 days, so frequent fliers can get a variety of goodies. Economy passengers also get amenity kits boasting Bulgari—albeit a bit pared down version—on long-haul flights.
Refreshed, relaxed, and glowing aren't exactly the result of long-haul flights. That's about to change with the new kits launched in July by Delta in partnerships with Tumi and Kiehl's. Products—which include Kiehl's Lip Balm #1, Kiehl's Hand & Body Lotion with Aloe Vera and Oatmeal, and a dental kit—are expertly curated to combat the dehydrating effects of air travel. Delta One passengers also get luxe eye masks by Tumi and adorable socks to help circulation. The actual Tumi travel pouches change based on the flights.
In March 2016, KLM (Royal Dutch Airlines), one of the marquee carriers in the Sky Team alliance announced an exclusive partnership with Dutch haute fashion designer Jan Taminiau. He's created a series of comfort bags to be dispensed on intercontinental flights in the KLM's World Business cabin. Unlike other amenity kit pouches, these are six chic clutches (for women) and wallets (hello, gents) in 12 different colors that are designed with post-flight use in mind. The bags are offered in addition to the airline's exclusive Delft Blue houses, charming ceramic gifts that have been a KLM gift since the 1950s.