The Best Bands in the US(LA) profiles some of the best bands/musicians in the underrated LA music scene, which many (including myself) contend is the best in America.
2010 may be remembered as the year of the Happy Hollows. But it won't be easy. It almost never is.
Fronted by singer/guitarist Sarah Negahdari with Charlie Mahoney on bass and Chris Hernandez on drums, the Happy Hollows have been impressing Silver Lake audiences since they formed about four years ago. Their music defies easy categorization, swerving from art rock to indie to post-punk, usually in the same song, as tempos shift, choruses go missing, and Negahdari's vocals swing from melodic coos to unhinged snarls, squeals and screams. The songs on their debut album, Spells (listen to it here) become increasingly powerful and rewarding with every listen, but they can also be a challenge.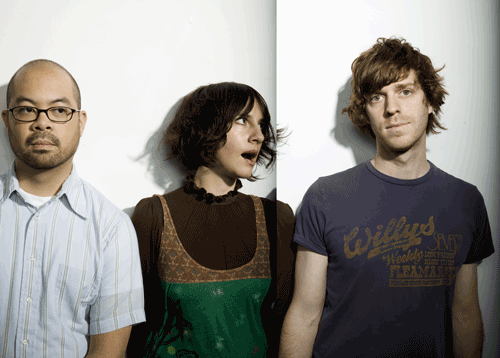 Chris Hernandez (drums), Sarah Negahdari (vocals/guitar) and Charlie Mahoney (bass/keyboard/vocals) of the Happy Hollows
That is, unless you see them live, where the Happy Hollows have rightfully earned the reputation as A Band You've Got to See. It's there where Negahdari reveals herself as the rock goddess of LA, performing with the joy and abandon of a precocious twelve year old rocking out in her room alone (think of a wilder, happier Karen O of the Yeah Yeah Yeahs without the costumes, makeup and poses -- who absolutely shreds on guitar). Under the light of Negahdari's searing performance, the artsy unconventionality of the music melts like so many rods of colorful plastic into vibrant, melodic swirls, which Mahoney and Hernandez then mold and pound into shapes while still hot. When you see the Happy Hollows, there will be no doubt that you're witnessing something special.
It was a turbulent 2009 for the Happy Hollows, which saw their deal with label Nettwerk disintegrate as the world's economic clusterfuck piled onto the music industry's already fading fortunes. But the band soldiered on, distributing Spells themselves (before being picked up by local indie label Autumn Tone) and touring heavily, finishing with a triumphant Spaceland residency in November. Spells was universally celebrated by LA music bloggers and took top spots on many best-of-the-year lists. Even famously LA-averse Pitchfork.com begrudgingly (and rather backhandedly) approved.
But the Happy Hollows' biggest surprise came right as their difficult 2009 wound to a close. Seemingly out of nowhere, the band and their song "High Wire" were chosen to be featured in a national ad for Samsung, bringing their music and Negahdari's magnetic stage presence into the homes of millions.
Negahdari and I have been exchanging pleasantries since I first saw the Happy Hollows in 2007. In 2009, I started doing stand-up comedy and going to open mics, and at one of my favorite spots, I noticed that one of the waitresses looked awfully familiar. It was Negahdari in her secret identity, bringing orders to customers unaware that they were being served by one of the most electrifying women in rock. But hey, even Superman has a day job.
About a week after the Samsung ad debuted, I met up with Negahdari to talk about the band and the LA music scene. We started in Roxbury Park, then went to the courtyard of Negahdari's building after a park staffmember kicked us out for not having a shooting permit (it's LA, after all).
Negahdari explains why she moved from New York to Los Angeles to pursue her musical ambitions.
Negahdari describes the day she found out that the Happy Hollows would be in the Samsung ad, and what it was like seeing the ad for the first time while at work (the ad is at the end).
On LA's supportive music community.
Why music is Negahdari's preferred form of expression (w/ bonus car crash).
On being a three-piece band and staying true to your musical vision, even if it bucks popular trends.
Why LA's music scene is starting to get some of the attention it deserves.
To see more clips from the interview, go here.
For more ReThink Reviews, the only (therefore best) political movie reviews anywhere, go to ReThinkReviews.net.