The Best Bands in the US(LA) profiles some of the best bands/musicians in the underrated LA music scene, which many (including myself) contend is the best in America.
You know how a year is like seven years to a dog? The same tends to be true of bands, especially local/unsigned ones that lack the financial and promotional backing a label can provide. Being in a band can be a pricey endeavor -- renting rehearsal space, replacing/upgrading/repairing equipment, touring, studio time, etc. -- and even exceptional local bands rarely get more than gas money and a few free drinks for performing. When you throw in competing personalities, visions and expectations, it's no surprise that most bands implode before their first birthday.
Which is one of the many things that makes the Monolators such a special band. Anchored by the husband and wife team of Eli (vocals/guitar) and Mary (drums) Chartkoff, the Monolators have been scorching and seducing Silver Lake/Echo Park/Eagle Rock audiences for nearly eight years, drawing listeners in with an infectiously fun sound rooted in (though not limited to) catchy 50s-60s pop rock goosed with bouncy punk intensity. Then, with their foot in the door, the Monolators wallop their audiences with a high-voltage live show that has become the LA indie scene's most reliable source for adrenaline explosives.
(Click here for one of my favorite Monolators songs, "Ruby, I'm Changing My Number.")
The Monolators' lineup has switched, swelled and receded over the years, at one point consisting of just Eli and Mary to its current incarnation as a five-piece with Ray Gurrola on lead guitar, Ashley Jex on bass and Jillinda Palmer on keys. With a fuller sound, a growing list of musical influences and a Quaker-like band philosophy declaring that all members can play in whatever way moves them, the Monolators seem capable of tackling any musical genre or style they want.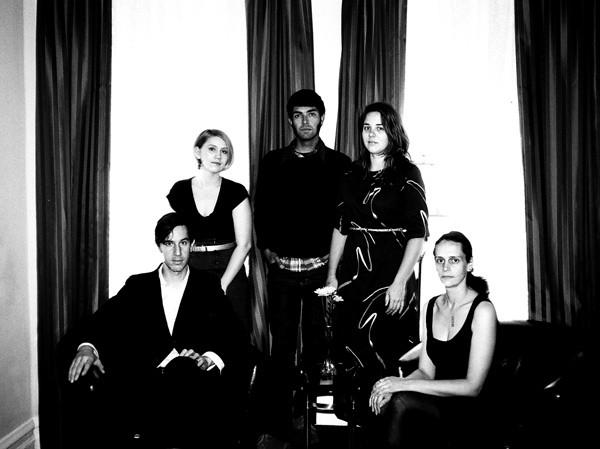 From left to right: Eli Chartkoff (vocals/guitar), Ashley Jex (bass), Ray Gurrola (guitar), Jillinda Palmer (keys) and Mary Chartkoff (drums).
But Eli and Mary had another idea. As if being in one band wasn't challenge enough, Eli and Mary started the Cobra Lilies in 2007, a slightly shambolic folk-based supergroup whose lineup can include as many as twelve members selected from LA's many fine indie bands. The Cobra Lilies are the band equivalent of a playground, where Eli and Mary can experiment with any musical or non-musical notion that strikes their fancy, including clogging, costumes, a fashion show with homemade outfits and allowing Mary to step out from behind the drum kit so she can play saxophone. If the Monolators are a stripped-down hot rod, the Cobra Lilies are the big, crazy hippie bus.
I visited Eli and Mary at their home in Eagle Rock to ask them about their personal and musical history, the secret of the Monolators' longevity, the challenges and rewards of fronting two bands and a lot more. Check out the ReThink Interview below.
What Eli and Mary think about being considered the elder statesmen of LA's indie rock scene.
On the secret of the Monolators' longevity.
On what it's like maintaining the "secret identity" of playing in a band.
How Eli and Mary define "pop music" and whether the Monolators fit that description.
How Eli and Mary find the time to be in two bands.
How the Cobra Lilies have affected the Monolators and why the two bands remain distinct.
For more clips from this interview, go here.
For more ReThink Reviews, the only (therefore best) political movie reviews anywhere, go to ReThinkReviews.net.
Related
Popular in the Community