The Best Bands in the US(LA) profiles some of the best bands/musicians in the underrated LA music scene, which many (including myself) contend is the best in America.
Whenever I hear or see Restavrant -- the LA-based electro/rock/punk/country/blues duo from Victoria, Texas -- the same thing always goes through my head: if the White Stripes can be one of the biggest bands in the world, these guys certainly deserve to make a living playing music. (Listen to Restavrant here while you read.)
Restavrant (pronounced restaurant) consists of Troy Murrah (vocals, guitar, slide, banjo) and J. State (drums, vocals, drum machine, keys). After seeing one of their shows, I told an uninitiated friend that Restavrant sounds like a tornado ripping through a Texas town whose main industries are chainsaws, electronics repair, scrap metal, beer and sidewinder missiles.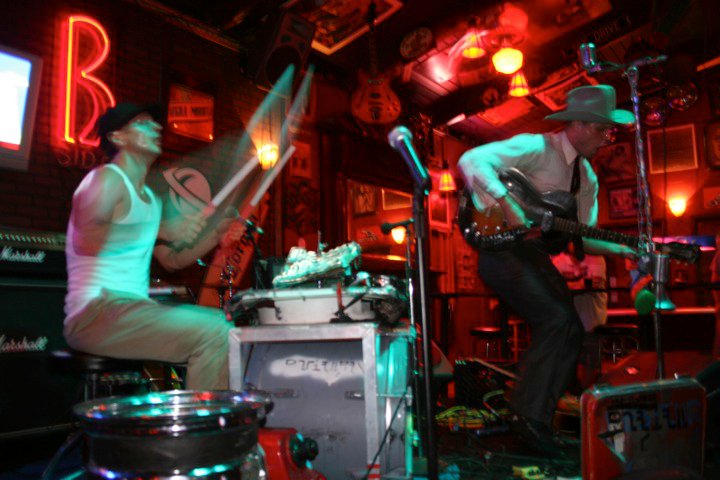 J. State (drums, vocals, electronics) and Troy Murrah (vocals, guitar, banjo, harmonica) of Restavrant
A big reason for that sound is Restavrant's drum set -- a homemade, constantly evolving apparatus that currently substitutes a suitcase for a kick drum, Texas license plates for a hi-hat, a sort of welded metal bedside table for a snare, and a gas can, tambourine, and tire rim for additional clatter. Beaten furiously by State using two plastic(?) clubs of indeterminate origin, this strange assembly creates a visceral, guttural, yet stripped-down racket, like bashing an asshole cop's car with his own nightstick. In the video below, Murrah and State explain the origin of the drum kit and State takes me on a tour through its current incarnation.
Murrah's searing slide guitar, which he taught himself to play by watching videos of blues musicians, buzzes and burns over vocals that sound as if they're being shouted through a speaker at a drive-thru. But with a switch to banjo, country flavors step to the fore to accentuate the boys' Texas roots. Throw in electronic dance beats and synth rumbles, and anything can happen -- but it will be distinctively and unapologetically Restavrant.
Watch an acoustic version of Restavrant playing their version of the traditional classic, "My Babe."
So what's with the spelling of the band's name? Murrah explains its origin.
Despite growing up in Victoria, Texas, country music was not a part of State and Murrah's early musical upbringings.
While they knew each other in Victoria, the guys didn't start playing together until they were in Los Angeles. Below, Murrah and State explain what brought them to LA as well as their early living arrangements.
In the end, Restavrant is a band that must be seen to be believed. If you live in Los Angeles, you're in luck -- Restavrant is playing every Saturday in June at Casey's Irish Pub downtown, and their live shows are not to be missed. Below, the guys talk about their desire to get their crowds dancing and the differences between LA and Texas crowds.
Restavrant discusses their upcoming album, Yeah, I Carve Cheetahs, and their desire to have their fans carve cheetahs for them out of Ivory soap (their shows at Casey's will feature a cheetah carving station).
One of the new songs on Yeah, I Carve Cheetahs is called "Oakley Shades". Below, Murrah and State explain the true story that inspired the song.
On their goals for the band as well as themselves as musicians.
To see more clips from my ReThink Interview with Restaurant, go here.
To find out more about Restavrant, visit them on MySpace and Facebook.

Support HuffPost
The Stakes Have Never Been Higher
Related
Popular in the Community