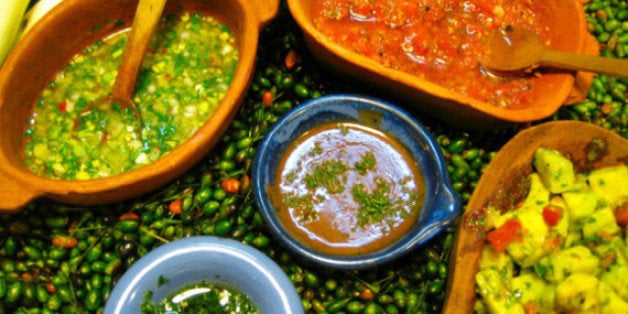 "A well made sauce will make even an elephant or a grandfather palatable," observed the nineteenth century French food writer, Grimod de la Reynière. Strange dude, Grimod: he had webbed fingers, like a duck, and he once staged his own funeral just to see who would come. He would have been a blogger today.
A sauce has the power to transform the simplest grilled seafood or chicken into an event. I've already told you about regional American barbecue sauces and the sauces of South America. Today, we look at some of the best grilling condiments you may have never heard of: the barbecue sauces of Europe.
Salsa Verde (Italy): Don't confuse this one with Mexico's tomatillo-based sauce of the same name. Italy's venerable salsa verde ("green sauce") includes all the components of a good vinaigrette, and more: freshly chopped Italian flat-leaf parsley; olive oil (the best and freshest you can afford); fresh lemon juice and grated zest; minced garlic; chopped capers; hot red pepper flakes; and those little umami bombs of the Mediterranean, anchovies (optional). Use as a marinade, baste, or sauce for grilled seafood, chicken, veal, pork, lamb, or vegetables. For the best results, make your salsa verde no more than two hours before serving. (Tip: Whisk the lemon juice and zest into the sauce at the last minute to preserve the parsley's bright green color.) Get the recipe here.
Romesco (Spain): This gutsy red puree of roasted tomatoes, garlic, onions, olive oil, and fresh and dried chiles thickened with bread and ground nuts may be the most famous sauce in Catalonia. Smoke-scented and earthy, romesco pairs well with all manner of grilled seafood, poultry, and meat. But the sauce's highest purpose is as a dip for calçots, Catalan spring onions (they resemble large scallions or small leeks) charred over grapevine fires and served in bunches on terra cotta roofing tiles. In Spain, romesco is traditionally made with smoky dried ñora chiles--the same chiles used to make Spanish paprika. You can buy the chiles online (and for a limited time, Oregon-grown calçots as well) from La Tienda. You can substitute dried ancho or pasilla chiles, which taste similar and are more readily available. No surprise here, but I always char the vegetables and toast the bread and nuts on the grill before making the sauce. See the full recipe.
SIGN UP for Steven Raichlen's UP IN SMOKE newsletter to learn more about barbecue!
Steven Raichlen is the author of the Barbecue! Bible cookbook series and the host of Primal Grill on PBS. His web site is BarbecueBible.com.