Christianity has Bethlehem. Judaism has Jerusalem. Islam has Mecca... and beer-lovers have Munich. The capital of Bavaria is not only home to some of the oldest breweries in the world, but also some of beer's most important history. It was Duke Wilhelm IV, the owner of Munich's royal Hofbräuhaus himself, who passed the 1500s-era creed -- the Bavarian Purity Law -- which defined what beer actually was, and over two hundred years ago, it was Munich that first instituted the beloved and all-holy biergärten.
Today, the city has nearly 200 outdoor beer gardens within its vicinity, giving visitors and longtime residents more rich-carb options than an American food court -- but with much happier side effects. Luckily for those of you who need a little help deciding which to hit first, we at Party Earth dusted off the old lederhosen and have done some homework for you.
So here are our favorite beer gardens in Munich, where you can drink a traditional dark lager, sink your teeth into a mouth-watering plate of schnitzel, and sing Ein Prosit to the green Bavarian landscape -- and apparently also get arrested for showing up wearing nothing but lederhosen.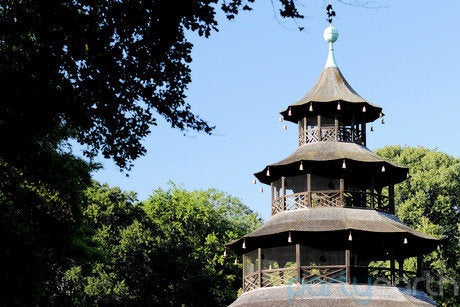 Munich's Best Beer Gardens