Ho ho ho-ly crap, as if it's Christmas again! Just like clockwork, every year Christmas comes around, and with it the impeding dread (or is that just us?) of what suitable gift to buy your loved ones, or the guy from accounts you somehow managed to pick for Secret Santa - #awks.
As stressful as festive gift buying may be, if there's one area where we KNOW we can kill it, its christmas gift ideas for people who love to travel. The happiness these gifts will create almost makes up for the heartbreak at seeing your rapidly depleting bank balance...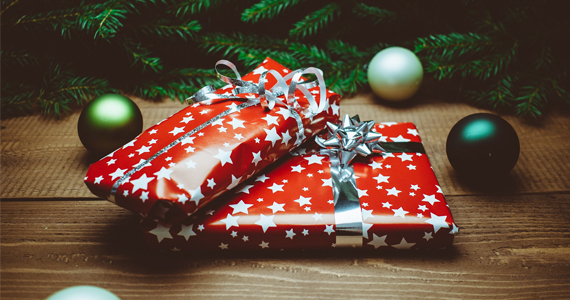 Want to feel super duper loved this Christmas? Gift someone a power pack and they'll love you forever. Power sockets can often be hard to come by on the road, so these babies are like life supports for the traveller who's dependant on phone or battery life. You can even get solar powered versions if you fancy getting a little green.
We Love - The Mophie powerstation mini - small enough to keep in your pocket, yet packed with enough power to keep your phone charged all day long.
Everyone loves a map, and everyone loves a bucket list - put them together and what do you get? A bloody good Christmas present idea, that's what. Travellers can scratch off the destinations as they go, or seek out inspiration pre trip on those essential must do experiences.
We Love - This beautiful version from awesome maps - so pretty we're tempted to use it purely for decorative purposes.
A good quality piece of carry-on luggage is something a seasoned traveller will appreciate, every time. Fur business travellers in particular, or those partial to short breaks, carry-on is crucial as often they won't be checking in a big bag. When making your choice, consider the following:
Is it 22 x 14 x 9 inches or smaller - standard airline sizing
Does it have a laptop sleeve - more important for business travellers
How heavy is it - bear in mind it will need to be easily moveable
How much space is inside- often the frame of the bag takes up a lot of valuable clothing space, which we no likey.
We Love - The Samsonite Spark - it's small, it's light, it moves on 4 wheels - tick, tick, tick.
There's nothing like a pair of fluffy socks to make you feel like you're really winning at life. From getting comfy on a long haul flight to snuggling up after a long days adventuring, fluffy socks are the little touch of home every traveller craves for, and the best part? They take up minimal luggage space.
Don't get us wrong, we love everything about curling up with a good book and flipping through the pages, but lugging round a bunch of books on your travels is just totally inconvenient. The Kindle Paperwhite is not only small and light, it can also hold more than 1000 books and can go weeks before needing to be charged. Plus, the cost of e-books is miniscule in comparison to their paper counterparts - again essential for the money conscious traveller.
Stuck for stocking filler ideas? Look no further than the lowly luggage tag. We'd recommend investing in a long lasting leather option, and you can even get these embossed for the ultimate personal touch.
Feeling flush? For real, there's no better gift for a traveller than a GoPro, and the Hero4 is the current King of them all. Boasting professional video and photo quality, plus a range of other super cool features (think frames per second and underwater ability), this really is a killer gift for any would be adventurer.
We Love - The Hero4 Session, the more affordable option in the Hero range, but if you're feeling REAL generous, splash out on the Hero4 Black.
Love them or hate them, you kind of can't help but recognise their practical value. Yes they're annoying and yes you look like a total twat, but sometimes you're arms just aren't long enough for a killer group shot. So go on, embrace the selfie stick!
Yep, you heard us right, the humble colouring book is making a comeback. Or rather, it's now acceptable, hipster-ish even, for adults to embrace the activity of colouring in. But these aren't the colouring books of your childhood, oh no. Intricate patterns and designs allow the inner creative to be released, meaning hours can pass by as you lose yourself to the power of the pencil. The perfect boredom buster for long plane, train or bus rides.
Want to give the ultimate gift this Christmas? We never heard anyone say no to a free holiday. In fact, surprise them with a 2016 adventure, and we can guarantee they'll say something along the lines of 'EEEHHHHHMMMMAAAA*&%?%****FFFFKKKKKKKK' - or something to that effect.
We Love - Contiki of course (how did you guess?) We may be biased but yeah, we kind of rock at the whole travel thing. Plus, we offer part pay on all trips, so if you want to split the gift with someone else, that's fine by us!
This post was originally posted on six-two.