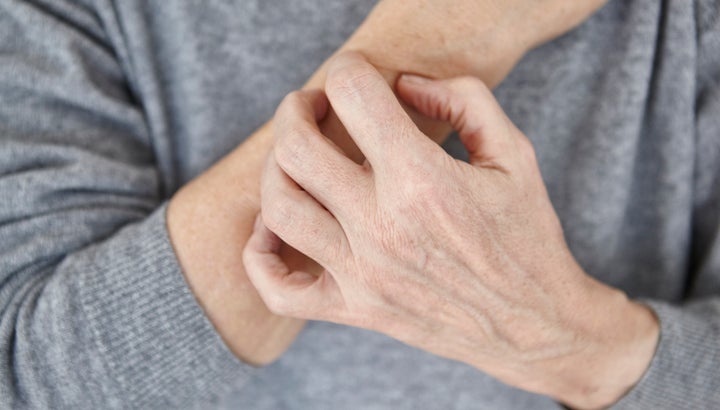 I have dry hands. Not ashy-and-flaky kind of dry, but crack-and-bleed kind of dry. Needless to say, I've been on the hunt for lotions and potions to actually cure my aching knuckles, not just soothe them.
The best remedy I've found is also probably the absolute ugliest. Labeled an "As Seen On TV" product, Miracle Of Aloe's Miracle Hand Repair is somehow the best dry-skin salve I've used, while also managing to be the only one I want to stealthily tuck away when guests come over.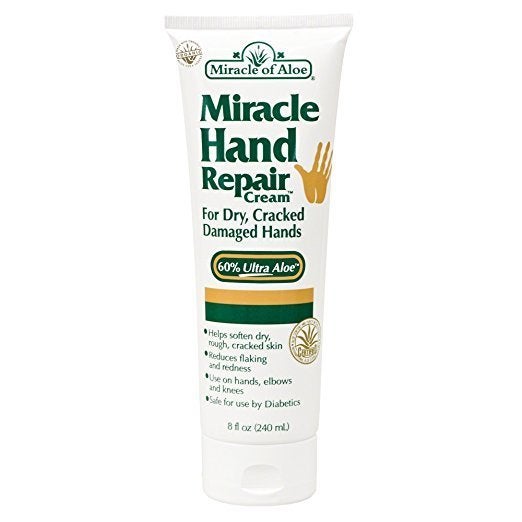 Made with 60 percent aloe vera leaf juice, this cream goes on thick ― almost like triple antibiotic ointment ― but not greasy. Rubbing it in is a full-blown ordeal. Though it's scentless, it looks like it would and should have a menthol odor. But, appearances are deceiving.
The first time I used it, my hands felt instantly smoother, softer and, I dare say, brighter ― probably due to a miraculous lack of ashiness. And, because it also comes in tiny travel sizes, I no longer need to hoard tiny lotion bottles in my bags while on the go. It even comes in a Miracle Foot Repair Cream, which I can only imagine is just as gloriously healing as the hand lotion.
It seems I'm not alone in my love for this grandma-looking hand cream. It has a rating of 4.6 out of 5 stars on Amazon, where users can't get enough of it:
"Love this product. Have tried others but none worked like this one. My son has cracked hands & this is helping him. Using this & his hands don't hurt like they did." — Amazon Reviewer

"My hands are severly chapped, flakey and red due to chemo meds that I must take. I've tried so many creams, ointments, body butters....you name it. Then someone told me about this stuff, so I thought what the heck. It has sure helped! While it hasn't gone away completely, it has helped with the flakeyness and redness. I would recommend it." — Amazon Reviewer

"No pun intended, but, hands down the best hand cream I've ever used. Every winter I get small extremely painful cracks at my finger tips. This cream works in well and leaves my hands feeling light and smooth with a very faint fragrance, not greasy and unable to touch anything. Cracks heal quickly. Great product." — Amazon Reviewer
The only big downside to this product is that it's not entirely made with clean, all-natural ingredients, despite its high aloe vera content. But still, if you need a solution for dry and cracked hands and knuckles, this is the best fix I've found that not only cures the symptoms, but helps prevent dryness in the first place.
HuffPost may receive a share from purchases made via links on this page.