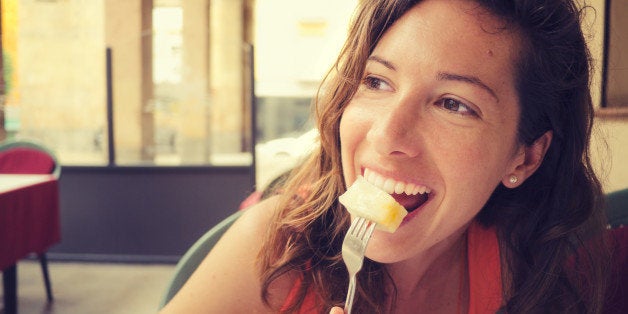 As weight loss and maintenance is one of my specialties, I am often asked, "What is the best diet?" People are often disappointed by my response. I tell them, "The best diet meets three conditions:
It's a healthy diet.
It's a diet that includes your favorite foods, in moderation, even if they're not entirely healthy.
It's a diet you can stay on for the rest of your life. (So it has to have flexibility, variety, and sufficient calories.)"
It's not a message dieters want to hear. They often cling to the belief that there is some magic combination of foods that will allow them to easily and quickly lose weight so they can go back to their old way or eating very soon. No wonder this belief is so prevalent, these ideas are constantly reinforced by the media.
But here's the reality. Let's say you're following a 1200 calorie diet. You lose 25 pounds. You reached your goal! You celebrate. Your weight plateaus. You stay at 1200 calories for another month. The scale hasn't budged. You have maintained your 25 pound weight loss. You think it's safe to start eating more. You start to eat more and--it's inevitable--you gain weight. You hadn't realized that since your weight had plateaued, you needed to stay at 1200 calories to maintain your weight at that level.
What makes it more complicated is that once you start to eat more, you may not see the scale go up for 2 or 3 days. You get a little looser on one day and you weigh the same amount the next day. You think you can get away with eating more, and you do. It may take another day or two before you see the number on the scale rise. And it will continue to rise until you return to 1200 calories.
"But you mean I have to eat 1200 calories for the rest of my life!" some dieters protest. "No," I tell them. "1200 calories is too low for almost anyone to sustain beyond a few months or a couple of years." I explain that there is no reason for them ever to eat only 1200 calories if at some point, they're just going to start eating more. It's far better to select a calorie range (if they're counting calories) that's several hundred calories higher.
Why cut your calories too low, naturally start eating more, and then just gain some (or all) of the weight back? It's far better to have in mind, from the start, that you need to find a way of eating for your lifetime.
Research shows that the most popular and well-known diets all result in very modest weight loss. The average weight loss doesn't vary by more than a few pounds. There is no magic bullet. There is no one diet that's best for everyone. Choose any reasonable diet and modify it to include at least one favorite food (even a junk food) once a day. Don't eliminate any foods that you will want to return to at some point in the future. Learn from the beginning how to moderate your intake.