It may be a date night staple, but dinner and a movie doesn't have to be boring. Here are a few of my favorite combos in Los Angeles that get you far enough away from the chain restaurants to create a memorable night.
I picked locations where once you've parked (or Ubered), you're done with your car. Nothing kills a nice evening out like traffic and parking garages.
1. Ox and Son and The Aero Theater
Chef Brad Miller comes to Santa Monica's Montana Avenue from Topanga's Inn of the Seventh Ray, bringing his own style of comfort food to Ox and Son. You can stick to small plates, I recommend the prime beef tartare, topped with truffled egg, soy, apple and sesame, and the uni and egg -- sea urchin topped with a soft egg on black bread. Or go big with the sticky pig cheeks and black rice or the O&S burger paired with irresistible kennebec fries.
Within walking distance of the restaurant is one of my favorite theaters in Los Angeles, the Aero. Generally only open to the public on Friday, Saturday and Sunday, the theater plays classic films and contemporary indies the way they were meant to be seen -- on the big screen. Lately I've caught an interesting mix of features including Lawrence of Arabia, Philadelphia Story and Ralph Bakshi's animated Lord of the Rings. The filmmaker will often be in attendance to answer questions about his or her work.
2. Faith & Flower and The Downtown Independent
If English Milk Punch made from a recipie dating back to 1862 isn't your favorite cocktail now, it will be after a visit to Faith & Flower. The cocktail involves a three-day process before it even hits your lips, but the combination, which includes Smith & Cross, rum, Bulleit Bourbon and Pernod absinthe, is well worth the effort put into it.
As is the labor put into the rustic dishes served up by Chef Michael Hung. Interesting note, Hung served as an advisor on the Pixar film Ratatouille. He made sure that the animators paid attention to the details, right down to the burn marks on the arms of the kitchen staff. Hopefully no one was hurt putting together my spring pea salad, which was bursting with flavor fresh from the farmers market. The oxtail agnolotti is worth ordering, the bone marrow butter helps make for an amazing pasta dish.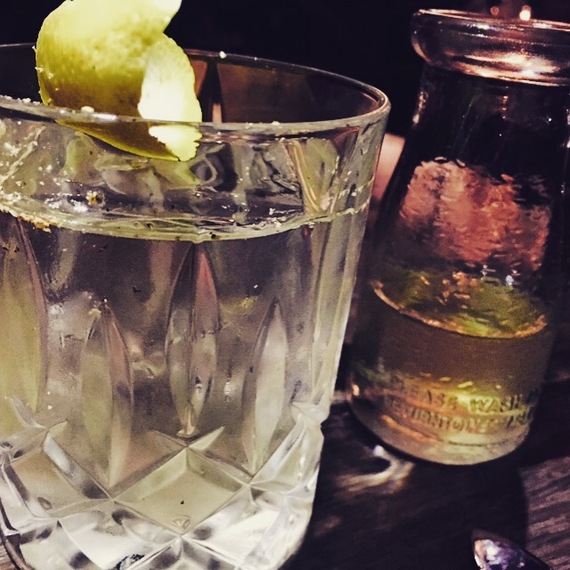 Faith & Flower's English Milk Punch - photo by Gina Hall

Once you've got food in your belly and a nice buzz going, head over to the Downtown Independent. This one requires a quick subway ride, but it's super easy if you use the Metro app. Subway rides are just $1.75, beating most downtown parking fees by a long shot. The theater is a small, but charming location that runs independent films you won't find at most theaters, or even on Netflix. The theater is currently holding the Asian Pacific Film Festival.
3. Plan Check and The Nuart
When it comes to a burger and a beer in Los Angeles, you really can't beat Plan Check, which hails from Chef Ernesto Uchimura, who also helped get Umami Burger off the ground. There are now three locations, with a fourth planned for Pasadena. I happen to be partial to the one on Sawtelle, which has a great patio and is down the street from the Nuart. Start with the pickles, which will make you wonder why you ever ate them out of a jar from the grocery store. You also can't go wrong with the baked crab dip.
But leave room for a sandwich. When I was there the daily specials included a spicy chicken sandwhich, which has to be tasted to be believed. Or try the classic Plan Check Burger with Americanized dashi cheese, ketchup leather, onions and those pickles I raved about earlier. Right now you can pair it with the Three-Eyed Raven Dark Saison Ale from Ommegang Brewery, a tribute to the return of HBO's "Game of Thrones."
Just a few blocks away is the Nuart. The best way to describe its screening schedule is eclectic. Upcoming screenings include everything from the director's cut of Alien to the 90's teen flick The Craft. And there's always a midnight showing of the Rocky Horror Picture Show on Saturdays.
4. BLD and The New Beverly
BLD is probably better known for brunch, but serves up a solid evening menu that features comfort food classics. You might recognize Chef Neal Fraser from Top Chef Masters or Iron Chef America. Start off with the cajun mac and cheese, or go a little healthier with the kale salad topped with apple and roasted sweet potato. Lobster rolls are a popular choice this season and BLD's doesn't disappoint. Want a lighter option? The spicy shrimp is more zesty than spicy, perfect for those of us who don't want too much heat.
And just a short walk down the streat is the New Beverly. Owned by director Quentin Tarantino, the theater only screens 35mm prints to preserve the movie-going experience. Many prints are from Tarantino's own collection. And of course you can't beat the price -- $8 general admission for a double feature. Upcoming May screenings include Kill Bill Vol. 1, Treasure Island and Son of Flubber.
And because I couldn't encapsulate all the amazing dishes to try at these restaurants, here's a slideshow of food porn -- as if you weren't already convinced.
PHOTO GALLERY
Los Angeles' Best Dinner and a Movie Combos
Calling all HuffPost superfans!
Sign up for membership to become a founding member and help shape HuffPost's next chapter