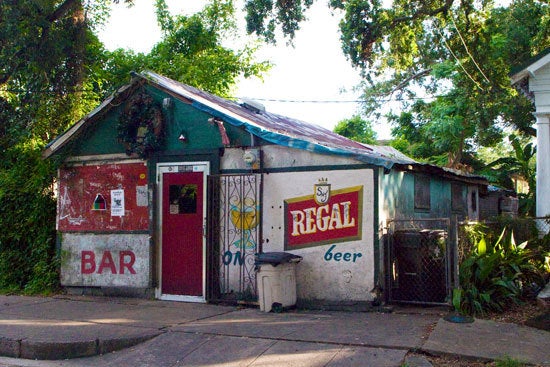 In our travels throughout the last few years we've been in quite a few bars. In fact, from the run of the mill hotel bars to the tiki bars, the saloons to the Irish pubs, we've spent time in literally hundreds of them. But out of all the doors we've stepped through, there's one type of bar that's really always had a special place in our hearts: the dive bar.
Maybe it's because we spent so much time in college at our local dive bar (The Brew, may she forever rest in peace), or maybe it's because we appreciate the simplistic, unapologetic nature that's present in just about every dive bar we've ever been in. Either way, we simply love a good dive.
So, for this St. Patrick's day, we're going to flip the bar recommendation on its head and steer you clear of the inevitably packed, loud and obnoxious Irish pub. Instead, we're going to recommend you spend your time at one of the five dive bars below. If you're not near enough, then look for local recommendations on Yelp, and bask in the warm familiar glow of dim neon and sweet silence, instead of the drunken slurs of Danny Boy.
Atomic Liquors - Las Vegas, NV
Up first we have Atomic Liquors. This place has a pretty interesting past… what other place can you think of where customers would grab a cocktail and head up to the roof to stare at the horizon in the hopes of seeing the flash of an atomic bomb test? Probably none. Located on Fremont Street - the original strip - in Las Vegas, Nevada, this place simply oozes cool - like old school, Vegas "Rat Pack" cool. Recently renovated and moving up the list of local's favorites (though it still hasn't washed off that dive bar smell/feeling/ambiance), this place is where you make your stand when you decide to deviate away from the hustle and bustle of your typical St. Patrick's day event in Las Vegas. We highly recommend this place, St. Patrick's day or any other, if you want to get away from Vegas's modern (read artificial) glitz and glamor and get back to old school Vegas.
Atomic Liquors is located at 917 Fremont St, Las Vegas, NV 89101 and hours vary by day (they open as early as noon and stay open as late as 4am depending on the day).
The Frolic Room - Los Angeles, CA
Similar to the Atomic Liquors in Las Vegas, The Frolic Room in Los Angeles is filled with that old school cool vibe, but instead of old school Vegas it's old school Los Angeles. Dating back to prohibition, it's thought to have been a speakeasy that catered to guests visiting the attached Pantages theater. It is also known as a favorite hangout of Kiefer Sutherland's and the band 311, was used as a backdrop for LA Confidential, and is the last place the Black Dahlia was seen alive. The decor is old (the last remodel was done in 1963), the drinks are cheap and stiff, and it's probably the only dive bar that we would recommend you order a Martini in. This place is the polar opposite of its surrounding environment (Hollywood), which is new, rebuilt, plastic and expensive. If you're in L.A this St. Patrick's day, or any other time, you owe it to yourself to visit the Frolic Room.
The Frolic Room is located at 6245 Hollywood Blvd, Los Angeles, CA 90028 and is open daily from 11am to 2am.
Snake and Jake's Christmas Club Lounge - New Orleans, LA
Next up we have Snake and Jake's Christmas Club Lounge, located in good ol' New Orleans, Louisiana. It's no mystery we truly love this place (we've written more than one article about it), and that's because it's the epitome of what anyone would call a dive bar. In fact, it's the measuring stick we use to compare all other dive bars. Cheap drinks? Check. Ambiance? Check. Varied crowd? Check. Eccentric and random decor? Check and check. Long hours? Again, check.
This place has it all when it comes to a dive bar. Roll in, order a Schlitz or a "possum drop" (the house specialty), and melt into what has to be the best dive bar in New Orleans and possibly the best in the U.S. Keep your expectations low, your mind open and your whistle wet. You simply can't go wrong spending your St. Patrick's day (or any other day for that matter) at Snake and Jake's.
Snake and Jakes is located at 7612 Oak St, New Orleans, LA 70118 and is open from 7pm to 7am.
Up next is The Buffet, located in Tucson, Arizona. This is Tucson's oldest post-prohibition bar, dating back to 1934 when it was known as The Lantern Bar. The place currently sells more Makers Mark than any other bar in Arizona, features quirky drink specials (like the happy minute instead of the happy hour), and a food menu consisting of dogs, brats (endlessly boiling away in beer in a crock pot located on the back bar) and nuclear-red pickled eggs. Upper class might not describe this place, but friendly sure does! The Buffet features some of the nicest clientele and bartenders we've ever met. So if you find yourself in Tucson this St. Patrick's day, or you happen to live in the area, stop by and enjoy a happy minute, a shot of Makers and a beer-boiled brat and pickled egg, you won't regret it.
The Buffet is located at 538 E 9th St, Tucson, AZ 85705 and is open from 6am to 2am.
El Chapultepec - Denver, CO
As cities face a renewed gentrification and replace the old with the new, you'll often see the same story repeated over and over: an old bar with a long history and loyal clientele shuts down to make room for a stadium, a parking structure or a Gap. It's a sad sight to see, and we see it all the time. But El Chapultepec, or "The Pec" as it is more commonly known, has resisted change and remains to fulfill its role as the best dive bar in Denver, Colorado. Located catty-corner to Coors Field, this place was at one time the best Jazz bar west of the Mississippi. Today, not only is it still an amazing jazz club, but it's also the only dive bar in the Denver Lower-Downtown (LoDo) area. They serve decently priced, yet stiff drinks, and some pretty tasty Mexican food. So this St. Patrick's day bypass the Tilted Kilts and chains you normally find in LoDo and make your way to this storied dive. Grab a Coors original on draft, do a shot, and listen to some of the best live music you'll find in the city - all without hearing "Irish Eyes" even once.
The Pec is located at 1963 Market St, Denver, CO 80202 and is open daily from 11am to 2am (except Sunday when it closes at 12am).
So there you have it, five tested and approved dive bars to replace your typical Irish pub this St. Patrick's day. If you're not close to one of these, then go explore the dives in your city, by the end of the night you'll be happy that you did.