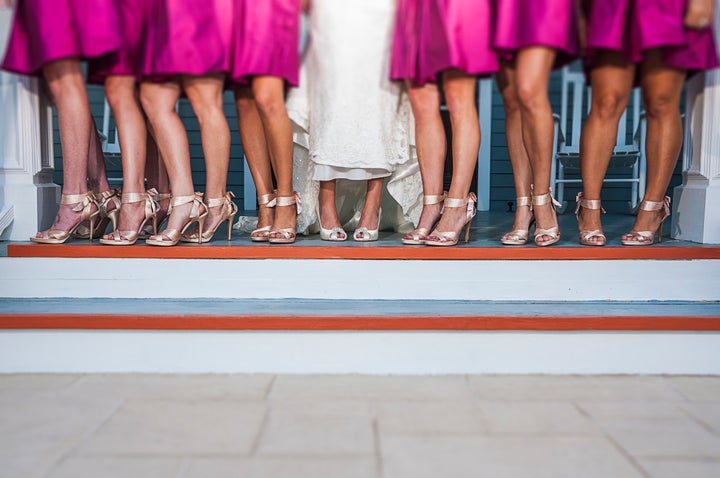 Wedding season is here, and with the massive variety of ceremonies today, the age-old conundrum of what to wear has only escalated.
Whether you're going to a shore thing in Newport, witnessing vows in a botanical garden, or getting down with your bad self ballroom dancing in N.Y.C., I've got just the style tips you'll need for all the weddings on your agenda this summer. While I'm not suggesting you try to outshine the bride, a girl's got to hold her own. Am I right, or am I right?
Oh you fancy huh? A black tie wedding is the perfect time to dial up the glamour. Channel your inner screen-siren and choose a floor-length gown paired with some strut worthy heels.
Rules to Remember: Don't be afraid to wear color. Dramatic jewelry is welcome, and coiffed hair is a must.
Rustic Chic. Embrace your inner southern belle without abandoning your high fashion roots. A wedged heel will allow you to navigate fields or barnyard dance floors with ease, and a floral dress is thematic without being too literal (a.k.a. corny).
Rules to Remember: If the wedding is during the day, opt for lighter colors and for nighttime choose richer shades. Don't be afraid to "toughen" up your dainty look with a bold clutch.
A Shore Thing. For an easy yet ethereal seaside look, go lux bohemian in a breezy cocktail dress paired with pops of metallic jewels and strappy flats. Top off the outfit with a light summer scarf that can double as a shawl. Finish with a mai-ti hairdo (hello, drybar).
Rules to Remember: When choosing your beach ready look make sure you're considering the elements (think sand, heat and water).
In a "New York State of Mind". The city of lights deserves a daring dress and major accessories. Indulge your inner fashionista with edgy styles and a pair of statement shoes.
Rules to Remember: Go bold or go home.
Follow these rules you'll be on the best dressed guest list in no time!
Popular in the Community